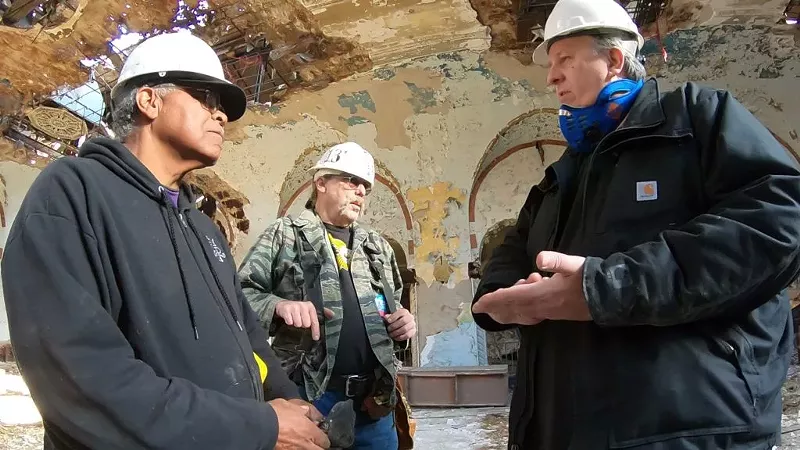 Margaret Saadi Kramer
CHMBC Deacon Hudson, Contractor Ellis and F.O.G. Team Lead Early
Kick out the jams, motherfucker — the Grande Ballroom recently passed inspection and has been deemed viable for restoration efforts.
The future of legendary venue and rock 'n' roll palace has teetered since its closing in 1972. For nearly 45 years the Grande, located at 8952 Grand River Ave., has remained synonymous with the sex, drugs, and rock 'n' roll of 1960s Detroit. Now, it's owned by Chapel Hill Missionary Baptist Church.
Grassroots preservation group Friends of the Grande Ballroom launched fundraising efforts via a
GoFundMe campaign
in 2017 to fund a series of professional inspections of the Grande Ballroom's three floors to determine its structural integrity.
In cooperation with the building's current owners and with the funds raised through the campaign, the Grande Ballroom underwent an inspection in October where structural engineer — as well as a disaster recovery and roofing contractor — surveyed the building in person and with compiled HD video footage captured from a drone. As it turns out, the building appears to be as durable, as say, Keith Richards.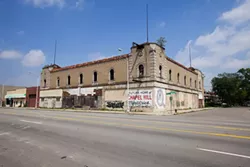 Photo via Wikipedia Commons, by Arthur Duce
According to the structural report: ".. the structure is in much better condition than expected ... While it needs repairs, the repairs are relatively minor and the structure is in no danger of collapse during repairs as long as no large construction loads are added to it."
A victim to more than 25 years of maintenance related neglect, the building has been deemed viable mostly because of its intense construction of reinforced concrete trusses, columns, and steel beams which "support the roof over the dance floor and exhibit only minor surface rust." It is this heavily constructed "skeleton" that has granted the Grande a second chance.
The report also revealed that though there is significant water damage to plaster and wood due to a number of weak and rotting roofing panels, the foundation has not been corrupted and the windows, which were boarded up in 2017, have kept the elements at bay.
Author of
The Grande Ballroom: Detroit's Rock 'N' Roll Palace
and lead preservation activist, Leo Early,
told Metro Times last year
that in terms of restoring the venue to its original status, "You can't go back home"
"The church wants to retain the building for their use. The lower level was originally retail space so it would likely be retail or other lower level tenants," Early said last year. "The upper level, which was the original ballroom, has been envisioned as a possible sanctuary or event space for the church."
Early also said that the church has not ruled out the possibility of renting the space out to the public for weddings, art events, and even concerts.
The next phase for what is being referred to as "Grande 2.0" will include stabilization and structural restoration efforts as well as grant writing and fundraising to ensure all efforts are compliant with the venue's recent inclusion in National Register of Historic Places.
For updates on "Grande 2.0" you can visit the official site
here
.

Stay on top of Detroit news and views. Sign up for our weekly issue newsletter delivered each Wednesday.