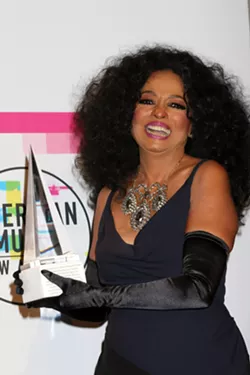 Kathy Hutchins / Shutterstock.com
Detroit native and Motown legend Diana Ross is the latest celebrity to jump to Michael Jackson's defense amid decades-long allegations of child molestation, underage grooming, and pedophilia.

The 74-year-old diva took to Twitter Saturday afternoon to elicit the power of her 1965 hit with the Supremes, "Stop! In The Name of Love."

The sentiment was not a statement about Jackson's past alleged abuse of Wade Robson and James Safechuck, both of whom shared their accounts of molestation as children during the airing of the HBO documentary Leaving Neverland earlier this month. Her message was aimed at those who continue to find Jackson guilty.

"I believe and trust that Michael Jackson was and is a magnificent incredible force to me and to many others. STOP IN THE NAME OF LOVE"

Ross' statement follows controversial comments made by Barbra Streisand which were published in a profile by
the Times
on Friday. Streisand, who has since
"clarified" her comments and issued an apology
, had said that Jackson's "sexual needs were his sexual needs," going on to say that it was the parents responsibility and that Jackon's abuse didn't "kill" Robson or Safechuck, though she believed their stories to be true.
"You can say 'molested,' but those children, as you heard them say, they were thrilled to be there," Streisand said. "They both married and they both have children, so it didn't kill them."
Jackson, who died at the age of 50 from a lethal cocktail of prescription medications as administered by his physician (who was later convicted of involuntary manslaughter), first faced child molestation accusations in 1993. He was acquitted on seven counts of molestation in 2005 following the 2003 documentary,
Living with Michael Jackson
, during which Jackson admitted to seeing nothing wrong with sharing his bed with children.

Stay on top of Detroit news and views. Sign up for our weekly issue newsletter delivered each Wednesday.