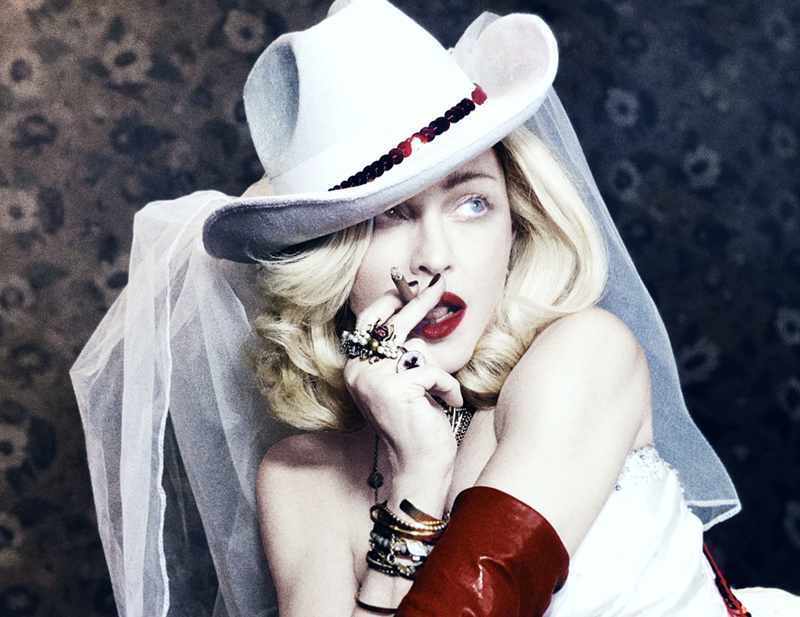 On
"Medellín,"
the recently released single from Madonna's forthcoming 14th studio album
Madame X
, the Queen of Pop name-checks her homeland: "And if you want, we'll go to Detroit..."
Thing is, it appears that Madonna will not be taking her upcoming
Madame X
tour to the Motor City, at least any time soon.
An initial run of dates starting in September will see Madge perform multi-night residencies in New York, Chicago, and Los Angeles. A press release also notes that the
Madame X
tour "will also visit Las Vegas, Boston, Philadelphia, Miami, Lisbon, London, and Paris. Show information to follow."
Ouch. Don't forget the Motor City! We emailed Madonna's PR team to ask if a Detroit date might be added later, and have yet to hear back.
Like plenty of us, Madonna's relationship with where she grew up appears to be complicated. She's previously gone out of her way to distance herself from the Great Lakes State, like when she said "I miss absolutely nothing about growing up in Michigan" in an interview with
US Weekly,
or when she
told Howard Stern
she never wanted to return to her hometown of Rochester because "I can't be around basic, provincial-thinking people."
However, the singer has also occasionally gone out of her way to align herself with Detroit. In 2014, she visited Detroit "in an effort to participate in the rebuilding of the city and to connect with her hometown," according to
a statement
on her website. In 2015, she brought her
Rebel Heart
tour to Detroit's Joe Louis Arena, where
she told the audience
"Detroit made me who I am today."
Over the weekend, Madonna mentioned Detroit in her acceptance speech for at the GLAAD Media Awards for her work on behalf of the LGBTQ communities,
mentioning that she had a life-changing moment
when she snuck off to a gay bar in Detroit as a teenager.
"For the first time, I saw men kissing men, girls dressed like boys, boys wearing hot pants, insane and incredible dancing and a kind of freedom and joy and happiness that I had never seen before," she said. "I finally felt like I was not alone, that it was OK to be different and to not be like everybody else. And that after all, I was not a freak. I felt at home, and it gave me hope."
Madame X
is released on June 14.
Get our top picks for the best events in Detroit every Thursday morning.
Sign up
for our events newsletter.