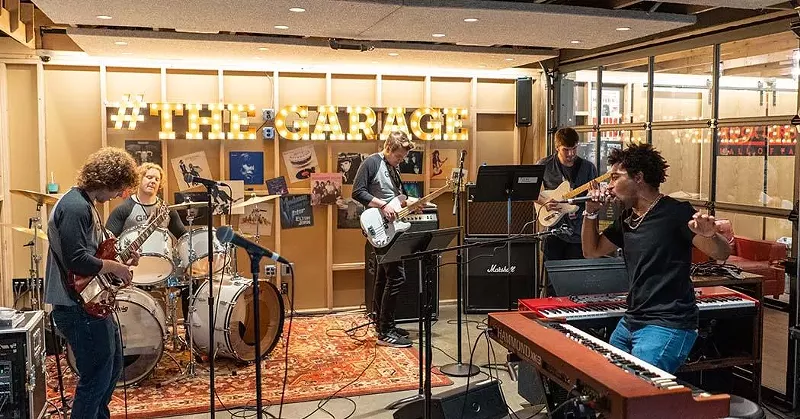 "Everybody says they play music, so we're like, alright come and play!" – museum visitor
It's not uncommon for rock & roll dreams to start in unassuming places: school gymnasiums, basements, backyards, and perhaps most unassuming of all, the garage—a place where rockers just starting out gathered and really found their musical voices. It's in that spirit that we've created and launched The Garage, an interactive exhibit spanning the entire second floor of the Rock & Roll Hall of Fame that puts real instruments into the hands of visitors and sparks their passion to create music. "In its 24-year history, the Rock Hall has never had a dedicated space to play actual instruments," says Karen L. Herman, Vice President & Chief Curator. "We're making a quantum leap with our newest interactive exhibit, The Garage."
"What is the most powerful elements of all of this rock 'n' roll stuff?" asked 2009 Rock Hall Inductee Darryl McDaniels of RUN-DMC during the official Garage opening.
McDaniels continued, "It would have never manifested into what it is today if it wasn't for all of that greatness being primed, toned and welded together in the garages of our universe."
"It all starts in the garage!" he finished before kicking into a Jam space set with traveling band the Hellraisers.
The Garage consists of five main areas where for the first time, fans can pick up real instruments, learn to play, jam with friends, brand their band with custom merchandise, and check out great gear and instruments from the Museum's collection.
"Being able to get on the drum set without my grandma telling me 'no!', that's pretty cool" one young museum visitor told us after finishing her performance in one of the teaching spaces.
Inside the Garage, fans play real instruments – drums, guitar, bass and keyboards – at dedicated practice stations. Whether they're playing an instrument for the first time, or are experienced players, video prompts will guide them as they learn a song or show off their freestyle skills. For some fans, this will be the unforgettable first time they experience a hands-on connection to the instruments of rock.
For those who want to plug in and turn it up, the Jam space boasts a full band setup, stocked with real, high-quality gear, where fans can participate in collaborative audio and video recording or freestyle jam sessions. Visiting musicians and fans alike come together and make music in impromptu, entertaining sessions.
The newly opened space is a part of the museum's permanent offerings and is where you can pick up an instrument, crank up the volume and make your own music as part of the unique museum experience. Designed to evoke the birthplace of rock bands for decades, The Garage is where it's your turn to play. Grab friends and family and make your trip to Cleveland to get your own band started and learn more online at
rockhall.com/letsrock
.
Get our top picks for the best events in Detroit every Thursday morning. Sign up for our events newsletter.