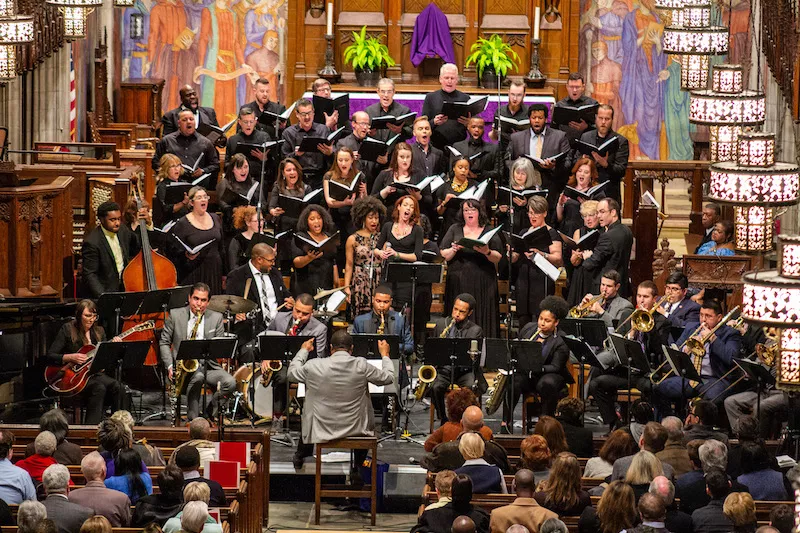 Courtesy of the Cranbrook Project
Funded through a generous grant from the Erb Family Foundation, the Cranbrook Project provides programming that closes the distance between our cities and suburbs, along with the many religious, artistic, and educational communities in metropolitan Detroit.
At the forefront is our annual Sacred Jazz Concert, inspired by the legendary Duke Ellington. Ellington's Sacred Concerts combined jazz with choral music and were originally performed in cathedrals in the late sixties and early seventies. By bringing together jazz and choral music, Ellington invited his listeners to find sacredness in "secular" places. In process, he led them to see our shared world as a sacred unity requiring our common care and attention.
Our Sacred Jazz Concert updates Ellington's work. Where Ellington brought in a tap dancer, we incorporate the music of the African diaspora – drumming and dancing. In this way, we seek to reconcile not only the divisions within Western music, as Ellington sought to do, but between Western music and the wider world. Where Ellington sought to reconcile jazz and the music of liturgical churches, we also incorporate the music of the Black Church tradition. Finally, we bring together the choirs from Christ Church Cranbrook and Hartford Memorial Baptist Church to invite our listeners to imagine what true multiracial worship might look like.
We could not do this without incredible leadership of two jazz musicians who approach Ellington's stature: Rodney Whitaker and Alvin Waddles. We are grateful for the musical direction of Christopher Wells, Director of Music here at Christ Church Cranbrook, who will be directing the two choirs. And we could not do this without the versatility of Chi Amen-Ra and his gifted troupe of drummers and dancers. The work these musicians do together carries on Ellington's vision at a time when we sorely need it.
You can attend the two shows coming up.
Friday, March 13th at 7:30 PM Christ Church Cranbrook, Bloomfield Hills
Saturday, March 14th at 7:30 PM Hartford Memorial Baptist Church, Detroit
See related PDF

Get our top picks for the best events in Detroit every Thursday morning. Sign up for our events newsletter.