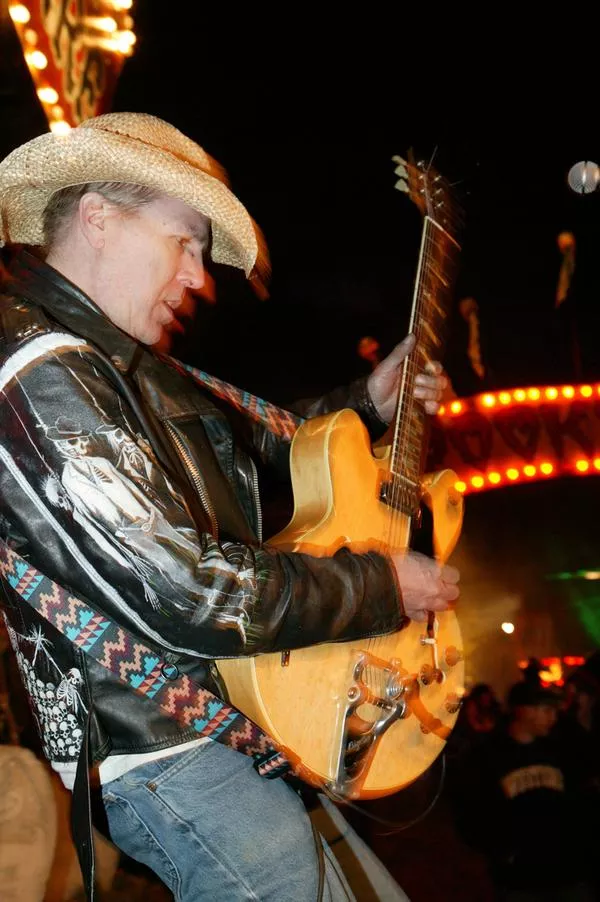 Country Bob & the Bloodfarmers
"Bowl Full of Noses"
Mix rockabilly and country music with horror and, let's face it, everybody's gonna have a good time. Country Bob and his crew wallow in the low brow. They play with trailer park, white trash stereotypes while singing about bobbing in a bowl full of noses. Because, y'know, apples are so passé.
Esham
"KKKill the Fetus"
Thanks to his psychedelic style of rapping that often centers on the subject of death, Esham is known as one of the originators of horrorcore, for better or worse. Bad taste is the norm, and this title track from his '93 album encourages pregnant drug addicts to get an abortion rather than allow children to be raised in squalor. Hey, don't shoot the messenger.
Halloween
"Trick or Treat"
Detroit's own heavy metal titans Halloween generally come together to play a show around the holiday after which they are named. Don't confuse them with German band Helloween, although both bands use a pumpkin on their logos. Halloween has been together since '83, toying with over-the-top trash horror imagery and releasing songs with names like "Trick or Treat."
Necros
"Search for Fame"
Formed in '80, the Necros were from Maumee, Ohio, but became an integral part of the Detroit hardcore scene. With Barry Henssler up front, the band were brutal and uncompromising, and occasionally controversial. "Search for Fame" is about a serial killer's quest for notoriety. "He kills because he wants a name, He's in a futile search for fame, His family turns their back in shame." Man, talk about a black sheep.
Repulsion
"The Stench of Burning Death"
A massively influential grindcore/death metal band from Flint, Repulsion prided themselves on vile imagery and disturbing lyrics. The band formed in '84, and would cover tunes by bands like Slayer and Metallica in the early days. They soon found their own poetic niche though. This little ditty contains the lines, "Eating flesh to stay alive – Cannibals, Decaying bodies everywhere - Smell the stench, Burning bodies lay in mess - Foul gore, Radiation burns your lungs - Rabid death."
EVERYBODY SING ALONG!
Twiztid
"Mutant X"
ICP might be the head-honchos over at Psychopathic Records, but Twiztid know how to pen a ludicrous-yet-enjoyable horror rap yarn. Madrox and Monoxide are less kooky clowns and more foul-mouthed zombie kids, hence lyrics like, "I was born an accident, off the ripper, Free spirit but a mind drifter, Vampire labeled me the blood sipper." Dunno about you, but that just makes us feel bad for poor old Mutant X.
Ugly but Proud
"Death Clowns"
Trashy thrash band Ugly buy Proud may not have been the greatest group ever have ever emerged from Metro Detroit, but they knew how to have a laugh and this tune is hilarious. "Death Clowns" is about Goths, rather than Pennywise from It, but we couldn't resist including it. The band consisted of Ugly Mike, Proud Mark and Charlie Con Carne, and the self-proclaimed urban hillbillies would have a human mascot called King Zeus sat on a chair, on stage. You can't make this shit up.
Alice Cooper
"Welcome to my Nightmare"
If we're going to compile a list of Halloween-y, horror songs from Detroit, then Alice Cooper has to be right up there. This Coop classic is from the album of the same name, his first as a solo artist, away from the Alice Cooper Group. "We sweat and laugh and scream here, 'Cause life is just a dream here, You know inside you feel right at home here," sings Alice, probably referring to Detroit.
Amino Acids
"We Are Alien?"
The Amino Acids are aliens living in human form in Detroit, playing surf-rock music. Senator Thompson Aldous Speck, using the mouth of road manager Reverend Scotty Impossible, once told this writer that, "The band crashed to earth in the early '60s, and briefly attempted to secure human host bodies to inhabit the planet with but was unsuccessful. We ended up hibernating for 30 years and emerged around 1998, and secured human hosts. For some reason unknown to anybody, instead of all the normal alien things that you would do, like breed giant lobsters, we started a band instead." Phew.