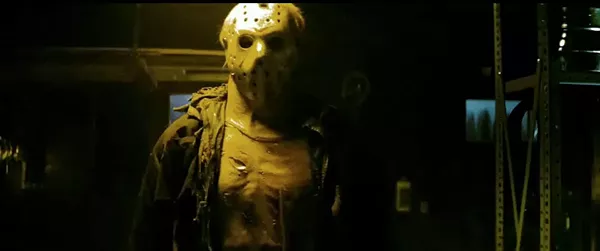 Derek Mears (Jason Vorhees, Predators)
Mears played hockey-masked killer Jason Vorhees in the recent reboot of Friday the 13th, and a Predator alien in the recent Predators. In both roles he was hunting people, but the Predator had the better wardrobe.
Tyler Mane (Michael Myers, Sabretooth)
Tyler Mane turned the X-Men's Sabretooth into a real beast, and he got to slice and dice countless people as Michael Myers in the recent Rob Zombie Halloween movies. Did he have more fun as a growling supervillain or a silent serial killer/icon? Ask him yourself.
R2D2
R2D2 is at Fanfare. Not the actor Kenny Baker, but R2D2 himself. Favorite R2D2 quote: "Bleepo beep chirpbup beep boo."
Hynden Walch (Princess Bubblegum, Starfire)
The Teen Titans cartoon does a good job of introducing lesser-known superheroes to kids. Walch's Starfire is less orange vixen and more a cutesy but tough hero. Dunno who Princess Bubblegum is though.
Billy West (Fry, Zoidberg, Farnsworth, Stimpy)
As well as voicing three of the most popular characters on Futurama, West played Stimpy, the dumbass cat that made Ren's life so difficult. Favorite Stimpy quote: "It stays crunchy, even in milk. I may not be the President, I may not be the Pope... but as long as I have Gritty Kitty, I shall never mope."
John DiMaggio (Bender)
DiMaggio has also been the voice of Jake the Dog on Adventure Time, but he'll probably always be known as the voice of Bender, the objectionable and obnoxious but ultimately loveable robot from Futurama. Our favorite Bender line, "Stupid can opener! You killed my father, and now you've come back for me!"
Maurice LeMarche (Kif Kroker, Brain)
As Kif Kroker in Futurama, LeMarche gets to be a slimy alien and date cute humans. As the Brain, he got to play a hapless mouse desperate to take over the world. Hey, at least he didn't get typecast.
Dan Fogler (Fanboys, Balls of Fury)
Fogler, aka the funny chubby guy who isn't Jonah Hill, was hilarious in Balls of Fury, when he played ping-pong to the death against Christopher Walken. He was perhaps funnier still in Fanboys, insisting on playing only Rush in his geek-van.
Esme Bianco (Game of Thrones)
English burlesque performer Bianco played Ros on the hit show Game of Thrones, a prostitute who ends up tied to asshole King Joffrey's bed and used as crossbow target practise. Little prick.
Israel Ionije (Detroit Lions)
Football player Ionje of the Lions has a new comic book called The Protectors about super-powered athletes. Sounds like they've been juicing. With radiation and gamma.