10 things to do in Detroit this weekend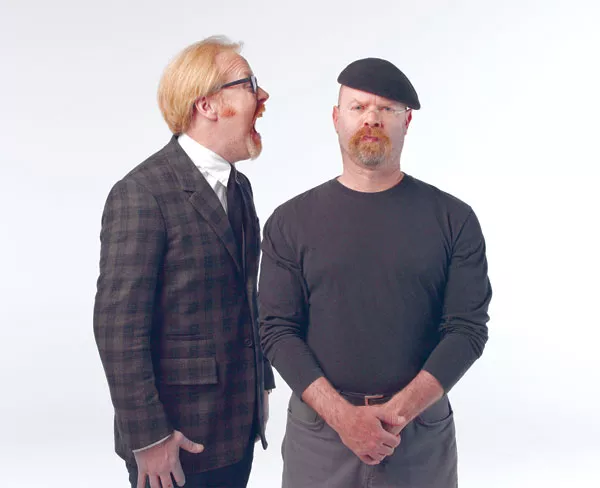 For the better part of a decade, the Discovery Channel series Mythbusters has sought to uncover the truth behind some of pop cultures most enduring myths and legends by mixing scientific method with gleeful curiosity — and plain old-fashioned ingenuity to create a signature style of experimentation. Hosted by Jamie Hyneman (featured in
our story this week
) and Adam Savage, along with co-hosts Tory Belleci, Kari Byron and Grant Imahara, these folks have made science both fun and accessible. No lab coats required. While the show is on hiatus, Hyneman and Savage bring their wonky-yet-übermensch to audiences around the country and this Sunday they stop at the Fox Theatre. Don't worry, no high explosives in this venue allowed. Sunday, Dec. 8.
olympiaentertainment.com
Dance party at the New Dodge Lounge boasts "indie garbage, disco gold, classic jams, and new hotness" provided by DJs Jim Carroll of Five Three Dial Tone and Joe Vargas. Saturday, Dec. 7.
facebook.com/newdodgelounge
FACEtoFACE is a solo exhibition featuring the work of Detroit painter Michelle Tanguay. The paintings were done on banners that were donated to her from the Detroit Jazz Festival, and elements that still say "MotorCityCasino"or "Imported From Detroit" add a nice touch. The work will be on view in Tanguay's Detroit studio at 2948 Woodward, Friday, December 6th, with an opening reception 8 p.m. – 12 a.m. The evening's soundtrack will be provided by Detroit DJ John Ryan.
michellegracetanguay.com
Kacey Lee Musgraves still looks as fresh-faced as the day she was born and yet she has been performing since 2002. She's only 25 now, meaning she was 14 when her career got started with the self-released Movin' On album and the follow up, Wanted: One Good Cowboy (for those doing the math.) She signed to Mercury in 2012 and put out the Same Trailer Different Park album earlier this year. She's a hard-workin g Texas country singer who has already laid the foundations for what could well be a successful and eventful career. John & Jacob also play.
saintandrewsdetroit.com
A few times now, the people behind the Modern Skate Park and Modern Skate & Surf have tried to position the huge hall as a serious venue — and then slipped away again. Whether Douglasville, Ga.'s favorite metalcore outfit, Norma Jean, will be the band that herds the masses into this Royal Oak room-less-played remains to be seen. The band, formed in '97, has a respectable following among the hair-to-one-side screamo brigade, although its fans will likely tell you they have nothing to do with that ultra-specific sub-genre. Whatever, this show will be noisy and hella fun; you can even jump a half-pipe while you're there. Thursday, Dec. 3.
modernskate.com
Monster Drawing Rally is a live drawing event and fundraiser featuring more than 90 artists. Part performance, part laboratory, part art bazaar, the Monster Drawing Rally is an incredible opportunity to watch your favorite local artists create original drawings. The event begins promptly at 8 pm and consists of three one-hour shifts that each feature approximately 30 artists drawing simultaneously. As the drawings are completed, they're hung on the walls and made available for purchase for $40 each. Proceeds from the event provide direct support for MOCAD's programs. Friday, Dec. 6.
mocadetroit.org/
When it comes to the blues, Bobby Murray takes his music very seriously indeed. The guy has played with everyone from Etta James' Roots Band (of which he was a member for more than two decades) and John Lee Hooker to Albert King and Taj Mahal. Murray might originally be from the West Coast, but he gets countless bonus points for moving here in '96. He's now an adopted Detroiter, and a Detroit Music Award-winner. They say Midwest winters keep the assholes out, but they also keep the good ones in. Barbara Payton also plays. Friday, Dec. 6.
There may be talk about selling off some of the Detroit Institute of Arts' collection, but in the meantime, at least, Midtown has a new art gallery. Recently transplanted from Ferndale, the Butcher's Daughter Gallery is one of a few tenants to move into the new Auburn Building on Cass and Canfield. Their second show at this location opens this Friday, featuring the work of artist Donal Kilpatrick (check out
our story on Kilpatrick
from last week's issue). Friday, Dec. 6.
thebutchersdaughtergallery.com
With 10 Grammy Awards, 10 Dove Awards, a Soul Train Award, 2 NAACP Image Awards and countless other honors, Take 6 is arguably one of the most awarded and biggest selling a capella groups in the world. See these gents bring Christmas classics and their original tunes at the fourth annual "A Jazzy Christmas" concert to benefit Grace Centers of Hope at the Ward Presbyterian Church in Northville. shares The group shares the stage with jazz star Alexander Zonjic and vocal group Men of Grace. Thursday, Dec. 5.
take6.com
If you've never seen the Canadian TV show
Trailer Park Boys
, you really should — like now; go home and get it from Netflix or something. The series delved deep into the lives of white trash, pot-dealing entrepreneurs Ricky, Julian and Bubbles as they tried to survive day-to-day on a trailer park (hence the name). Ricky lives in a car, Bubbles lives in a shed and Julian has a booze-filled tumbler in his hand no matter where he is. The mockumentary show is hilarious and very touching. The relationship between alcoholic park manager Jim Lahey and his shirtless assistant Randy, for example, is beautifully written and executed. A live show in Ann Arbor is irresistible. Tuesday, Dec. 10.
michtheater.org
Euclid Media Group, LLC
Read Our Sister Publications
Marketing Services