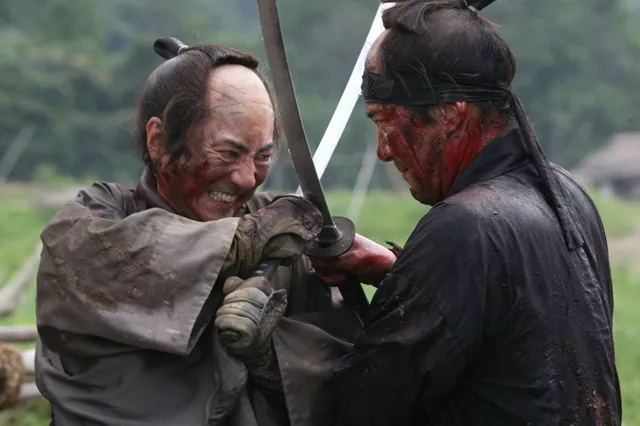 13 Assassins: "My, you're quite the handsome devil."
Takashi Miike's infamy as Japan's leading exploitation fiend precedes him; he's proven the ability to splatter screens red with the best of them, and in his perversely gory quasi-classics, such as Audition and Ichi the Killer, he set new standards for onscreen carnage.
Sometimes called Asia's Tarantino, the provocative and staggeringly prolific Miike is fluent in all genre tropes — from horror to gangster to superhero and even musicals — and here he tackles one of Japan's most venerated cultural exports: the samurai epic.
Called "Chanbara" after the sound of clanging swords, the samurai genre reached an artistic and commercial zenith in the 1950s and early '60s, then devolved into increasingly blood-drenched, cartoony pulp spectacles by the '70s. Miike splits the difference here, marrying insane hack-and-slash action to a story that is surprisingly traditional.
Set in 1844, in the waning years of the feudal system, endless swordplay has given way to diplomacy and a dreadfully dull peace. Out of sheer boredom, corrupt, entitled young lord Naritsugu (Goro Inagaki) has resorted to vile sadism as entertainment, and a strike force of restless out-of-work samurai is recruited to dispatch this menace before his power grows.
The talky first act is consumed with debates and political maneuvering, establishing the villain as genuinely evil; his hobbies include rape, mutilation and using orphans for target practice. After requisite team-building exercises, we're anxious to see our hero Shinzaemon (Koji Yakusho) deliver justice with extreme prejudice, which surely happens in the incredible, nearly 40-minute battle finale.
This update of a 1963 fave cribs the basic structure from Akira Kurosawa's immortal 1954 masterpiece Seven Samurai, with a small band of skilled warriors squaring off in a village against an overwhelming enemy army, but tweaked in amusing ways. Here the humble townsfolk get bought off, and the good guys rig absurd traps and tricks, including (no kidding) a stampede of flaming bulls. Miike stages most of the mayhem the old-fashioned way — with elegant choreography and coherent camera-blocking that never obscures combat flow. Even so, the fighters' identities aren't clear; most sport identical top-knots and black garb, and some of their personalities are undefined. A few stand out, including Yakusho and a mud-coated, rock-tossing marksman (Yusuke Iseya), a comedic echo of Toshiro Mifune's famous wild-man character in Seven Samurai.
This film is a stunner, a rousing adventure and a gratifying morality play, though not as inspiring or profound as the great masterworks by Kurosawa, Masaki Kobayashi or Kihachi Okamoto. Those directors often dealt in deep ambivalence and regret, but Miike readily embraces the violence, and gets off on the "bushido" theme that says real honor is born of heroic sacrifice. This makes perfect sense for a cult hero who's secretly an aggressive populist, yet ever willing to risk it all for his art.
Showing at the Detroit Film Theatre (inside the DIA, 5200 Woodward Ave., Detroit), at 7 p.m. on Friday and Saturday, June 10-11, at 2 p.m. on Sunday, June 12, and 4:30 p.m. on Sunday, June 19. Call 313-833-3237.