Thursday, 1/5
Pancho Villa's Skull
@ The Loving Touch
Pontiac native Tino Ybarra was used to playing Detroit's ska and punk scenes, but he felt like something was missing. Enter: Pancho Villa's Skull. Ybarra wanted to connect more with the music he was playing, and the answer became clear. He wanted to play mariachi punk. There's no denying that Pancho Villa's Skull is one of the most interesting bands in Detroit right now, and there's also no denying how surprisingly good the combination of mariachi music is with punk rock. The band cites both Gogol Bordello and the Pogues as influences, and if that doesn't tip you off to how versatile they are, nothing will.
Doors open at 8 p.m.; 226234 Woodward Ave., Ferndale; ticketweb.com; Tickets are $5.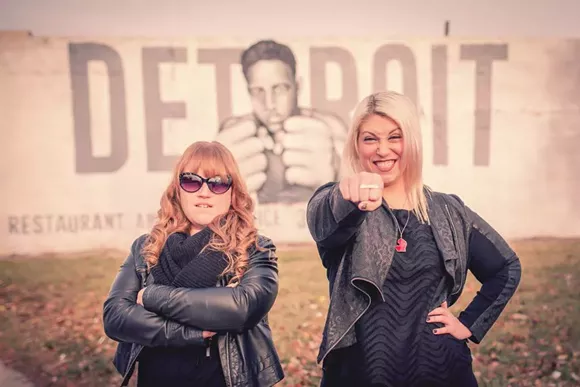 Hip in Detroit's Five Year Anniversary. Photo by Joe Gall.
Friday, 1/6
Hip in Detroit's Five Year Anniversary
@ El Club
To celebrate five successful years, Hip in Detroit has invited local artists Against the Grain, James Linck, the Messenger Birds, and Go Tiger Go to rock your socks off. To make it even better, there's going to be prize packs from businesses like Rock City Eatery, the Michigan Science Center, Saint Andrew's Hall, Camera Jesus, and more. Five years is a pretty big deal, and it looks like Hip in Detroit has many more anniversaries to come.
Doors open at 8 p.m.; 4114 W. Vernor Hwy., Detroit; elclub.com; Tickets are $8.
Friday, 1/6
Blackbear
@ Saint Andrew's Hall
Vibe musician Blackbear, a young, tatted up kid all the way from Hollywood, has attained a substantial fan base across the country. He's pretty new and pretty young, but tracks like "Shower Music" show real talent starting to bud. His latest release, Sex the Mixtape, was released on Halloween, and is available for purchase on iTunes for your listening pleasure, and to prepare for the show.
Doors open at 6 p.m.; 431 E. Congress St., Detroit; saintandrewsdetroit.com; Tickets are $16.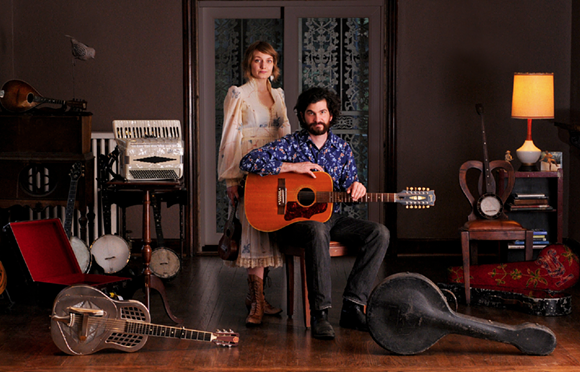 Lac La Belle performs at PJ's Lager House 10-Year Anniversary and Grand Reopening. Courtesy Photo.
Friday, 1/6
PJ's Lager House 10-Year Anniversary and Grand Reopening
@ PJ's Lager House
To celebrate a decade of being one of the most important and fun and least pretentious venues in the Midwest, PJ's Lager House has organized a pretty fantastic party. It's going to be chock-full of New Orleans-style food (and we all know their food is stellar), plus, naturally, some of the area's best rock and roots-based sounds. Performers will include Stone Clover, the Craig Brown Band, Willie Rae and the Minor Arcana, Lac La Belle, and DJ Nelly Birdwell. The lineup is sure to stun, so arrive early and stay late, OK. Here is to hoping that PJ's friendly, affordable, bar/venue/restaurant/record store continues to thrive for many more years.
Event starts at 8 p.m.; 1254 Michigan Ave., Detroit; pjslagerhouse.com; Tickets are $10.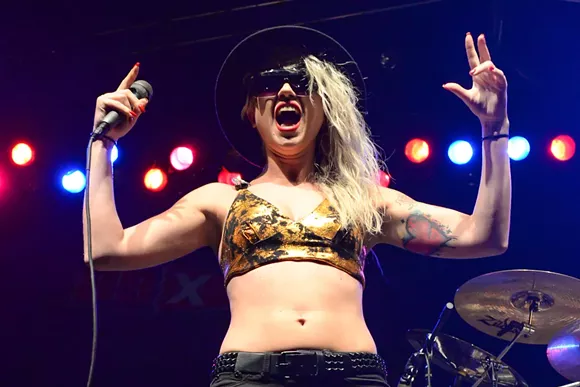 Kaleido's Christina Chriss. Photo by Steve Sergent.
Friday, 1/6
Kaleido
@ Grasshopper Underground
After wrapping up a nationwide tour with In Living Color, Kaleido, one of Detroit's newest and most promising rock bands, hits the road on their own. Blending together punk, funk, pop, rock, and everything in between, Kaleido has become a favorite on 89X and around metro Detroit. The band has been compared to an early Guns 'n Roses, along with early No Doubt. With the release of their latest album Experience coming in 2017, fans can expect to be among the first to hear their newest music live at this show.
Doors open at 9 p.m.; 22757 Woodward Ave., Ferndale; ticketweb.com; Tickets are $10.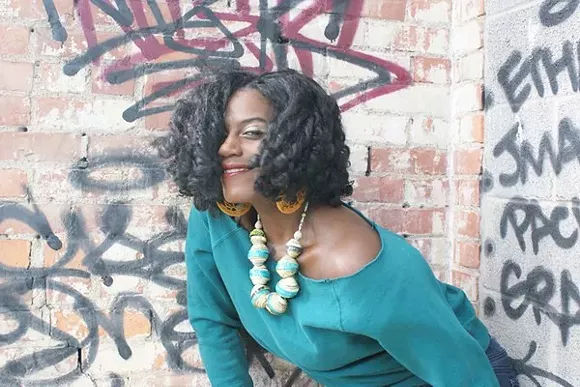 Mahogany Jones. Photo by Shante Fagans.
Friday, 1/6
Mahogany Jones
@ Manila Bay Cafe
Mahogany Jones — hip-hop activist described to embody hip-hop, femininity, spirituality, and passion in each commanding performance -— is set to headline this open mic night, discussing her goals and inspirations for 2017. Jones' music is said to uplift the spirit, body, and soul, and educate and the international artist has performed as a U.S. music ambassador in 13 countries, recorded three full-length albums, and has been featured on over 30 compilations, mixtapes, and CDs. Jones is also an adjunct instructor at the Detroit Institute of Music and a facilitator for one of Detroit's largest literary arts nonprofits, Inside Out.
Starts at 9 p.m.; 4731 Grand River, Detroit; 313-451-4731; cover is $10.
Joe Louis Walker performs at Anti-Freeze Blues Festival. Courtesy photo.
Fri 1/6-Sat 1/7
Anti-Freeze Blues Festival
@ The Magic Bag
This year's Anti-Freeze fest (a benefit for our friends at the essential Detroit Blues Society) does not disappoint. We have two Grammy-nominated headliners, beginning with living Chicago blues legend Lurrie Bell on Friday. On Saturday, we have Joe Louis Walker , who has been in the biz for more than 50 years, and his career in blues has never faltered in excellence. He's had 23 albums, two DVD specials, and has collaborated with the likes of Bonnie Raitt, Taj Mahal, and Ike Turner. Thanks to his great musical abilities and poignant lyrics, he's won four Blues Music Awards, and is a Blues Hall of Fame inductee. His live performances are coveted, thanks to his incredible showmanship. His most recent album, Everybody Wants a Piece, follows all of the rest with impeccable quality.
Doors open at 7 p.m. both nights; 22920 Woodward Ave., Ferndale, themagicbag.com; Tickets for each night are $25 in advance.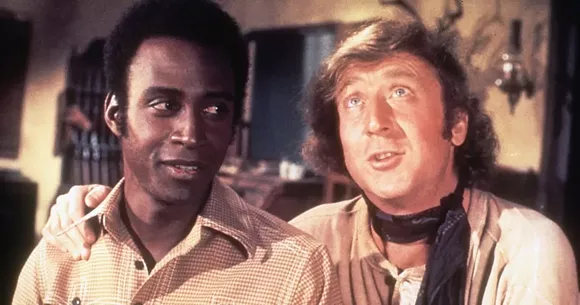 Fri 1/6-sat 1/7
Blazing Saddles
@ Main Art Theatre
Mel Brooks' satirical Western comedy Blazing Saddles is scheduled as the first midnight madness screening at the Main Art for 2017. This 1974 flick tackles the issues of racism in a stereotyped American west. The movie places Cleavon Little in an all-white town full of Johnsons — he's the only black guy, plus he's sheriff. If nothing else, the price of admission is well worth seeing the hilarity on the big screen and a man knocking out a horse with a single punch.
Midnight showing; 118 N. Main St., Royal Oak; landmarktheatres.com; $7; handicap accessible.
Saturday, 1/7
Nonsense Night
@ Tangent Gallery
Do you have an antelope costume that just never seems to get enough play. Well, brush off those antlers because this month's Nonsense Night at Tangent Gallery is all about the animals. The theme for the night is said to be animals, but apparently any costume will do. So, whether your favorite animal (or animal costume) is legitimate or not, come out dressed up as whatever "animal" you want and enjoy a night of nonsense with potential elves, cats, wolves, gnomes, unicorns, and whatever animals may exist or can be thought up.
Starts at 3 p.m.; 715 E. Milwaukee St., Detroit; 313-873-2955; tangentgallery.com; cover is $10.
Sat 1/7-sun 1/8
Last Work: Batsheva Dance Company
@ Power Center for yhe Performing Arts
Spend an evening with Ohad Naharin and the Batsheva Dance Company as they bring Last Work to Ann Arbor's Power Center for the Performing Arts. The 75-minute play
presents you with a story through Naharin's dance language, Gaga, which explores human motion and emotion to create an unforgettable performance of sustained movement and frenzied energy.
Starts at 8 p.m. on Saturday and 2 p.m. on Sunday; 121 Fletcher St, Ann Arbor; 734-763-3333; ums.org/performance/last-work; tickets start at $38 for Saturday and $34 for Sunday. org; tickets are $10.
Sunday, 1/8
Nathan Bell
@ The Ark
He's performed with Townes Van Zandt, Emmylou Harris, Norman Blake, and more. He's traveled across the country, using folk music to tell his story, and has let it flow out of him with incredibly poetic lyrics that are matched with beautiful harmonies. Nathan Bell tells the stories surrounding blue- and white-collar workers in America, including his own tale of losing his corporate job at AT&T. When this happened, turning to music full time seemed like the best option. Bell, who picked up a guitar at 15 because he wanted to be like Hendrix, didn't hesitate to jump in, no holds barred, to the sometimes crazy, and sometimes magical, world of bluegrass and folk.
Doors open at 7 p.m.; 316 S. Main St., Ann Arbor; theark.org; Tickets are $15.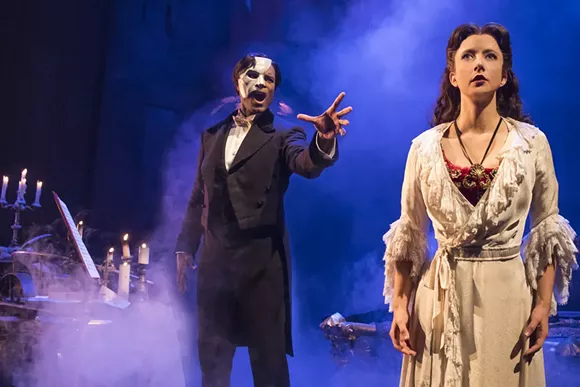 Phantom of the Opera. Photo courtesy of Broadway in Detroit.
Wednesday, 1/11
Phantom of the Opera
@ Detroit Opera House
Phantom of the Opera — the longest running show on Broadway — is coming out of the shadows to make another appearance at the Detroit Opera House. The sordid love story is shrouded in mystery and suspense, and of course, amazing musical numbers. It follows the main character, Christine Daaé, who's attracted the clandestine attention of a mysterious, disfigured musical genius and follows the wily antics and murderous lengths he's willing to go to in order to have her to himself. Of course, a normal, handsome, rich guy is also in love with her, which further complicates things. First-timers and repeat attendees are sure to be dazzled and amazed.
Show starts at 8 p.m.; 1526 Broadway, Detroit; 313-237-7464; michiganopera.org; tickets start at $35.
Thursday, 1/12
Blackalicious
@ The Magic Bag
Gift of Gab and Chief Xcel are back at it again. Since the '90s, the Sacramento hip-hop duo has stayed at the forefront of music thanks to Gift of Gab's intricate rhymes and Chief Xcel's dance-able beats. Just because they're from the West Coast doesn't mean you should go expecting to see N.W.A. Blackalicious is known for their uplifting, often spiritual lyrics "rather than violent and misogynous." They're not like radio rap in terms of what they're doing musically, and they aren't afraid to try things that radio rappers might shy away from, which is why seeing the duo live is totally worth it.
Doors open at 8 p.m.; 22920 Woodward Ave., Ferndale; themagicbag.com; Tickets are $17 in advance.