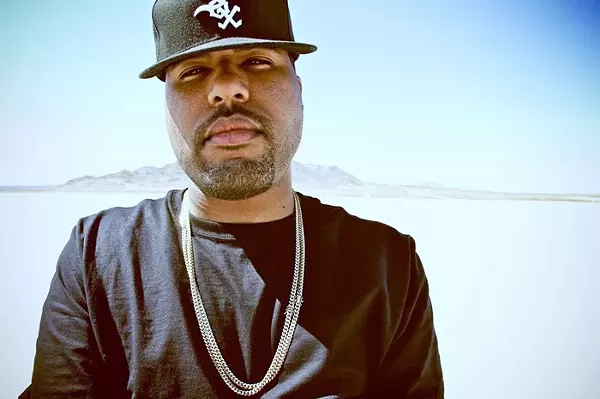 L.A. rapper Dom Kennedy has been prolific of late. Since 2008, he's released five mixtapes, with the 2010 release From the Westside With Love earning a ton of good press. He followed that with his first commercial studio album, From the Westside With Love II in 2011, and he hasn't really looked back since. Influenced by the likes of the Notorious B.I.G. and Ice Cube, Kennedy is a West Coast rapper with all the attitude and cocky swagger you'd expect from a West Coast rapper, as you can hear on his second album, last year's Get Home Safely. Skeme is also on this bill. Kennedy will be performing at St. Andrew's Hall in Detroit on February 1. Tickets are $18, and doors open at 7 p.m.
There's no shortage of Zeppelin tribute bands on the circuit right now. Hell, Jason Bonham has one that he's been talking to all of the big stages. But Lez Zeppelin is something else. This all-female tribute is no gimmick either. The girls are all excellent musicians (guitarist Steph Paynes previously played with Ronnie Spector), while singer Shannon Conley can hit the high notes better than present day Plant. Sure, the name is good for a giggle, but if you want to hear those old Zep tracks performed wonderfully well but with a twist, this is the show for you. Catch the show at the Magic Bag in Ferndale on Friday, January 30. Tickets start at $20. Doors open at 8 p.m.
In the great American lineage of hippie-dippy, prog-ish jam bands, Phish followed the Grateful Dead, and Umphrey's McGee followed Phish. The archetypal summer festival band, it might feel a little weird to see them indoors in the middle of winter, but this is a band that never really stops touring, often playing two sets in one night. The band has been together since '97; in that time, they've seen plenty of members come and go, but they remain one of the tightest bands around. How much you enjoy freeform prog rock played by guys who look like your dad will dictate how much time you have for them. Umphrey's McGee will play at The Fillmore in Detroit on Saturday February 1. Tickets run $22.50-$30. Doors open at 7:30 p.m.
County Line World Premiere...Described as "whimsical and profound," this coming-of-age story by Ann Arbor playwright David Wells centers on Lois, a 17-year-old who is sentenced to a foster home after her father is arrested. Together with her foster brother, Darius, the two must learn to survive a system that was designed to protect them but has ultimately failed them. Having just premiered Jan. 16, the play is already earning accolades — County Line won an Edgerton Award last year and was part of San Francsico's 11th Annual National Showcase of New Plays. Even sweeter, the show on Friday, Jan. 31 features a wine-tasting an hour before the curtain goes up, courtesy of Everyday Wines in Kerrytown, for an additional $5 with ticket purchase. The show runs through Feb. 16. Curtains at 8:00 p.m. Tickets start at $22.
An informed source tells us that the original Babe Ruth party was founded by a guy named Tom Derry, who first threw it at Bar Thoms on Detroit's west side 26 years ago. In 1995, Derry moved the party to Tom's Tavern, one of the city's oldest bars and most unusual drinking establishments. We further understand that Derry took his party to Nemo's Bar a few years ago, but that the good times just kept rolling at Tom's, where the party has likewise become a tradition. Although one party is the "original," we can assure our readers that both parties are very real and good times. Naturally, many people familiar with Corktown will attend the bash at Nemo's, but Tom's will also draw a crowd, particularly because of a nasty bit of vandalism and theft last week when a truck backed into the rear of the bar, smashing the wall and destroying pipes, allowing the burglars to break in and steal booze, beer and generally trash the place. That bar's owner, Ron Gurdjian, assured us the bar would be open and that the party would go on. So there you go, two choices, both guaranteed to knock it out of the park.
For those Grateful Dead fans who want Grateful Dead songs played pretty much exactly how the Grateful Dead used to play them, for those who are still mourning Jerry Garcia and no amount of comically named Ben & Jerry's ice cream will make them feel better, then perhaps this show at the Majestic Theatre is for you. Since '97, this Chicago band has been satisfying Dead fans around the globe, and such former Dead members as Bob Weir, Donna Jean Godchaux and Bill Kreutzmann have joined them onstage from time to time. Doors open at 8 p.m. on Monday, February 3 at the Majestic Theatre in Detroit. Tickets start at $22.
The Detroit Repertory Theatre, tucked away on a depopulated stretch of Woodrow Wilson Street on the city's west side, is one of those hidden gems more people should know about. For more than a half-century, "the Rep" has staged several plays a year, including dramatically powerful plays on important issues. Their new show, My Occasion of Sin, is no exception. Playwright Monica Bauer's tale is set amid the 1969 Omaha race riot, zooming in on the story of George and Helen Hollewinski, who own a music shop in a changing Omaha neighborhood. The Rep's productions are usually lushly staged, rigorously on time and always a pleasure. If you haven't been yet, now's the time to take your seat. Showtimes are 8:30 p.m. Thursday and Friday. Tickets are $17 in advance or $20 the day of the show. Parking is guarded, fenced-in and free.
Somehow, there will be three states squeezed into Small's for this show, which sees a lot of incredible local talent blasting through rapid-fire sets one after the other. It all kicks off at 9:30 p.m. with Boron Nuzzle, a sci-fi-obsessed group of crazies, on the "side stage." Where the fuck are they going to fit a side stage? We don't know, but it'll be fun finding out. Also on the bill are Caveman Woodman, All the Wild Children, Carjack, Year of the Pig, Man Inc., the Disinformants, and the Amino Acids. Killer bill. Tickets are $10. Doors open at 9 p.m.
Whether it's a classic bandana, a novelty Hawaiian shirt or an Ewok costume, there's something about making dogs wear clothes that is always instantly hilarious. Fans of costumed canines can head over to Detroit's Palmer Park to compete for fabulous prizes in the Doggie Fashion Parade, one of many events planned for that day. It almost sounds like a bit of a masochistic experience to stand around in the cold watching a parade of dogs, but there are enough other events planned to keep you and your pooch busy, including horse carriage rides, ice skating, cross-country skiing, snow shoes, bonfires and more. Would you rather spend the day waiting for a groundhog to see its shadow? Bring your four-legged friend down to Palmer Park on Sunday, February 2 from 1-4 p.m.
"Have we sunken into a species-wide bout of clinical depression?" This is the question posed in the debut novel Why Are You So Sad? by Jason Porter. The novel tells the story of one Raymond Champs, a furniture instruction manual illustrator who becomes obsessed with finding out if the world deserves to be saved. He determines that every man, woman and child on the planet is clinically depressed and sets out to collect the data to prove it — even if it means his wife and boss think he is losing his mind. Porter has been compared to authors like Gary Shteyngart, George Saunders, Douglas Coupland and Jennifer Egan, and has been described as "acutely perceptive and sharply funny." The event also features a reading from fiction writer Sara Davis. The book launch happens on January 31 at 5 p.m.
Whether playing the clown to Dr. Drew's straight man on the love advice show Loveline, the tall-guy to Jimmy Kimmel's short guy on the lewd The Man Show, a puppeteering prankster on Crank Yankers, or from his current work with The Adam Corolla Show (which, according to Guinness, is the most-downloaded podcast in the world), one thing is always certain — Corolla's no-holds-barred brand of humor knows no limits. Nowadays, the comedian keeps busy with a variety of pursuits, such as developing a new beverage called "Mangria" (essentially red wine and vodka, referred to by fans as "college in a bottle") and making a documentary about Paul Newman. Who the hell knows what he'll go off about at his show, but you can be sure it will be outrageous. Catch the show at The Sound Board in the MotorCity Casino Hotel. Tickets start at $30. Doors open at 8 p.m.
Hot on the heels of Sundance, the DDFF is a film fest for the rest of us back here in Michigan, a four-day extravaganza dedicated to films about Detroit in some form or another. Subject matter ranges from the documentary Brewster Douglas, You're My Brother, which explores Detroit's infamous housing projects, to Nain Rouge, a story about Detroit's infamous red dwarf. The action starts on Thursday with a screening of short films at 8 p.m. and an opening reception at 9 p.m. $7 per block.
Kick off Black History Month with this free annual event. Featuring a variety of activities throughout all three levels of the museum, there's bound to be something for everyone. The day's educational and entertaining guests include genealogist Bruce C. Ford, who will discuss his book A Tree Fell … And Its Roots Survived, storyteller Ivory D. Williams, an artist's market, experts on the Buffalo Soldiers, the Tuskegee Airmen and more. This even runs from 11 a.m. to 4 p.m. Saturday, February 1 at the Detroit Historical Museum.
Friday marks beginning of the Chinese New Year 4712, which is the Year of the Horse. If you were born in a horse year (that's every 12 years) it is said you share personality traits with the animal — like a horse, you are an excellent communicator, good with money and skilled at working with your hands (Note: We are neither astrologists nor zoologists). On Sunday, you can ring in the Year of the Horse the authentic way with a classical Southern Style Lion Dance performance at the DIA, complete with gongs, drums and a martial arts demonstration. Tickets for this event run $4-8.
Detroit rapper Guilty Simpson, previously known as Guilt, has worked with everyone from J Dilla to Black Milk. Signed to Stones Throw Records, Simpson has been a rock on the Detroit hip-hop circuit for years, alongside J Dilla, Slum Village and Eminem. This headline show at the Stick sees Simpson performing alongside Aztek the Barfly, Illingsworth, Nolan the Ninja, DJ Dante Lasalle and Supa MC, making this the must-see rap show of the week. According to his website, "Guilty's testosterone-charged, inner-city themes possess of a sense of humor at times so side-splitting, it only proves how serious he really is." Check him out Thursday, January 30 at the Magic Stick in Detroit. Tickets start at $8.00 doors open at 8 p.m.