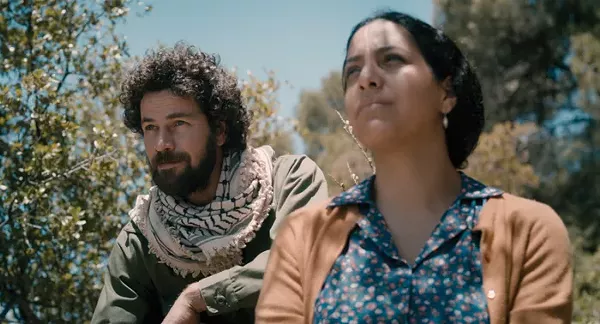 THURSDAY, 6
Arab Film Festival

Showing movies from Palestine, Iraq, Qatar, Jordan and more, this festival is a three-day-long exhibition of foreign films from the Middle East and North Africa. Thursday's films will be hosted inside of the Michigan Theater in Ann Arbor, and viewers should expect to see two great films. The Forgotten (2012), directed by Ehab Tarabieh, was filmed in Syria and Qatar and is about a refugee in Syria who uses the help of a young smuggler to return back to his childhood home in the Golan Heights in Israel. When I Saw You (2012), directed by Annemarie Jacir, was filmed between Palestine, Jordan, Greece, and UAE. It's a story that takes place in 1960s Jordan and follows the lives of a young boy and his mother as they live as refugees from Palestine in a refugee camp. These movies will be shown in Arabic with English subtitles, and tickets are sold in "packages" of two films each. Tickets are $10.
SUNDAY, 2
Bizarre

So "weird" is in nowadays, no? If you're a big fan of Shady Records leader Eminem's D12, then you should know that Bizarre has left the building. Wanting to start his own image and brand two years ago, Bizarre branched off from the infamous group to start his own "Weirdo Movement" and has been promoting it everywhere. Now, finally stopping in his hometown, you'll hear some of his distasteful, yet weird bars on the stage of St. Andrew's Hall, where he first started his rap career. Doors open at 7 p.m. tickets start at $10.
Friday, 28 & Saturday, 1
Brian Charette

Lovers of the sensuous sound of a Hammond organ are in for a treat, as this weekend we're getting a visit from Grammy-nominated jazz organist Brian Charette. Charette has worked with recording artists as diverse as Joni Mitchell, Chaka Khan and Lou Donaldson, writes for both Keyboard and DownBeat magazines, and has placed second in DownBeat's critics poll for "Rising Star: Organ" two years in a row. But he comes to Detroit as a hard-touring bandleader, with his Brian Charette Organ Trio, featuring Jordan Young and Ralph Tope. Audiences can experience this New York jazz ensemble in two settings, with the Friday night gig taking place at the Bronx Bar at 10 p.m., and Saturday night's show in the spectacular art deco space that is Cliff Bell's at 9:30 p.m. $10.
SATURDAY, 1
Here Come the Mummies

Not to be confused with Californian garage punks the Mummies, Here Come the Mummies also takes the stage in full Egyptian mummy garb, though this outfit plays funky R&B. The band members' true identities are a closely held secret, though it's believed that there are Grammy winners within the band's ranks. More importantly, they have really funny names. Mummy Cass and Eddie Mummy are particularly witty. 2011's Bed, Bath & Behind album was a beauty, but last year's Cryptic may have bettered it. Expect tunes from all over the 12-year history of the band at The Fillmore in Detroit. Tickets start at $20. Doors open at 7:30 p.m.
FRIDAY, 28
Silents in the City

In the age of big, chain movie theaters sporting the highest quality sound systems, and every Hollywood blockbuster boasting a soundtrack featuring over-produced chart-toppers, it's hard to believe that in the not-so-distant-past there were silent films. At the very least, there would be a piano accompaniment and if you were lucky, a full, orchestral score or even vocalists singing offstage. Dialogue however, was totally absent, save for the intertitles that served as narrative. For the curious as well as the nostalgic film buff, Cinema Detroit has curated a comprehensive package of silent classics including The Immigrant by Charlie Chaplin, The Love Nest by Buster Keaton, three short films by George Méliès, and even a "Felix the Cat" cartoon as a palate-cleanser. It's certainly not IMAX, but the Burton Theatre is allowing inquisitive patrons to experience significant, cinematic achievements. Tickets are $7.
FRIDAY, 28
A Violent Embrace book launch

In the art world, too many times critics and scholars are preoccupied with decoding a work of art to find the original "truth" behind it — but what about the reaction that we, the viewer, have when experiencing a work of art? Certainly that's worth analyzing, whether the artist intended that reaction or not. With her new book A Violent Embrace: Art and Aesthetics After Representation, WSU professor Renée C. Hoogland focuses on just that — proving that art-viewing is no mere passive experience but rather a "violent embrace." Why does art make us cry? Offend us? Repulse us? The author will be on hand at the Museum of Contemporary Art Detroit to discuss her work, and the book will be available for purchase as well. The event will start at 6 p.m. A $5 donation is suggested.
SUNDAY, 2
The Battle for Summer Slaughter • Allstars Tour

The prizes for this Battle of the Bands are coveted slots on the Summer Slaughter tour, the Allstars tour, or both. Therefore, extreme metal and punk bands from all over the area will be gathering in an attempt to impress the judges by being nastier, heavier and crunchier than everyone else. The bill will include Gift Giver, Sycamour, Of Virtue, Boreworm, Athena's Grace, Forsythe Falls, the Dunwich Horror, and Ethereality, plus many more. The Crofoot says, "With opening slots for the entirety of both the Summer Slaughter and All Stars tours at stake, two lucky bands will go from being just locals, to names we'll hear for years to come." See the bands battle this Sunday at the Crofoot. Doors open at 4 p.m. $10 cover charge.
SATURDAY, 1
The Joffrey Ballet Performance ?and Master Class

Known as one of the top dance companies in the world and the first to perform at the White House, the Joffrey Ballet comes to the Detroit Opera House to perform and teach. The master class is free with a ticket to the performance, and although the class is reserved for dancers at the intermediate or advance ballet level, the performance is open to everyone. Dance acts include Interplay, Nine Sinatra Songs, and Sons of Chamber Symphony. If you're a dancer looking for a challenge or a ballet enthusiast looking to be entertained by classically trained performers of the highest standard, this is one occasion you shouldn't miss. The class will begin at 11 a.m., is free with a ticket stub or is $25 without one. The performance will begin at 7:30 p.m.
SATURDAY, 1
Big Head Todd & the Monsters

Hailing from Boulder, Colo., this band has been around since 1986, putting out 14 albums, seeing a million faces, and rocking them all. Essentially a blues rock band, they even recorded a version of "Boom Boom" with John Lee Hooker once, which should get them a little respect around these parts. They've remained on the fringes for the entirety of their existence, retaining an enviable fan base but never crossing the line into mainstream success. Plus, alongside Toad the Wet Sprocket, they have one of the silliest band names from their bygone era. Ronnie Baker Brooks also plays. See the show at the Royal Oak Music Theatre at 7 p.m. Tickets start at $25.
Friday, 28
Comedysportz Detroit

Comedysportz Detroit brings the hard-hitting actions of sporting events and hilarious shenanigans of stand-up comedians together to create a genre of improvisational comedy all its own. The show is set up like a sporting event, complete with an opening national anthem. Two "teams" of comedians make up scenes, games and songs on the spot, as they compete for laughs from the audience. The audience votes for winners, and referees can call fouls. It's a real sporting event without the sport. Show times are Fridays and Saturdays at 7:30 p.m. at the Michigan Actors Studio on E. Nine Mile Rd, tickets start at $12.
SATURDAY, 1
New Country Rehab

Toronto's New Country Rehab sits comfortably in the alt-country genre box, but the label doesn't tell the whole story. They say that they combine "sharp innovation and a deep respect and knowledge of timeless musical themes and motifs, New Country Rehab's powerful music is full of love, loss, longing and joy." They also say that they are more Arcade Fire than Lady Antebellum, and that's certainly true. Meanwhile, our own Blaire Alise & the Bombshells are also on the bill — a band fast evolving into one of the best live acts in town. Local singer/songwriter Mike Galbraith opens the show at PJ's Lager House. Doors open at 9 p.m. tickets are $6.
FRIDAY, 28
Metal Church

One of the original thrash metal bands out of San Fran, Metal Church didn't ever manage to break into the "big four" category but, like Exodus, Testament, and Flotsam & Jetsam, they had some cool tunes. The band has been a shifting mass for the entirety of its existence, with band members leaving and dying, and the group breaking up more than once. Metal Church is at its best when founding guitarist Kurdt Vanderhoof is in the band though, as he is again now. Join the congregation this Friday at the Token Lounge in Westland. Tickets are $20. Doors open at 8 p.m.