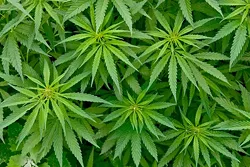 A petition to legalize recreational marijuana in 2018 will be submitted to Lansing today. Once approved, those behind the initiative will have 180 days to collect 252,523 signatures from valid registered voters in Michigan.
The measure would allow adults 21 and over to legally possess up to 2.5 ounces of marijuana and keep up to 10 ounces in their homes. Public consumption and driving under the influence would be illegal.
It would be be taxed at a rate of 10 percent in addition to a six percent sales tax. Revenues would be split among K-12 education, roads, and communities that choose to allow marijuana businesses operate.
As we reported in
a cover story last month,
big money forces are backing the initiative.
The Coalition to Regulate Marijuana Like Alcohol
has so far raised at least $140,000 mostly from three donors, including retailer Smokers Outlet Management (or Wild Bill's Tobacco), Lansing real estate developer Sam Usman Jr., and Andrew Driver Jr., who owns an electric company in Gaylord. The coalition was organized by the Marijuana Policy Project, a Washington, D.C.-based group that has led recent successful legalization initiatives in five other states.
The new initiative follows MI Legalize's failed effort to get legalization on the 2016 ballot, which successfully gathered more than 350,000 signatures but not within the required 180 days.
While MI Legalize supports the new effort, board member Jamie Lowell expressed concern over the influence of big business on the proposal.
"It sets up this scenario where the infrastructure for a distributorship is created,"
he told us.
"If you look at these exclusionary licensing requirements, it's hard to imagine who all has those credentials except ten or twelve companies. This is where the special interests come in. They're paying for exclusivity for that segment of the market."