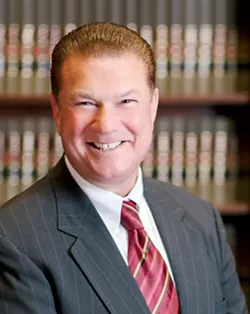 senatorpetelucido.com
Sen. Peter Lucido.
Allison Donahue, a 22-year-old reporter for Michigan Advance, says state Sen. Peter Lucido made a sexist joke about her when she asked him about his involvement in a violent, misogynistic Facebook page first reported by Metro Times.
Writing about her experience
, Donahue says she was waiting outside the Michigan Senate chamber on Tuesday to ask the Shelby Township Republican about his involvement in the Facebook group when he brushed her off to talk to a group of boys from his alma mater, Warren's Catholic high school De La Salle.
When she walked away, she says Lucido told her, "You should hang around! You could have a lot of fun with these boys, or they could have a lot of fun with you."
Last year, De La Salle fired its varsity football coach and suspended three students amid a
hazing scandal involving alleged sexual assault with broomsticks
.
When Donahue later met back up with Lucido, he downplayed his involvement in the Facebook group, in which members called for the murder and rape of Democrats, and said he does not condone violence. But before she left, Donahue called him out on his sexist behavior toward her earlier — to which Lucido reportedly cut her off and offered a rambling response in which he said he meant no harm.
Donahue countered, saying "you wouldn't have said it to any of my male colleagues or anyone who presented to be older than I am."
Lucido reportedly responded that it was nothing personal and that is just how he talks to young women.
"I didn't set out to write this story when I showed up to the Capitol Tuesday morning," Donahue wrote. "I didn't really want to write it after I left. I didn't want to become the subject in my own writing."
She added, "But it mattered to me that I wrote this, because maybe Sen. Lucido, and likely many other men in power, will think twice about making comments like this anymore to the young girls who visit the Capitol on a field trip, or the female reporters who are there to get a quote for a story or their female colleagues who are there to do their job."
On Wednesday morning, Lucido responded with a curt statement, saying "I apologize for the misunderstanding yesterday and for offending Allison Donahue."
Lucido is the Senate majority whip and is reportedly considering running for governor in 2022. Check the
Michigan Advance article
for a Getty Images photo of him pumping his fist and practically frothing at the mouth at a Trump rally in 2016.
Kudos to Donahue for asking a man in power tough questions.
Stay on top of Detroit news and views. Sign up for our weekly issue newsletter delivered each Wednesday.