<!——StartFragment——>
Cannabidiol (CBD) is a major cannabinoid found in the cannabis sativa L. plant species. Discovered in 1940, CBD is just one of 113 cannabinoid compounds we know of so far.
Although scientists knew about it for quite some time, it's only in recent years that CBD started making a name for itself. There's a huge amount of anecdotal and preliminary evidence to suggest CBD can help with conditions like epilepsy, arthritis, chronic pain, and much more. However, we have a lot to learn before we can say anything definitive about most of these conditions.
Ambiguity aside, there's no denying that CBD has made a huge difference for millions of people, giving rise to a steady stream of hemp-derived CBD vendors all over the U.S.
But with so many companies available, quality inevitably varies. How can you confidently choose the right CBD oil or other product? Fortunately, you don't have to.
After a careful examination of customer reviews, product testing, and third-party reports, we've compiled a simple shortlist of the five best CBD oils to buy in 2021.
<!——EndFragment——>
<!——StartFragment——>
Founded in 2017, Colorado Botanicals bases its core values on strong therapeutic focus, expertise, transparency and quality.
The company offers a line of potent, broad-spectrum CBD oils, which provide the benefits of whole-plant extract with no THC. The cannabidiol extract is suspended in coconut-derived medium-chain triglyceride (MCT) oil, which has its own set of nutritional benefits. If you're health-conscious, this CBD oil formula is top-of-the-line.
One downside to all broad and full-spectrum CBD oils is their lingering cannabis aroma. Colorado Botanicals understands not everyone likes the botanical or "hempy" taste, so a peppermint flavor option is available.
CBD levels range from 300 to 3,000 mg. Unlike many CBD oils, the volume of each Colorado Botanicals bottle remains the same (30 ml), allowing for incredible CBD concentration as the levels increase.
The Colorado Botanicals 300 mg bottle offers 10 mg/ml of CBD - ideal for maintenance doses, health routines, or minor symptoms.
Their 750 mg oil contains 25 mg/ml of CBD, which increases the therapeutic potential and allows consumers to use less oil with the same or better results.
1500 mg is the second-highest option, providing a powerful 50 mg/ml. Experienced consumers who need a substantial - but not massive - amount of CBD to control their symptoms are better off investing in this product.
Finally, we have Colorado Botanicals' most potent oil, packing an enormous 3000 mg (100 mg/ml) in a 30 ml bottle. This is designed for people who need to deal with serious symptoms without using up too much oil.
Although the price naturally increases with potency, so does the value. Price per milligram ranges from $0.10/mg (300 mg) to $0.07/mg (3000 mg). If you have the money to spare, it may be smart to invest in the higher-priced bottles, since you get more value and can use less oil for the same results.
Products aside, we love Colorado Botanicals, which earned our top spot for a number of reasons. Aside from providing some of the most potent CBD oil on the market, a lot of time, effort, and expense goes into these extracts.
In terms of manufacturing and quality control, Colorado Botanicals ticks all the boxes:


- GMO-free, organically-grown hemp
- THC-free
- CO2 extraction - the cleanest, most effective method available
- Third-party tested
- Reasonable prices
- Subscription service saves 15% on every order
<!——EndFragment——>
<!——StartFragment——>
Don't just take our word for it. Observer gave Colorado Botanicals the number one spot among their 10 Best CBD Companies in 2021. Observer also awarded Colorado Botanicals first place among their Best CBD Gummies for Pain and Inflammation.
Discover Magazine also raves about Colorado Botanicals, listing it above all others as the Best CBD Oil for Pain and Inflammation.
Meanwhile, the consumer website Trustpilot gives Colorado Botanicals a near-perfect score. For example, "Debbie" writes:
"The product [oil] works as it should and the mint flavoring is a plus...not overpowering like some flavors!"
<!——EndFragment——>
<!——StartFragment——>
NuLeaf Naturals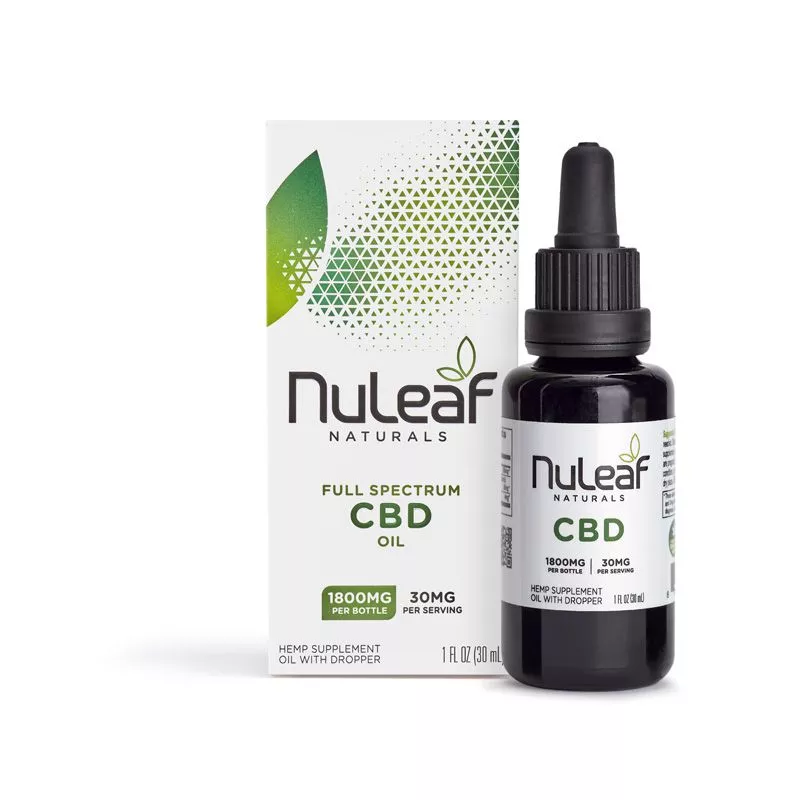 A part of the CBD industry since 2014, NuLeaf Naturals stands out for its focus on purity and potency.
NuLeaf Naturals uses whole-plant (full-spectrum) extract suspended in virgin organic hemp seed oil. Hemp seeds are extremely nutritious. Often labeled a "superfood," these health gems are rich in vitamins, minerals, and healthy fats.
Although full-spectrum is excellent for its diverse cannabinoid and terpene content, it could also contain up to 0.3% THC. Intoxication is virtually impossible at that level, but some individuals might still be sensitive. It also may show up on some drug tests.
The "hempy" taste is particularly strong. NuLeaf's commitment to pure CBD also means they don't add flavoring. Still, NuLeaf manages to minimize this aroma as much as possible
NuLeaf Naturals CBD oils are available in five strengths, from 300 mg to 6000 mg of CBD.
However, volume increases depending on CBD content.
The CBD concentration levels are as follows:
- 300 mg (15 ml)
- 900 mg (15 ml)
- 1800 mg (30 ml)
- 3000 mg (50 ml)
- 6000 mg (100 ml)
<!——StartFragment——>
If you do the math, you'll see the 300 mg oil provides 20mg/ml of CBD, while all the others sit at 60 mg/ml. Consequently, buying the higher level oils - although still quite potent - offers value, but not strength.
NuLeaf Naturals is a bit pricey, given the content. Colorado Botanicals 3000 mg broad-spectrum oil retails for $199.99 and contains 100 mg/ml. As of the writing of this review, NuLeaf offers their 3000 mg oil on sale for the same price (regular $239.00), but with 40% less CBD per serving.
Cost aside, there are still plenty of reasons NuLeaf is worth the price:
<!——EndFragment——>
- Organic Colorado hemp
- Non-GMO
- Subcritical and supercritical CO2 extraction creates a clean extract
- Proprietary hemp genetics created for the most robust terpene and cannabinoid profile possible.
- Third-party tested
<!——EndFragment——>
<!——StartFragment——>
Customers are also really pleased with NuLeaf. "Larine" on the CBD consumer website CBDOilUsers.com says:
"Definitely took my long-term chronic back pain away! Reduced my anxiety! Wow! It's like finding a well hidden secret cure! Only wish I tried this years ago."
This is just the tip of a very large iceberg, as NuLeaf boasts over 20,000 independent five-star reviews.
<!——EndFragment——>
<!——StartFragment——>
Spruce CBD


<!——StartFragment——>
When it comes to cannabidiol oil, Spruce CBD certainly means business. Family-owned and operated since 2018, Spruce prides itself on producing high-potency, "lab grade" CBD.
Spruce CBD's oil is full-spectrum and primarily comes suspended in organic hemp seed oil, with coconut MCT offered as an option in some products.
Spruce CBD states on their website that lower-potency CBD products are ineffective, so the CBD levels they offer are fairly high, albeit limited.
This vendor offers only two oil options - 750 mg and 2400 mg - in 30 ml bottles. The 750 mg option is peppermint-flavored with 25 mg/ml of CBD suspended in organic hemp seed oil.
The 2400 mg bottle at 80 mg/ml is more customizable. Customers can choose between hemp seed oil or coconut MCT oil as a carrier. However, this product is unflavored.
According to Spruce, adding flavoring would make it impossible to reach 2400 mg without sacrificing quality - although Colorado Botanicals had no issues pulling this off.
Customers might find Spruce CBD to be pretty expensive, with its 750 mg CBD oil retailing for $89.99, while Colorado Botanicals offers literally the same product (broad-spectrum being the only difference) for $59.99. The 2400 mg oil is also quite pricey, selling for $269.00 when Colorado Botanicals offers 3000 mg for $199.99, with a higher concentration per milliliter.
Interestingly, Spruce CBD dismisses CO2 extraction as "pure marketing speak." Instead, they opt for their own "moonshine" extraction process which they claim is superior. This alcohol extraction method still leaves behind no residual solvents and (according to Spruce) is better than CO2 at retaining CBD and other plant compounds.
A few other key things to note about Spruce CBD:
- Pesticide-free, sustainable, natural hemp
- Non-GMO
- Third-party tested
- Subscription service offers 15% off all orders to help offset some of the cost

Unfortunately, we weren't able to locate any independent user reviews, but "Debra Speir" on the Spruce CBD website says:
"I think SPRUCE has the BEST of the Best! I know it's expensive but, I'm making adjustments to buy mine and you can too! GIVE IT A TRY!!"
CBDfx
Founded in 2014, the San Fernando Valley-based CBDfx is a major player in the hemp CBD industry, offering a myriad of product options, including CBD oil.
CBDfx offers three lines of CBD oil - one of which is designed for dogs of various sizes. Human options range from 500 mg (17 mg/ml) to 6000 mg (100 mg/ml), while dog oil starts at 250 mg (8 mg/ml) up to 2000 mg (67 mg/ml) for larger dogs
CBDfx also adds minor cannabinoids and terpene blends for more targeted effects. This allows them to create oils specifically for relaxation or general health.
The CBD + CBN Oil Calming Tincture contains a 2:1 ratio of CBD:CBN. This full-spectrum product is also infused with cannabinol (CBN), which has its own set of benefits. Only one small human study was done with CBN, dating back to 1975. Participants said CBN was an effective sleep and relaxation aid.
Subsequent animal research suggests CBN could help with pain relief, inflammation, and act as a neuroprotectant.
CBD + CBG Oil Wellness Tincture is a 2:1 ratio of CBD:CBG, made with broad-spectrum extract, the addition of cannabigerol (CBG) really boosts the product's therapeutic potential.
According to a 2017 study, CBG helps promote health by acting as an anti-inflammatory and may also help with glaucoma. The publication also suggests anti-cancer properties, suggesting CBD can help prevent or fight abnormal cell proliferation.
Also contains curcumin - a powerful anti-inflammatory. Coenzyme Q10 was added as well, which has a slew of health benefits, including increased energy and antioxidant properties.
However, more research in CBG and CBN is needed. The findings are promising, but not definitive - especially given the lack of double-blind human studies.
The CBDfx CBD Pet Tincture is simply CBD oil at lower concentrations, infused with natural bacon flavor.
CBDfx really grew fast and made a name for itself, but their reputation is well-deserved. A few highlights about CBDfx:
- Vegan
- Non-GMO
- Organically-grown
- CO2 extracted
- Third-party tested
- Low to no THC (depending on the product)
- Reasonably-priced, similar to Colorado Botanicals
- Offers coupon code discounts
CBDfx's products are nearly universally well-received, with a seemingly endless line of happy customers. One verified buyer named Justin H. writes:
"I have a somewhat rare condition I won't go deep into but I've always wanted to see if the benefits of CBD could help me with some of my symptoms and it has definitely helped with my anxiety and issues with my high heart rate. I also feel it is a bit of a mood booster as well. Thankful to have found this company that really shows that they are about education about CBD and its benefits as well as making the most pure product possible. I'll be purchasing again!"
Wildflower Wellness
✖
i
Established in 2012, the Vancouver-based Wildflower Wellness was one of the first CBD companies to mix CBD and essential oils. The company's mission is to bring a holistic, all-natural approach to the CBD market.
Wildflower offers four CBD tincture options, with each available in 500 (17 mg/ml) or 1000 mg (33 mg/ml), depending on the product. The oils are either full-spectrum or broad-spectrum, infused in nutrient-rich hemp oil
Pure Tincture 500 mg is a full-spectrum oil infused with milk thistle extract, which offers a diverse list of nutritional and preventative benefits.
Wildflower's Pure Plus Tincture 1000 mg broad-spectrum oil contains the same active compounds as Pure Tincture, but with more CBD and no THC.
Both Pure and Pure Plus are unflavored, with a reportedly "earthy" aroma.
The third option is Wellness Tincture 500 mg. This broad-spectrum CBD oil uses the same formula as the previous two products, but adds natural tropical fruit flavor to make the oil more palatable.
Finally, the Wildflower Wellness Relief Tincture 1000 mg is intended for symptom relief, rather than general health.
The product is made with broad-spectrum CBD extract and contains the same active ingredients as its counterparts, along with a natural orange-mint flavor.
It's difficult to discern the difference between each product, given their similarities. It seems the 1000 mg oils are meant for symptom relief, while the 500 mg products are for general health maintenance.
Wildflower isn't the most expensive, but it still takes a slightly higher bite out of your wallet. In comparison, Colorado Botanicals offers 750 mg for just $10 more than Wildflower's 500 mg, and with a 25 mg/ml as opposed to 17.
Some more quick facts about Wildflower Wellness:
- Organically-sourced hemp from Colorado, Kentucky, and Oregon
- CO2 extraction
- Third-party tested
- Subscription offers 10% discount

Customer satisfaction speaks for itself. Facebook user Nikki Peden Norman says:
"This product is amazing for controlling joint aches and pains. I use it nightly....I really like everything I've tried from Wildflower...Best product I've ever used for pain!"
Conclusion
Although Colorado Botanicals wins the day as our best overall brand, the other brands on our list are certainly worth a try.
The problem with the CBD industry is that there's little holding vendors back from providing sub-par CBD, with some being bold enough to mislabel their products. Being ripped off is a concern many new CBD users share - an outcome that's virtually unavoidable unless you really know the best companies.
Our list isn't just a careful selection of top CBD brands based on objective criteria. It's an example to all CBD fans that dedicated, reliable, reputable vendors do exist - and we'll always be on the lookout for more.
<!——EndFragment——>