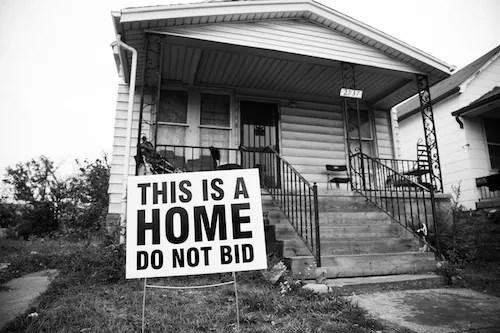 Photo courtesy Tricycle Collective
Paris, France's historic Notre Dame cathedral was damaged in a fire on Monday, and people and corporations from all around the world are chipping in money to help pay for the promised rebuild. All told, donations
have topped $1 billion
.
However, the French government, its associated foundations, and the Catholic Church's charity that funds the cathedral's maintenance and repairs don't need that money as much as the hundreds of nonprofits across Michigan that are doing God's work. Here are some of our favorites:
Haven:
Haven is nonprofit dedicated to assisting victims of sexual and domestic assault. It runs Oakland County's only 24-hour emergency shelter for domestic violence and sexual assault victims and their children; a counseling program for domestic violence or sexual assault victims; support for victims moving through the legal system and the personal protection order process; and a range of programs designed to prevent sexual assault and domestic violence.
Six Feet Over:
Six Feet Over is a Livonia-based nonprofit focused on helping families after a loss from suicide with financial assistance, as well as connecting them to other resources that can help them deal with their trauma, like low cost counseling and support groups. Through Suck It! Suicide, Six Feet Over also reaches communities and answers questions about mental health and suicide in a casual, non clinical way, helping to stop the stigma attached to these topics.
United Community Housing Coalition
: In the simplest terms, UCHC provides housing assistance to low-income Detroiters in a city where 40 percent of the population lives in poverty. That includes foreclosure prevention services, tenant organizing, housing placement for those who are facing homelessness, and free legal assistance. Among its most critical services is the "Good Neighbor Fund," which directly buys homes from the county's tax foreclosure auction to keep the house with the owners who lost them. UCHC is especially in need right now because the Trump administration
cut its budget
by 40 percent.
All About Animal Rescue
: The Warren-based non-profit provides a wide range of low-cost animal and pet services. That includes vaccines, microchipping, parasite control, flea prevention, and spaying and neutering, as well as testing for heartworms, parvovirus, and feline AIDS. It also offers free T-N-R classes and will spay, neuter, and vaccinate stray cats for free. AAA also runs locations in Flint, Southwest Detroit, and Pontiac.
The Rainbow Connection
: The Rainbow Connection "makes dreams come true for Michigan children with life-threatening medical conditions." Beyond that, it provides support services and financial assistance to eligible families experiencing financial difficulties. That means helping parents with necessities like food, gas and other expenses so they can focus on their child. Unlike many nonprofits, most of its funds go to families instead of staff salaries.
St. Landry Parish Churches
: Finally, this might not be a local cause, but someone or some people recently burned down three historically black churches in Louisiana. These churches don't have billions to rebuild. You can help
here
.
(Editor's Note: An earlier version of the story stated that they donations were made to the Catholic Church. The donations are being made to various foundations working with the French government.)

Stay on top of Detroit news and views. Sign up for our weekly issue newsletter delivered each Wednesday.