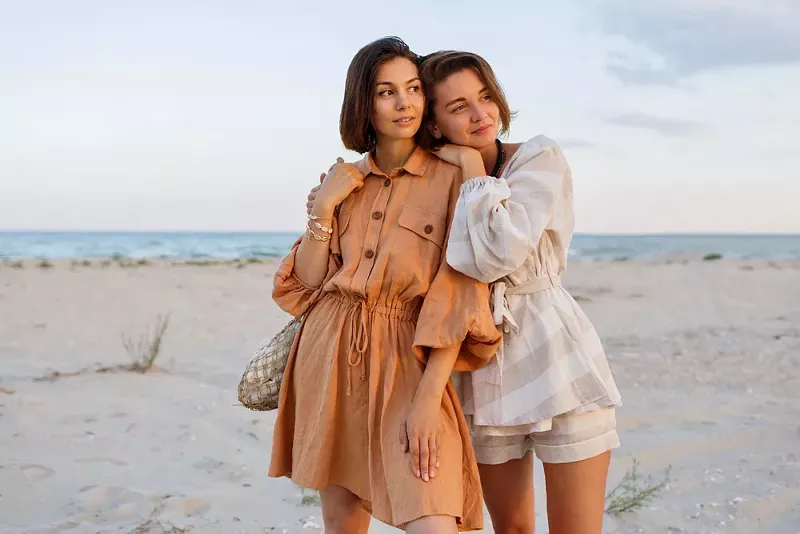 What are your plans for the summer? If you're like most people, other than cranking up the AC, you already have your eye on some pieces you want to add to your closet. Whether it's more sandals, shorter shorts, looser clothes, or interesting hats, people start planning for the summer months in advance. Let's look at one fabric that should grace your closet in 2021 and the coming years.
Linen is not a new entrant in summer closets. People have been wearing it since the middle ages, and it keeps getting better, softer, more accessible, and even more sustainable. We will explore some top reasons why it should not miss from your 2021 summer collection.
Durability
Have you noticed how often you shop for clothes? Most people end up doing spring cleaning every year because they have stocked up piles of clothes that no longer serve a purpose. Maybe the clothes look worn out or are out of fashion or are no longer fitting them. Whatever the reason, a lot of money goes down the drain in stocking closets. Are you tired of this trend? Linen could be the answer for you.
Its natural fibers are the strongest of its kind. Interestingly, instead of getting weaker after every wash, the fibers become even stronger. It's no wonder archeologists found a pharaoh's remains wrapped in linen cloths that were still in good condition. If it can withstand centuries of being underground, what's a closet going to do to it? You can rock your linen in 2021 and the years to come. How great is that!
Breathability
In the summer heat, all people want is to feel cool. Unfortunately, many fashionable fabrics tend to cling to the skin. So, while you may be looking great strutting your stuff, you may be feeling uncomfortable and cannot quite enjoy the look. Linen has hollow fibers, which means that it can absorb way more water than other materials. It can take up as much as 20% of its dry weight in moisture and still feel cool instead of clingy. That's why people cannot stop shopping for linen as they figure out where they'll picnic or take a stroll to enjoy more of the sun. And here's an important point- no sweat patches. If you've ever had to leave an event early or sit in the corner avoiding eye contact because of sweat stains, here's a little something to give your deodorant a break.
Sustainability
Fashion designers and customers have started focusing more on the sustainability of their clothes. It's no longer about how beautiful a design is. Now, people want to know what impact the fabric will have on the environment during the production, use, and after use stages. For example, if a product is sustainably made and yet ends up in the dumpsites where it remains for years, has it served a good purpose?
Linen has been at the forefront of fabrics that have the least environmental impact. Not only does it use less water, but it also has little wastage and is biodegradable. It wins on all fronts and becomes even better when sustainably processed, as is the case with LINENFOX, which offers amazing sustainable choices. If you've been looking for a way to be more involved with environmental conservation, you may have found it.
Fashionable
As much as linen has been around for millennia, it has not lost its touch. Every year, other materials come into the scene and leave the next but linen holds its place. Thus, whether it's summer 2021, summer five years ago, or summer five years from now, your look will still be on point. It has a luxurious touch to it, making it ideal for all seasons. By investing in a fabric that's now gracing fashion weeks, you will not only stand out, but you can also avoid rehauling your closet the next season for an in-look. Linen will still be trending!
Gentle
If you've ever suffered an allergic reaction to a fabric or have a skin condition, you may have noticed that some fabrics are not all that good for the skin. It owes to the environment they create, allowing moisture to build up, and creating the ideal home for microbes. Linen is quite different as it allows air to move around, ensuring moisture does not linger on the skin. Additionally, if you invest in natural and sustainable linen, you can rest assured it is free of chemicals and will not exacerbate existing issues.