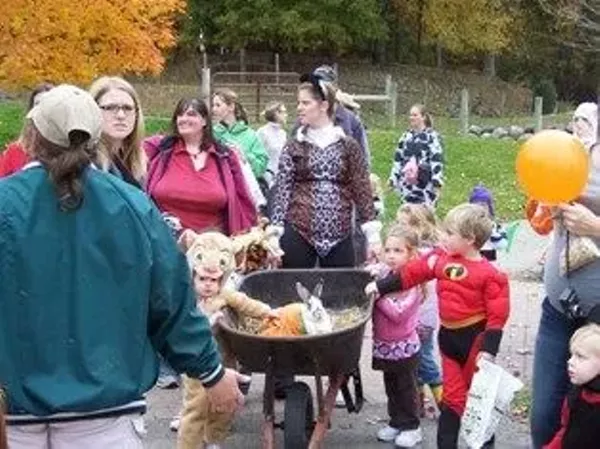 Child's Play
The Fun on the Farm Halloween Party Looking for something tot-friendly this Halloween? If the haunted houses are a little too scary, there's plenty of tricked-out, treat-filled and, most importantly, toddler-tailored entertainment to choose from. One good example is Kensington Metropark's Fun on the Farm Halloween Party, aimed at young children aged 3 to 6. This farm party offers numerous opportunities for the little ones to scream — in amusement, of course! The park will provide children with candy bags, followed by a safe, daytime round of trick-or-treating. Additional festivities include a hayride, wild Halloween games, a (somewhat) haunted barn, and an animal parade where children can walk beside and interact with the farm's dressed-up animals. The little ones are strongly encouraged to come in costume. The fun will wrap up just in time for lunch, just in time to recover from any sugar crashes.
Light on Fright, Full of Fun
Haunted Halloween Family Party The Arab American National Museum is throwing a party to celebrate a "merry, not scary Halloween" this season. The institution's Haunted Halloween Family Party presents an appealing mixture of culture and candy, an environment in which children can participate in a special trick-or-treating experience that takes place among the museum's galleries. The youngsters can also expect creative fall-themed crafts and games, a chance to sing with Kid Karaoke, and a sit-down meal included in the price of admission. Costumes are encouraged, as there will be a costume contest, awarding fun prizes for the best costumes. All children at the event must be accompanied by a parent; adults can attend for free. Haunted Halloween Family Party is 4-6:30 p.m. on Saturday, Oct. 26, at the Arab American National Museum, 13624 Michigan Ave., Dearborn; 313-582-2266; $7 in advance, $8 at the door; adults free.
One for the Tots
Canton's 13th Annual Trick or Treat Parade Parade participants will enjoy seeing the Summit all decked out for the event, as well as dozens of themed stations which will be set up for ages 12 and under. Two "path" options will again be offered giving trick-or-treaters even more age-appropriate themed stations to choose from. Younger trick-or-treaters will enjoy visiting with friendly characters, including the Disney Princesses, Pete the Cat and Bartlett the Township Beaver. For those who dare, visit the spooky trail — you may just spot a wicked witch along the way or a zombie on the prowl. All the great photo opportunities practically demand that a camera be brought along. New this year is a costume contest for the cutest, scariest and best group costumes. To avoid waiting in line, organizers urge attendees to buy tickets in advance. The Trick or Treat Parade takes place 4-7 p.m. on Wednesday, Oct. 30, at Summit on the Park, 46000 Summit Parkway, Canton; 734-394-5460; cantonfun.org; $2 in advance, $5 day of; Canton residents only.