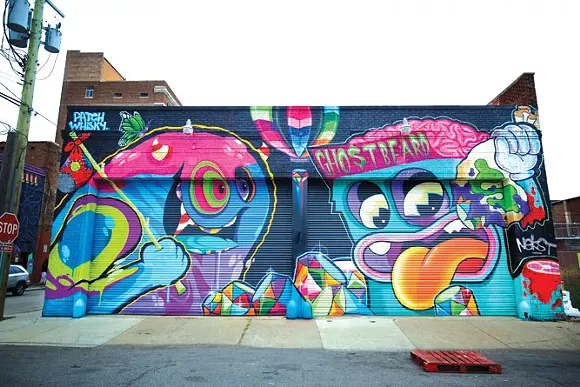 Daniel Isley
Eastern Market mural by Patch Whisky and Ghostbeard.
Why waste one of Detroit's rare sunny days inside a stuffy art gallery? The city boasts an increasingly incredible outdoor art supply, from an ever-evolving eyeball-grabbing mural district to public sculptures and more. Get a car, hit the road, and check out some of these outdoor works of art. (Many of these spots — and plenty of others — can be found in Art in Detroit Public Places by Dennis Alan Nawrocki, available from Wayne State University Press.) Onward:
"Transcending"
Situated in downtown Detroit's riverfront Hart Plaza, this enormous installation is a monument to Detroit's labor movement, dedicated in 2003. The 63-foot tall ring was designed by David Barr of Livonia, and the base, which includes quotes from labor leaders, was designed by Sergio de Guisti from Redford. (1 Hart Plaza, Detroit)
"United We Stand"
Detroit artist Charles McGee debuted this 20-foot-by-20-foot sculpture outside the Charles H. Wright Museum of African American History in 2016. The abstracted black-and-white forms are meant to signify the 50th anniversary of the infamous 1967 civil disturbance in Detroit. (315 E. Warren Ave., Detroit)
"Iron Teaching Rocks How to Rust"
Dabls Olayami started this outdoor installation in the early 2000s partially in an attempt to create an African-American answer to Detroit's other historic ethnic neighborhoods. While a neighborhood never took root in that way, the sprawling outdoor installation "Iron Teaching Rocks How to Rust" will certainly make you ponder race in America — especially if you can catch a guided tour by Dabls. The space also includes Dabls' African Bead Gallery and MBAD Museum, which features an extensive African bead collection. See why filmmaker Quentin Tarantino is a fan. (6559 Grand River Ave., Detroit)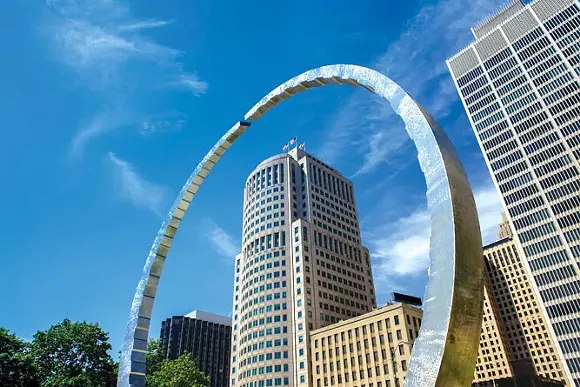 Shutterstock
"Transcending" at Hart Plaza.
"The Spirit of Detroit"
Created by noted sculptor Marshall Fredericks at the height of Detroit's prosperity in 1958, this green giant has become a symbol of the city itself, as can be seen in the endless hand-painted parodies that decorate neighborhood shops and Coney Islands. While you're visiting, the nearby "The Monument to Joe Louis" beckons. Dedicated in 1986, it's perhaps Detroit's second-most iconic sculpture. Go ahead. Take the obligatory selfie in front of them. (2 Woodward Ave., Detroit)
Michigan Soldiers' and Sailors' Monument
Dedicated in 1872, this more than 60-foot-tall monument was created by Randolph Rogers and is one of the oldest examples of public art in Detroit. An early monument to the Civil War, the work honors Michigan's soldiers who fell during the war, and is topped by a heroic, sword-wielding female warrior meant to embody the state. (Campus Martius Park)
Eastern Market murals
For the past five years, local print house 1xRUN has curated more than 75 murals in Detroit's Eastern Market, transforming the historic food district into an outdoor art gallery in its own right. For the past two years, they've hosted the Murals in the Market Festival in September, which last year brought more than 50 local, national, and international street artists who decked the district's sheds, garages, eateries, and other businesses with a smorgasbord of colorful murals. The nearby Dequindre Cut is a now-defunct rail line that has been transformed into a greenway for public use, and features even more murals. (Eastern Market, Detroit)
Hamtramck Disneyland
The so-called "Hamtramck Disneyland" was created over the course of more than 20 years by the late Dmytro Szylak, a retired General Motors auto worker who began installing this Rube Goldberg-esque amalgamation of moving parts in his own backyard in 1992. After Szylak died in 2015, the fate of the installation was in jeopardy, but an arts group eventually bought the property. While much of the art has been removed for repairs, we're told it should begin to return by the spring. (in the alley behind 12087 Klinger St., Hamtramck)
The Z
The Z is a parking garage, but downtown fine art gallery the Library Street Collective has spruced it up with murals by 27 artists from around the world in 2014. While you're there, check out the nearby Belt alleyway, which features more murals, including works by artists like Shepard Fairey and Tristan Eaton. (Library Street and Gratiot Avenue, Detroit)
Grand River Creative Corridor
Anchored by the 4731 Gallery, the Grand River Creative Corridor started in 2012 with works by Detroit muralist Sintex, and stretches for several blocks along the avenue, including more than 100 murals from multiple artists that range from the political to the whimsical. (4731 Grand River Ave., Detroit)
The Heidelberg Project
Beginning in 1986, artist Tyree Guyton has transformed empty lots and even entire houses into found-object art in his childhood neighborhood as part of the Heidelberg Project. And for nearly as long, the project has inspired both the city's ire and endless debates (Is it beautiful? Is it ugly? Is it political? Is it even art?) But if you want to see the project, you'd better act fast: Last year, following a string of arsons, Guyton announced he would slowly dismantle the project to make way for a more permanent museum. (Heidelberg and Mount Elliott streets, Detroit)
Daniel Isley
Eastern Market Mural by Pat Perry.