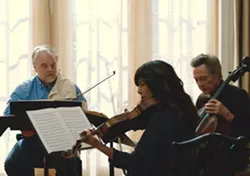 A Late Quartet | B-
Who says chamber music is only for effete snobs? Just about everybody really, and those impressions won't be altered after seeing this valiant attempt at a highbrow-middlebrow fusion, which throws quality actors into a soapy spin cycle and waits for the results.
Christopher Walken, Phillip Seymour Hoffman, Catherine Keener and Mark Ivanir are the members of a popular highly regarded string quartet called "The Fuge," a unit whose outward image is tasteful in the extreme, but internally is a torrid mess. They have made beautiful harmony on stage for 25 years, but offstage their relationships have begun to stagnate and ferment, a process exacerbated when patriarch, Peter Mitchell (Walken), announces his impending retirement due to early signs of Parkinson's disease. This sends the others into disarray, and with their perfectly calibrated, elite professional careers in jeopardy, long simmering jealousies, resentments and buried feelings come bursting forth.
Violist Juliet (Catherine Keener) is unhappily married to second violinist Robert (Hoffman), who is having an affair with his jogging partner. Meanwhile the high-strung couple's musically gifted daughter Alex (Imogen Poots) is receiving very inappropriate tutelage from intense lead violinist Daniel (Mark Ivanir). Cellist and surrogate father Peter floats over it all, mourning his late wife and passing down nuggets of sage wisdom that nobody seems to want to hear.
Essentially a classed-up melodrama for the whine-and-cheese crowd, A Late Quartet is lent weight and tone by its marvelous ensemble. Keener offers up another serving of her house specialty — icy, inaccessible bitch sorbet. Why Keener so excels at playing shrill, withholding women isn't clear, but her mere presence in the cast indicates that some very tense scenes of domestic instability are assured. The always entertaining Hoffman is playing entirely to type, as the seething powerhouse in the body of a slob, a shambling mound of talent and frustrated ambitions surrendered to the twin demons of shyness and amiability, which have forced him into a life of personal and professional compromises. His part was intended for Ethan Hawke, which, like too much rosin on a bow, would have changed the tone entirely. Walken, his gray hair jolting up like an electrified broom, is mostly free of the mannerisms that every comedian spoofs him for, and reminds us what a fine actor he can be.
All the performers are in winning form, though director Yaron Zilberman struggles to maintain a storyline worthy of them, proving it takes real precision to avoid sour notes.