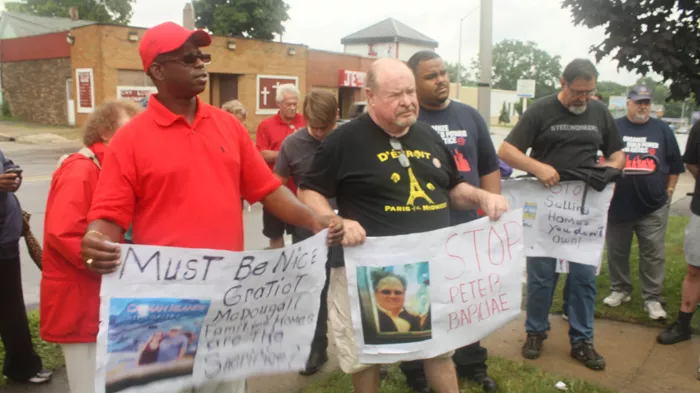 Photo cutline: Representatives from the Detroit Eviction Defense and Detroit Residents protested outside a Singapore-based real estate firm's office in Pontiac on July 24, 2013, arguing for certain home listings to be removed. (Courtesy Detroit Eviction Defense)
Last week, a number of Detroit residents entered a small office in Pontiac to protest what they say was an inappropriate sale listing of homes they occupy. The office on North Perry Street houses the day-to-day operations of Midas Development Corp., a Singapore-based real estate firm that's buying and selling Detroit properties.
There's a simple explanation for why those Detroiters were demonstrating against the actions of the Asian firm: Midas was marketing homes — homes they live in — that it technically didn't own. An hour later, Midas representatives had agreed to remove the listings within 24 hours.
But exactly how the residents ended up there isn't so easy; it's a tangled web that pits everyday Detroit residents against one Oakland County developer.
What's certain is this: The fate of 13 families living near Detroit's Eastern Market depends on the outcome of a lawsuit in Wayne County Circuit Court that could decide if they're contractually linked to the deeds of their homes, or if the suburban developer can legally evict them.
"I just want my home," says Ann Talley, one of the residents. "I just want to be able to come home at night and be at peace knowing that I have my home and that nobody's going to come and take it from me."
The case will likely depend on the judge's determination if the language of the contracts those residents signed legally holds up. If anything, it shows that no one apparently knows who holds, or is entitled to, the titles of the homes. The families' lawsuit, which was filed months after eviction notices were served, says the "plaintiffs were told they would become owners of the home, not tenants in a housing project."
Developer Peter Barclae and his counsel argue otherwise.
Court records show what appears to have led Barclae's tenants to sue him was a collapse in the funding his project depended on, with almost half of the federal money he anticipated never materializing due to program requirements not being met by the city of Detroit.
Barclae previously attempted to evict the residents several times, contending they were renters not entitled to purchase the home. In their complaint, the families say they were never led to believe otherwise; no matter what financial concerns plagued Barclae, they were entitled to those homes.
HOUSING DEVELOPMENT FIZZLES IN COURT
Barclae, of West Bloomfield Township, established Gratiot McDougall Homes LLC in 2006. The proposed housing development was to be built with some federal aid under the U.S. Department of Housing and Urban Development's HOME Investment Partnership Program.
According to HUD, the HOME program "provides formula grants to states and localities that communities use — often in partnership with local nonprofit groups — to fund a wide range of activities including building, buying, and/or rehabilitating affordable housing for rent or homeownership or providing direct rental assistance to low-income people."
The funds can be awarded as a grant, direct loan, or loan agreement, HUD says. Barclae sought additional financing for the project through Charter One Bank, and developed the homes for roughly $180,000 each, according to his attorney, Allen Dyer. (Using those numbers, the total investment to construct the homes was roughly $3.6 million.)
Barclae guaranteed about 58 percent of the loan from Charter One, the HUD HOME program would cover the rest, according to Dyer.
Things were looking up for the developer, as in 2006, Gratiot McDougall was awarded a $319,000 tax credit by the Michigan Economic Development Corporation. The city of Detroit was set to administer $1.4 million in HOME funds for the project under the terms of a December 2006 agreement with Barclae, "to construct 18 single-family homes for purposes of resale to qualified Home Buyers."
For prospective first-time buyers, it seemed like a ripe opportunity: The homes were marketed in April of 2008, highlighting that some tenants may be eligible for upwards of $60,000 in down-payment assistance. It was cast as a homeownership program, a point re-emphasized in a 2008 letter to one tenant.
"This housing program is a homeownership program," Barclae wrote in the letter dated July 15 of that year. "If you do not provide requested documents in order to obtain your mortgage on a timely basis or any actions on your part that adversely affect your credit score are grounds for terminating the lease."
The funding from HUD hinged on Barclae's tenants eventually obtaining a mortgage, Dyer says. That's because "the mortgages the tenants were supposed to get were to pay off the Charter One loan with the tenants ultimately becoming the owners of each property," he says in an email to Metro Times. Five of the properties were eventually closed on.
Barclae broke ground in the fall of 2008, and the homes were ready to be occupied the following year.
Except, by then the housing market was already in a downward spiral. That raised the prospect of financial calamity for Barclae.
Attorneys representing Barclae-affiliated firms wrote in a court filing: "Unfortunately, due to the city's glacial bureaucracy, as well as the economic hardships felt throughout the country … very few of the purchasers were able to qualify for mortgages by the time the homes were complete."
Still, Dyer says, "Charter One nevertheless wanted to be paid off."
Most, but not all of the residents, also signed an additional purchase agreement as well, requiring them to obtain a mortgage to complete a purchase of the home, he says.
"The purchase agreements typically required the buyers to obtain a mortgage in 90 days, but some had terms of up to a year," he says.
Dyer says the prospective buyers moved in under what was "essentially … a lease option to purchase" agreement, with rent payments on average between $750 and $850, "as a temporary measure."
"In addition," he says, "the lease also included language stating the buyers were to obtain a mortgage and in the meantime they were to pay rent on a timely basis."
Dyer says the rent was never meant to be applied to a purchase price because it "just barely covered insurance, taxes, and debt service."
Barclae, he says, "wanted to encourage the tenants to obtain their mortgage, so they could buy the homes and discourage them from being long-term renters."
"The tenants not only failed to obtain a mortgage," Dyer says, "but [they] now owe an average of two years of back rent."
Attorney Vanessa Fluker, who's representing the families, suggests in the complaint that Barclae may be the reason for that.
According to court filings, the families were told "that they were approved for residential mortgages and that they 'would be closing at any time.'"
It's unclear where that indication from the company stems from. A 2009 lawsuit between Charter One and two Barclae-affiliated companies, Cynba International and Community Planning Association — who appear to be named as the recipients of the $1.4 million in financing for the housing project — cites such a scenario involving the banking institution.
According to an unpublished opinion from a three-judge state Court of Appeals panel, Charter One sued to recoup the outstanding balance of its loan with those firms.
The appellate panel shot down Cynba and Community Planning's claim that Charter One "fraudulently represented to defendants that it would finance potential buyers of defendants' homes."
"There is no language in the loan agreement [with Charter] making repayment contingent upon financing for potential homebuyers," the opinion says.
That's, in part, why Fluker says the residents don't owe Barclae any additional rent.
"And I know one thing," she tells Metro Times, "all this money they've been giving him should've been going to their [mortgage]." Some of the residents completed a credit repair program and homeowner class, per HUD guidelines, which "cost plaintiffs hundreds of dollars," Fluker writes in a court filing.
FIXING THE MESS
In 2008, Dyer says Barclae attempted to refinance the Charter One debt using HUD's Neighborhood Stabilization Program. He applied, and was approved for, additional funding that would also be administered by Detroit.
Dyer says the city continued to advise Barclae that the additional federal funds were certain. Detroit officials indicated the money would come through until July 2011, when someone at the city apparently dropped the ball.
"[A] determination letter was issued by HUD stating that due to the City's noncompliance with HUD requirements, it was pulling the plug on the additional financing and it never came through," Dyer says.
In a July 14, 2011 letter to the city, HUD said Detroit committed funds from the HOME program and allowed the project to begin without submitting necessary documentation to the federal agency. HUD wrote that Detroit needed to reimburse the $1.4 million in HOME funds for the Gratiot McDougall project.
That was determined, even though, as attorney Fluker contends in the complaint, an estimated $660,000 had been administered to Barclae for the project. Dyer concedes the project received "certain" HUD funds, according to court filings. (It's unclear how, or if, Detroit reimbursed the HUD funds. Barclae sued the city over the matter in 2011, but lost the case in Wayne County Circuit Court.)
Meanwhile, the appellate panel involved in the Charter One case deemed Detroit's involvement irrelevant, writing it was "not an issue in this case" of repaying outstanding fees owed by Barclae.
It's here where the legal disagreement between both parties in the Gratiot McDougall case appears to begin.
To Dyer, HUD's determination invalidated the Gratiot McDougall project's status under the HOME program. Although it's unclear in the letter if that's the case, HUD wrote "no additional HOME funds can be made available to these three HOME projects." The letter later says Detroit must "cancel … the ineligible activities."
The way attorney Fluker views it, Barclae is "trying to sell the properties to investors for profit after building it with public dollars" — properties she contends were developed under the HOME program.
Barclae is listed as the primary agent owner of Troy-based Barclae Homes, according to state records. His LinkedIn profile says he's vice president at Troy-based Cynba International Inc. He's also named the president of Urban Construction Inc. On the company's website, Urban Construction cites the Gratiot McDougall enterprise and Detroit-based Community Planning Association as examples of some "respected nonprofit housing organizations" under its umbrella.
EVICTIONS LAUNCHED
By January of 2013, Barclae obtained eviction judgments against a number of residents for "non-compliance of the terms of their occupancy agreements," Dyer says. At the same time, though, Charter One got a receiver installed to oversee the project. According to Dyer, the receiver, Derron Sanders, failed to properly follow through on the judgments.
Dyer says Barclae eventually settled with Charter One for $100,000 per house — about $1.3 million — toward the end of 2013.
The receiver reported $78,000 of rent went uncollected in 2013, Dyer says. Once Sanders was removed, Barclae hired real estate management company Extreme Property Management to collect outstanding rents.
Soon after, the developer initiated new eviction proceedings, as the previous actions had expired. It was around this time that some of the residents stopped paying rent. That's with good reason, says Fluker. "They were trying to evict [the residents] during that time period, and there were numerous people alleging we should get the rent," she says, adding, "[The residents] didn't even know who had legitimate ownership."
That's when Fluker filed the suit in circuit court on behalf of the residents. The complaint accuses Barclae of breaching contract with the plaintiffs, violating the Michigan Consumer Protection Act, promissory estoppel, and seeks a "quiet title" to the property.
The residents also accuse Barclae of being in tax foreclosure on a number of properties. Dyer says they owe "approximately $200,000" in back rent, which, if received, would ensure Barclae wasn't "behind on the taxes."
Fluker says her clients have been paying.
"I know he's been charging these people for years and they still haven't had an opportunity to purchase their property, which is the whole program — that's what the whole program was designed to do," she says.
WHAT'S MIDAS GOT TO DO WITH IT?
Back in Pontiac, the mood was positive, as the rabble-rousers at Detroit Eviction Defense and the residents had successfully lobbied representatives from Midas to remove the homes from its website. But how the homes became listed in the first place adds another piece to the puzzle.
According to Dyer, a purchase agreement was signed with Midas, which reportedly has a "five-year plan to purchase entire neighborhoods" in Detroit. (The company's website says it has "provided affordable rental homes for 300 families" in the city and "has plans to acquire and manage up to 2,000 more distressed single-family homes" this year.)
Dyer says a deposit paid by Midas for the Gratiot McDougall homes is "being held at a title company and we were moving toward closing prior to the litigation being filed."
He adds: "Midas is fully aware of the pending litigation."
Hann Lin Tan, Midas general manager, tells Metro Times the company "understood" there were issues with the housing package while signing the purchase agreement. Midas paid a deposit, he says, declining to disclose how much was spent. Asked what the company's course of action, if any, would be after removing the website listings, Linn Tann declined comment, saying he would need to talk with Midas CEO Fabian Tan, who was out of the country and could not be reached for comment.
The following day, Circuit Court Judge Leslie Kim Smith supported a motion from Dyer to establish an escrow account. She ordered the residents to pay stipulated rental fees into the account until further notice.
Dyer says the case has taken an emotional toll on his client. "Barclae thought he was doing something positive for the community, but he has been beaten up by every party involved," he says. "If it was not for Mr. Barclae, the homes would not exist. … He has paid dearly for rebuilding this community and it is readily apparent the community does not appreciate his efforts."
On the other side, there are 13 families who highlight the emotional toll the case has taken on them, something clearly prevalent in the discussions with Midas, which took place amid heavy showers on a humid summer day.
And that's also why Fluker says Dyer's assertion is nonsense, calling the developers' attempt to sell the homes an act "without any regard to the residents who have been waiting for years to purchase these homes under the HUD HOME program."
The case remains pending in circuit court.