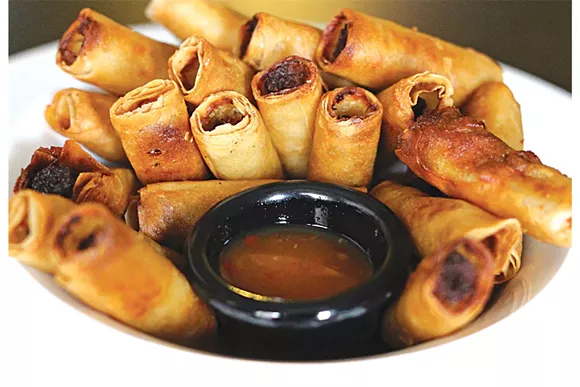 Photo by Sarah Rahal.
Taste of Manila serves these lumpia, which combine meat, deep-frying, and a tangy dipping sauce into a dish that seems almost tailored to American tastes.
Until a generation ago, the Asian food most Americans were familiar with was Chinese food. And it wasn't even real Chinese food, it was an odd kind of Americanized cuisine ginned up with oil, salt, and sugar to appeal to native-born diners. Some have even gone so far as to call it America's "first fast food."
We've become a little more sophisticated since then. Sushi has made such headway that you can find it chilled at the supermarket. Thai restaurants have made pad Thai a comfort food with wide appeal.
In metro Detroit, we're now even beginning to embrace such Vietnamese dishes as pho, with several excellent restaurants branching out from John R and 13 Mile Road. Even traditional, authentic Chinese fare is becoming accepted in a hip downtown setting, such as Shangri-La, where you can get a plate of dim sum along with your ABC.
It's even possible to forget for a moment to include South Asian fare, although Indian and Bangladeshi cuisine are represented from the tiny eateries on Conant Avenue on the edge of Hamtramck to the upscale dining room of Priya in Troy.
That said, Asia is, of course, the largest continent, and our local dining scene leaves a lot of that ground uncovered. But some local chefs and food enthusiasts are helping to change that.
For instance, a lot of local diners might not know Filipino food, but they can be forgiven. There are precious few places to find it. Taste of Manila offers it, but without the trappings of fine dining, in take-out containers.
But other exponents of the food of the Philippines are helping supplement the area's few offerings. Some of the most interesting Filipino food come from the pop-up scene, with Sarap Detroit, dinners hosted by Dorothy Hernandez and Jake Williams.
Hernandez, raised in Chicago on the Filipino cooking of her mother, and Williams, a skilled chef, regularly put together meals that appeal to venturesome diners eager to acquaint themselves better with the lesser-known Asian fare.
Hernandez, who works as a writer and editor, describes the food of the Philippines with flair, as many different cuisines sprawling over many hundreds of islands and 100 million people, but also a fusion cuisine with various influences acquired over several centuries.
"Filipinos have a long food history," Hernandez says. "We were trading partners with China, and then we've been colonized quite a few times, so every time a new culture settled in the Philippines, Filipinos would absorb a lot of those influences. So you see a lot of Chinese influence, with noodle-based dishes like pancit. There are Malay influences. There are Spanish influences. And there are a lot of American influences because American military forces were in the Philippines for years, so that's why you'll see weird stuff like Filipino spaghetti."
But Americans might find their beloved spaghetti a bit difficult to recognize, given the way Filipinos adapt dishes to their tastes and to product widely available there.
"It's made with banana ketchup," Hernandez says, anticipating how odd it sounds with a bit of laughter. "Tomatoes are kind of expensive for Filipinos, and they like to adapt things so instead of tomatoes they'll use bananas."
It sounds like American food in a funhouse mirror. Hernandez mentions the Filipino fast food chain Jollibee, which has locations in her home state of Illinois. "Filipinos love it," she says, "It's basically fried chicken and Filipino spaghetti, because Filipinos love American food and culture."
While these Filipino spins on American food may be delightful discoveries for us, it's oddly the more exotic influences that play into Filipino foods that would strike native-born American diners as more familiar. Those Chinese noodle-based dishes, such as pancit bihon, with its thin rice noodles, or pancit canton, which is a thicker noodle, are much like the Cantonese-American food, whipped up into stir fries like the ones chop suey joints made famous in this country.
And that's just two of Filipino food's many influences. "They traded with Spain," Hernandez says, "so there's a lot of Spanish influence in a food that we Filipinos consider ours, like adobo. "It's a method of cooking, a technique of braising meat, usually chicken or pork, in vinegar and soy sauce. But if you're in a region that uses a lot of coconut, it will be in there."
"Depending on where you go in the Philippines, it'll be different," Hernandez says. "Every household has its own version. It's hard to say there's one way of cooking in the Philippines because there are 7,000-plus islands, and wherever you go it will be different. If you go to the south, it will be a little bit spicier. If you go where my mom's from, the Bicol province, that's where they have a lot of coconut. If you're closer to the ocean, you'll have a lot of seafood. So it really depends on where you live."
And the culinary diversity doesn't end with geographical considerations. Hernandez points out, "Even though most Filipinos are Catholic, there are also Muslim Filipinos, and they have their own foods that they eat. So Filipino food is very diverse — it has a lot of influences."
Something else should please American diners: Filipino food can involve plenty of meat. More meat in Filipino food?
"From what I've noticed, we definitely love meat, and definitely pork. And when there's a special occasion, we'll have a whole roast pig on display at a party. ... My family loves meat," Hernandez says, adding with a laugh, "to the point where even what they think would be vegetarian would still have pork in it."
It's not a bit of humorous overstatement. "There's this dish called pinkabet. It's a vegetable stew that has vegetables like bitter melon, but then they also have bagoong in it, which is fermented shrimp, and then there's pork." Hernandez laughs, and adds, "So, it's like, even the vegetable-centric dishes have meat in them."
Then there are the rich fried foods, which would seem to have natural appeal to U.S. diners – for instance, the Filipino version of the Chinese egg roll, lumpia.
"There are a couple different lumpia," Hernandez says. "I think what people might be more familiar with is the lumpia Shanghai, so there's that Chinese influence. It's the fried lumpia with the small egg rolls filled with meat, like ground beef, ground pork, or a mixture of the two.
"And then there's fresh lumpia: Instead of that thin wrapper that's fried, it'll be more like a crepe, and it's usually stuffed with vegetables. I actually don't think there's meat in that for once, so that's one vegetarian thing."
When it comes to enjoying lumpia, the sauces you dunk them in can vary from the salty and tangy to the incendiary. Some are soy sauce-based, with green onions, some are sweet and sour, and another popular one is a sweet chili sauce.
With so much food to choose from, how do Hernandez and Williams decide which dishes to make for their pop-up? Some of it comes from family tradition, but without being chained to it.
"I learned how to cook from my mom, so a lot of the recipes are rooted in what she taught me," Hernandez says. "We are really dedicated to using things that are seasonal and local, so maybe some purists might say that's not Filipino food, and I think it's really subjective, but what I try to do is: If it reminds you of Filipino food, then I think we've succeeded."
By way of example, she tells of the time she ate a Filipino meal prepared by Seattle chef Garrett Doherty. "He's not Filipino, but the food that I've had from him is just as good if not even better than some of the Filipino food I've had. He has this dish, it's basically kare kare, which is a peanut-butter-based stew with braised ox tail. And you usually serve it over rice. His version was just so soulful and delicious that, even though it wasn't served over rice, it was served over noodles — and used peanut butter powder — which I don't think most Filipino cooks would use, but when I ate it, it reminded me of Filipino food and the stew that my mom would make as a kid. So even though it's not 'authentic' as some people might say, it tasted just like kare kare to me, and I think that's what I'd like to do: Stay true to the essence of what the food is."
She frames her mission cautiously, adding, "I'm not trying to 'elevate' or 'refine' it, because I think that's kind of insulting to Filipino food. You can't just like throw cilantro and a peanut on it and say, 'I've elevated it — and now I'm going to charge you $20!' But if somebody says to me it reminds them of adobo or kare kare, then I know I've done right by Filipino food."
"It's just that cooking food is so personal and you want to stay true to the spirit of the food, but you also want to stay true to yourself. And that's what I try to do with Sarap," she adds, with another carefree laugh: "To not charge people $30 for an adobo!"
So the Filipino food Hernandez champions is deeply personal, a way to champion her beloved culture, but a way for her and Williams to strut their stuff as well.
One dish that's always a hit is the adobo, which she says is usually chicken or pork (or both) braised in garlic, vinegar, oil, and soy sauce, although she often adds coconut milk. The deep, rich flavors of braised meats have a way of connecting with American diners.
Then there's longganisang, a Filipino sausage served in links, usually over rice. Hernandez and Williams made it into a slider on an ube bun. The sausage and seasoning were served upon the purplish bun with pickled papaya relish and calamansi juice aioli.
Perhaps most gut-pleasing of all is a dish Hernandez says is "pretty over the top": lechón kawali, a deep-fried pork belly that's salted, braised, and then fried. If anything will appeal to Americans, that ought to.
But Filipino fare isn't the only underrepresented cuisine making headway in metro Detroit's pop-up scene. Komodo Kitchen has been hosting Indonesian dinners in the area for more than five years now. But the newest entrant into that category is Warung Keke, the brainchild of a feisty woman named Keke Rompas, who serves fiery renditions of her home cooking.
"I used to work for GM," Rompas says, "but I don't like sitting down in front of computers. It would drive me crazy sitting around for eight hours putting applications in their system. I like cooking, interacting and talking with people, meeting people from different countries with different languages."
Indonesia is a country with more land area than Alaska, with 250 million people spread out over 13,000 islands. Little wonder that Rompas cooks a variety of foods. Trying to sum up the food of the sprawling country is impossible, but Rompas tries: "It is spicy with the perfect balance of other flavors. The diverse influences of Indonesian cuisine make it a different experience from other Asian foods.
Her most popular dish is rendang, a spicy meat dish popular all over Indonesia.
"Most people don't have the patience to cook rendang," Rompas says, "because of the process: It's cooked like a stew, slowly, so you don't burn the coconut milk. And the ingredients have to be complete. If you leave out an ingredient then it doesn't taste right. A lot of the cooking is based on the aroma: You have to know how much of each ingredient is put in so you can add the sweet, sour, and find the right balance.
"It always comes with rice. The presentation is usually a big scoop of rice with Rendang on one side, vegetables — cabbage, long Chinese beans, or jackfruit made like an Indonesian curry — and a bit of sambal on the plate.
Sambal has been making headway in Detroit's dining scene recently. Most metro Detroiters have become familiar with the incendiary ground chili paste through ethnic groceries, where the Sambal Oeleck brand reigns supreme.
Rompas disdains the jars of sambal as only a native Indonesian can. Whereas store-bought sambal lacks complexity (red Thai peppers, vinegar, salt, and perhaps garlic), the ingredients that can go into the sambals Rompas knows can include ginger, onion, sugar, tomato, shrimp paste, Serranos, even a cannabis leaf.
She proffers a selection of four different sambals: rawit asin, kecap manis, dabu dabu, and asam manis. The rawit asin is chopped green peppers in an aromatic, fishy sauce; it imparts a heat that creeps up on you, once you're over the seafood-like tang. The kecap manis is a denser, thicker, saltier sambal with red and green peppers and bits of shallot. The dabu dabu a spicy, tangy relish akin to salsa with a delayed burn. The asam manis calls duck sauce to mind, with a gooey sweet-and-sour flavor that only hides the spiciness for a moment.
Having these sauces with a bowl of rice and perhaps some stir-fried bok choy is an exploration in flavors — one guaranteed to clear the sinus passages.
Of course, this is just the beginning of Indonesian fare. The sprawling Malay Archipelago is home to 700 living languages, which means there must be literally thousands of regional dishes we'll likely never see in our metropolitan region. And as Hernandez ably explains, it's much the same with Filipino food.
But that's why the pop-up scene is so interesting here: It gives people like Rompas and Hernandez a chance to show off something that's as dear to them as it is new to us. Everybody comes out ahead.