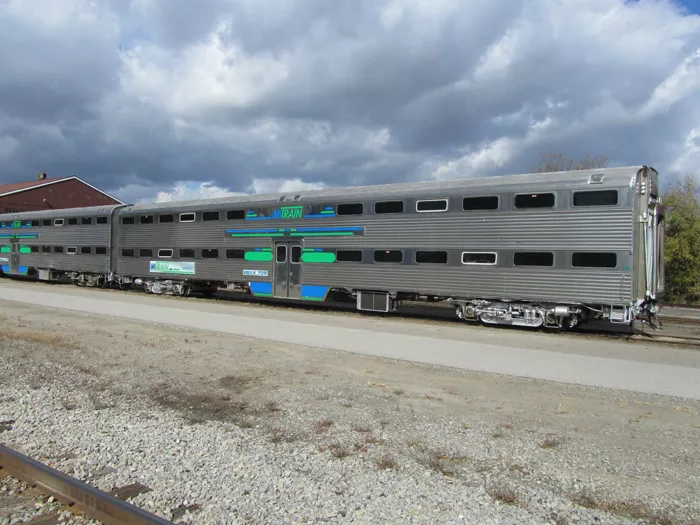 Courtesy of SEMCOG
A passenger car for the proposed Ann Arbor-to-Detroit commuter rail project, which would include five stops in Ann Arbor, Ypsilanti, Detroit-Metro Airport, Dearborn and Detroit.
Last week, one could almost hear a collective sigh across metro Detroit when reports surfaced that a long-planned Woodward Avenue streetcar faced a $12 million funding shortfall.
But amid all the hullabaloo about the fate of that project and failed legislation to boost road funding, a gleam of transit-centric light shined through: Earlier this month, the state Legislature passed a bill to make it easier for the Southeast Michigan Regional Transit Authority to operate M-1 Rail and a proposed Ann Arbor-to-Detroit commuter rail.
As Metro Times previously reported, the original legislation establishing the RTA required its board to unanimously approve a resolution to construct or operate a rail project, a rather Herculean task. Under the approved bill, the two rail projects would only require a supermajority of the board, a difficult but more attainable seven-of-nine votes.
Perhaps surprisingly, the news of the Ann Arbor-to-Detroit commuter rail flew under the radar. A project years in the making, it offers the opportunity to move people between those cities and Detroit Metro Airport with ease — and would likely be as much of a game-changer as M-1 Rail, if not more.
"This rail project would bring a surge of new economic activity to Ann Arbor, Detroit and all the communities in between," said Adam Zemke, a Democratic state representative from Ann Arbor who offered the amendment to facilitate the voting requirement change.
In essence, because of the legislature's support, the project inched closer to reality. And although metro Detroit is accustomed to transit projects being inhibited by numerous hiccups, officials say the commuter rail could be operational as early as late 2016. Passenger cars have already been purchased and refurbished, and with rail-supportive officials in Washtenaw County pushing for the project, it's possible that date is actually attainable. It's the sort of operation that some say would attract young professionals to stay put in metro Detroit, the demographic state officials have paid lip service to for years.
But still, officials stress, a number of hurdles must be cleared before even a modest demonstration run can begin.
First, the Michigan Department of Transportation is working on improvements to tracks along an Amtrak route that connects Chicago and Detroit; those improvements would facilitate high-speed rail service and allow for freight operations to continue uninhibited if, and when, commuter trains are added. That's expected to be completed by 2016.
Carmine Palombo, deputy executive director of the Southeast Michigan Council of Governments (SEMCOG), the lead organization on the project, says the work is necessary to ensure there's reliable service "if we're going to offer commuter rail."
"If we can stay on our own track, there will be fewer [scheduling conflicts] with freight trains," he says.
Current plans call for stops at stations in Ann Arbor, Ypsilanti, Detroit Metro Airport, Dearborn, and the Amtrak station in New Center.
It's unclear how much it would cost to get a demonstration route up and running, or where the money would come from, yet. Tim Hoeffner, rail director of MDOT, says Amtrak could be contracted to run the service, as well as a number of other private operators. Another funding source could be the RTA — that is, if the agency completes a successful ballot campaign in August of 2016, asking voters to fund operations through a number of potential ways — coupled with federal dollars.
"Having a stable source of local funding for southeast Michigan is imperative," Hoeffner says, adding the project "has to be driven at the local level."
Even then, Palombo adds, the commuter rail would require an affirmative vote by the RTA, which "by no stretch of the imagination" is a foregone conclusion.
But commuter rail service between Ann Arbor and Detroit isn't unfamiliar territory. Just three decades years ago, Amtrak operated the same route, with funding from the state, says Joel Batterman, policy director for faith-based group MOSES. It's something this region clearly utilized in the past.
"Public transit linking Wayne and Washtenaw [counties] is long overdue," Batterman said in an email to Metro Times. "Connecting the region's largest city with its largest university would just be good sense, even if tens of thousands of people didn't already commute along this corridor every single day."
Currently, a one-way trip on Amtrak between Ann Arbor and Detroit costs $11, Batterman points out, except those trains aren't timed for commuters. Not only would the commuter rail connect to Detroit Metro Airport, it would also provide faster, more frequent trips between those cities.
Meanwhile, both Batterman and Palombo stress the importance of increasing services on already-existing transit systems in order to ensure new capital projects are successful.
For instance, Batterman suggests implementation of an Ann Arbor-to-Detroit express bus route. The University of Michigan Ann Arbor is already providing bus service for students to Detroit, he says, and the Ann Arbor Area Transportation Authority runs buses to Detroit Metro Airport in partnership with Indian Trails.
"A partnership between major Detroit institutions like Wayne State, [Detroit Medical Center], and Cobo could easily bring this service to a reality in a matter of months, if not weeks," he says.
Megan Owens, executive director of Detroit-based Transportation Riders United, says that sort of increase, along with a well-constructed regional transit plan, could be the key to the RTA winning voter support for a new tax to fund operations.
"Sure, it would be nice to have M-1 Rail … [and] the commuter rail operational" before August 2016," Owens says. "But I don't think a positive vote is dependent on having those things in place."
Hoeffner, of MDOT, says once track improvements are done, it's possible the Ann Arbor-to-Detroit commuter rail demonstration could be running three to five trips a day within two to three years.
Palombo agrees, saying, "I don't think it's a reach at all, as it relates to the demonstration component."
He adds: "In order to make that statement, a reality for longer than a demonstration, it would need to have a continuing source of revenue … [to make] it eligible for federal dollars and the potential for the RTA to include that at some point as part of the regional plan."
M-1 RAIL GROUNDBREAKING SOON?
That's a plan Palombo and others say needs to include the M-1 Rail project, a 3.1-mile streetcar operation that would run from West Grand Boulevard to Jefferson Avenue. It's been pegged as an anchor for a future regional mass transit system — something metro Detroit has talked about for decades.
That the M-1 Rail would only serve a fraction of Detroit's employees and residents has left some transit advocates wondering exactly how it could serve as a catalyst for future projects — especially when, as some project backers suggested, it may need be scaled back due to the funding shortfall.
Nonetheless, M-1 officials expect to break ground in the coming weeks. And in the end, if the federal government provides an additional transit grant, the project may unfold as previously envisioned: a frequently running light-rail system serving a projected 6,000 people a day, moving riders between New Center, Midtown, and downtown, and connecting to the People Mover, DDOT, and SMART buses. It will cart employees who live in those neighborhoods to jobs downtown, move hockey fans visiting the city for a Red Wings game to restaurants and bars along the corridor, and more.
"News reports published today suggested our project is in jeopardy," Matt Cullen, M-1 Rail president and CEO, said in a statement last week. "It is not."
Cullen added: "That being said, the [federal] grant is just one component of our funding structure; there are contingency strategies that we will deploy if the grant is not approved."
Asked what those contingency plans are, a spokesman for the project declined further comment.