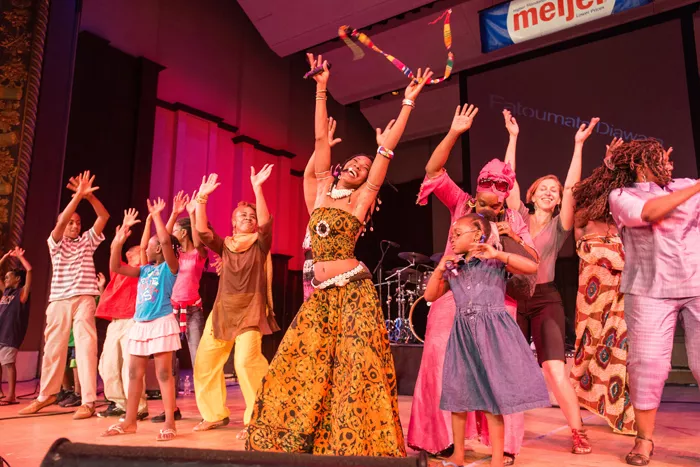 Courtesy photo.
Fatoumata Diawara wows crowds at the Concert of Colors in Detroit.
The Marche du Nain Rouge: March 23
See, in French, nain rouge means "red dwarf." Many argue that the nain rouge is more like an imp or leprechaun, just with horns and a tail. Frankly, by the time you've marched in this costume parade and poured into a nearby bar to drink with revelers, you won't care what the little guy is anymore. Thought up spontaneously several years ago, this costumed shindig draws droves of young Detroiters and their various artistic floats, all hoping to chase the city's bad times away. Add to their numbers.
Foolmoon and Festifools April 4 and 6
For this public art spectacle, U-M students team up with the community to fill the streets of Ann Arbor with colorful flashmobs — the Foolmoon nighttime event has lanterns and other illuminations, while the Festifools event features giant paper-mâché puppets.
Clay, Glass and Metal Festival: June 14-15
If you're a fan of the three-dimensional arts, this fest is for you. Now in its 20th year, the annual event features over 120 artists, food, and demonstrations.
Wyandotte Street Art Fair: July 9-12
Wyandotte's annual fest draws almost a quarter of a million visitors for art, food, music and more.
Concert of Colors: July 10-13
Detroit's annual celebration of diversity always features an eclectic lineup of musicians, artists and more. The event gets a teaser Tune Up Concert on Saturday, July 5, at New Center Park.
Ann Arbor Art Fairs: July 16-19
Commonly known as the Art Fair, the event's official title is actually the Ann Arbor Art Fairs, and consists of four independently juried art fairs, taking place simultaneously and contiguously throughout downtown Ann Arbor. Which means that you're sure to find just the right bit of flair to dress up your pad.
Maker Faire Detroit: July 26-27
It's an annual delight that Maker Faire touches down in metro Detroit each summer. Past years have brought such dizzying joys as a moped racetrack, homemade windmills and a 60-foot-long metal dragon that breathes fire. The event also includes a local craft fair, so you can take a bit of that creativity home with you when you depart.
The Woodward Dream Cruise: Aug. 16
Some locals will tell you that the Dream Cruise is the bane of their existence, clogging up their neighborhoods and holding up traffic for hours. But, you know, bah humbug and all that. Fans set up their folding chairs and sit for hours as hot rod after custom car comes rolling by. If you like classic cars, it really is quite impressive, drawing in gearheads from all over the Midwest. And if you'd rather people-watch, you still came to the right place.
Michigan Renaissance Festival: August-September
Think of this as living through history, but only in a mildly cheesy way. The Michigan Renaissance Festival is a nerd's delight, as dames and knights meander around the crowd. It is, however, kinda cool too.
Arts, Beats & Eats: Aug. 29-Sep. 1
"Well-attended" simply doesn't do justice to Arts Beats & Eats — it seems everybody in the tri-county area shoehorns themselves into downtown Royal Oak, joined in a joyous, if jammed, celebration of art, music and food. Join them and make it that much more crowded.
Dally in the Alley: September
Every Saturday after Labor Day, the Dally in the Alley takes over one historic block of the old "student ghetto" near Wayne State University. The streets are cordoned off and given over to people hawking art, T-shirts, books, beer, shea butter and sunglasses. Front and center are the dozens of musical acts on several stages throughout the area.
DIY Street Fair: September
The DIY Street Fair is three days spent championing the homegrown, taking over two parking lots, one suburban street and one large stage and swarmed with 125 basement artists, designers and crafters, as well as local organizations, serenaded by 50 bands and served by a dozen local restaurants and brewers.
The Detroit Urban Craft Fair: December
There was a time when the words "craft fair" basically meant scrap-booking moms and little old ladies knitting bobble hats. Nowadays, craft is cool. This fair, at the Masonic Temple, features all manner of garments, items of jewelry and, yes, scrapbooks. Let's face it — some things should never change.
Noel Night: December
Who could forget Noel Night? The dancing, the singing, the togetherness that comes from throngs of folks, some 40,000 in all, from all over metro Detroit coming to celebrate holiday cheer amid various festivities in the Cultural Center. Meander through the more than 60 institutions, including the Detroit Institute of Arts, the Charles H. Wright Museum of African American History, the Detroit Historical Museum, the Detroit Public Library, and many others free of charge; it's like an "open house" in the city.