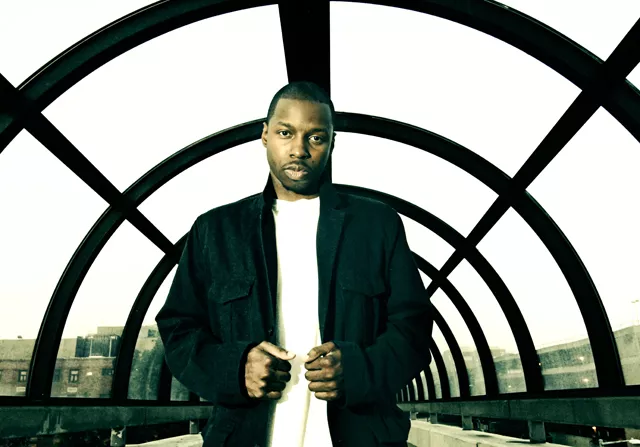 MT photo: Doug Coombe
Buff 1
The seventh annual Hip Hop Congress Midwest Summit at the University of Michigan has quietly become one of the most constructive hip-hop experiences in the Midwest, if not the country. It's also an event that's free of BET/MTV-styled stereotypes, MySpace emcees armed with wack demo CDs, and big-name artists who never show up. Previous years have seen Little Brother, Dead Prez and Ethiopia's K'naan come to Ann Arbor. This year's version features Philly's Freeway, New York's the ReMINDers and local mainstays Binary Star, Buff 1, Invincible and Magestik Legend.
"I'm really intentional about the kind of artists I bring; not just the content of their music but even the way they carry themselves with people," says Amer Ahmed, summit coordinator and director of multicultural affairs at the University of Michigan.
"The Summit is an open environment; there's no backstage or VIP in the event. It's just people coming together, to build, connect, energize and motivate each other to do amazing things."
Ahmed is also a director of the Hip Hop Congress, a 14-year-old, California-based nonprofit with chapters on more than 80 college campuses. Their goal: to get emcees, students, rappers, DJs, producers, beat-makers and bling-bling posers more involved in the social and political aspects of hip hop. The Hip Hop Summit is their signature event.
"I'm a firm believer in edutainment," Ahmed continues. "Sometimes we got to slip them the medicine in a pill that they are interested in swallowing,"
In addition to the concert there'll be panel discussions on topics such as women in hip hop and youth education, along with the Black History 101 Mobile Museum. The hip-hop element workshops are also returning. Those are a series of classes where pros offer aspiring DJs, emcees, break dancers and graffiti artists techniques and guidance.
The biggest difference this year is how the Summit is after a younger crowd, along with the college students and b-boys. They have partnered up with Ann Arbor public schools' "Neutral Zone" and "Rising Scholars" programs to introduce more youth to the positive aspects of hip hop.
Ahmed: "There aren't enough resources dedicated to engaging our young people in a way that speaks to who they are culturally. So if we can deliver the culture in a credible way but still constructive and educational way, all sorts of things are possible."
In some ways, the Summit represents an idea of where hip hop — as a cultural source and force — should be in an intellectual and spiritual sense. It also works well as a place to meet like-minded people who love hip hop. Last year's attendance reached 400 people; this year, Ahmed says, attendance should surpass 500.
"If you're looking to network and build with folks who are doing amazing things in hip hop, this is the place to be."
Live show with Freeway, Binary Star, Invincible, Buff1 and more happens at 7 p.m. Friday, Feb. 4, at the League Ballroom, 911 N. University Ave., Ann Arbor.
Workshops begin at 12:30 p.m. Saturday, Feb. 5, at the Michigan Union, 530 S. State St., Ann Arbor. For more info, call 734-763-9044, or see hhcmidwest.com.