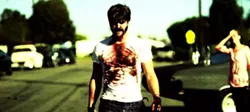 Bellflower: "Your 20s suck."
Boy gets girl. Boy loses girl. Boy builds a flamethrower. It's mumblecore meets The Road Warrior.
Writer-director-producer Evan Glodell's Bellflower is the cinematic fever-dream of twentysomething dudes who struggle to separate reality from pop culture fantasy, are suspicious or dismissive of women, and believe that a broken heart is an akin to an emotional apocalypse.
Audacious, unpredictable and rowdy, this micro-budget first-time feature charts, at first, the grungy, devil-may-care relationships of four directionless DIYers before descending into a stylish explosion of psychosis. Though some might see it as an examination of young adult invincibility or the self-indulgent narcissism of a generation that came of age in a post-9/11 America, Glodell's hyperbolic melodrama is really just a parade of the geeky fetishes of dudes who like to get drunk and blow shit up.
Where Bellflower gets interesting is in its depiction of how easily men who haven't quite left childhood violently lash out when their feelings get hurt. He loves her, and she fucks someone else. Her best friend pines for him, while his best friend harbors a crush on her. Glodell's script is a deranged manifestation of J. Geils' "Love Stinks," with its first-comes-love-then-comes-madness storyline. Playing the lead, his Woodrow is first depicted as a gawky, likable gearhead whose relationship with a brash, apple-cheeked blond named Milly (Jessie Wiseman) leads to heartache and, most likely, brain damage. This sets the movie up for the extended avalanche of savage urges that follow.
There's a fine line between passion and self-indulgence — and Bellflower hops back and forth between the two. While the first hour follows standard indie relationship film tropes, the too-long later scenes melt into a jangled and disjointed nightmare of delusion and revenge. It's undisciplined, preposterous and highly watchable. Are the overreactions and acts of brutality we witness real or fantasy? It's clear that Glodell intends for his narrative to be unreliable and assaultive, leaving the audience to ponder his intentions. But since he shows so little interest in actually developing his characters or dramatizing the lovers' transition from infatuation to betrayal, there's no nuance, metaphor or insight to be found. Instead, mood and hyperviolent temper tantrums take over. For a twentysomething, that display of raw emotion and knee-jerk impulse may be enough to overcome the film's constant stream of clichés.
Much has been made of Glodell's burn-out cinematics and the custom optical system he developed to give Bellflower its sweaty, supersaturated color schemes. It's a '70s grindhouse aesthetic that flares whites and crushes blacks, and will come as no surprise to anyone who follows YouTube music-video trends. Still, there's no denying that, on the big screen, the effect is sickly gorgeous, allowing Bellflower's occasionally masterfully composed shots to pop with powder-keg intensity. (Too bad Glodell didn't give the same attention to his muddied audio.)
As Bellflower reaches it kaleidoscopic conclusion, Woodrow and his best pal Aiden (Tyler Dawson) retreat back into their end-of-the-world fantasies, imagining themselves as Mad Max's Lord Humongous, and their tricked-out car (emblazoned with the moniker "Medusa") as the ultimate chick magnet. But instead of mocking or critiquing on the homoerotic undertones of contemporary bro-machismo (think Fight Club), Glodell seems to embrace that high-octane view of masculinity, suggesting that boys will and should be boys, but never men.
Showing at the Landmark Main Art Theatre, 118 N. Main St., Royal Oak; 248-263-2111.