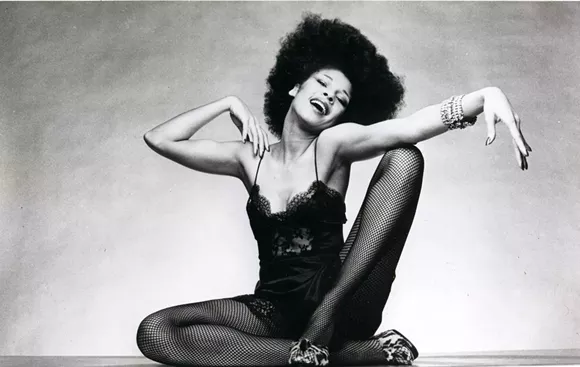 Image courtesy of Light in the Attic Records.
For this women's history month, the Charles H. Wright Museum of African American History and the Jessica Care Moore Foundation present the 12th Annual Black WOMEN Rock! (BWR!) concert weekend.
In addition to a
live music concert on Saturday, March 5
, this year's events include a five-day art exhibition opening Thursday, and a panel discussion Sunday, March 6.
"I founded BWR because I simply wanted to fill a void as a young producer at NBAF. I also wanted to celebrate her music and the life of Betty Davis. I'm intrigued by the stories of women who create culture, who absolutely cutting edge artists who shape history and art, and go uncelebrated," says Moore.
Since 2010, BWR! has been a staple of Women's History Month at The Wright Museum. It's a showcase of independent women artists of color who make a living in the rock 'n' roll genre. This year's headliners include Kimberly Nicole (The Voice), Ideeyah, Nik West, Divinity Roxx, Steffanie Christ'ian, Shelly Nicole, Kisma, Mama Sol, and Jessica Care Moore.
At 12 p.m. on Sunday, March 6, BWR! performing artists will discuss life after funk singer Betty Davis' second studio album, "They Say I'm Different." "The Sunday conversation is the foundation of Black Women Rock! It's about not being silenced by the industry, by anyone, ever again, and telling our fearless stories," says Moore.
At 6 p.m. today, an opening reception for "Nasty Gal," a BWR! visual art exhibition curated by Detroit artist Sabrina Nelson, will be held at The Baltimore Gallery, 314 E. Baltimore Ave, Detroit. The gallery's hours are 12 – 9 p.m. Monday through Friday and 1 – 9 p.m. on Saturday. The exhibition will run through Tuesday, March 8. Exhibit admission is free and open to the public.