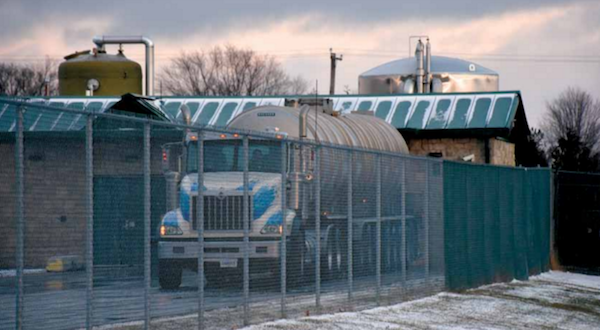 Photo by Michael Jackman
A water tanker is filled with water at Nestlé's loading station in Evart, to be shipped to the company's bottling plant in Stanwood.
MT
readers may recall
our article late last year
about the way Nestlé has pumped billions of gallons of Michigan's water out of the ground. For this privilege, the company has paid at most a few thousand dollars in fees to the state, even as everybody from environmental groups to sitting judges have said letting Nestlé pump as much as it would like to would harm the environment.
Well, take a look at
a very good article from Bloomberg Businessweek by journalist Caroline Winter
. It offers a somewhat wider view of Nestlé Waters' operations in the United States, but the heart of the story is the same conflict our article focused on: The company's water extraction operations in Mecosta and Osceola counties.
Why focus on Michigan? Because the state's business-friendly posture and rural poverty. Actually, the article puts it very well:
The Michigan operation is only one small part of Nestlé, the world's largest food and beverage company. But it illuminates how Nestlé has come to dominate a controversial industry, spring by spring, often going into economically depressed municipalities with the promise of jobs and new infrastructure in exchange for tax breaks and access to a resource that's scarce for millions. Where Nestlé encounters grass-roots resistance against its industrial-strength guzzling, it deploys lawyers; where it's welcome, it can push the limits of that hospitality, sometimes with the acquiescence of state and local governments that are too cash-strapped or inept to say no. There are the usual costs of doing business, including transportation, infrastructure, and salaries. But Nestlé pays little for the product it bottles—sometimes a municipal rate and other times just a nominal extraction fee. In Michigan, it's $200.
As we reported last year, Nestlé wants to raise pumping levels at its Osceola Township well to 400 gallons per minute. As Winters' story points out, Michigan's Department of Environmental Quality has received 81,000 emails about the application. The article also says that Nestlé intends to produce data making its case why increased pumping won't harm the environment on Sept. 29.
Want to read the full story?
Click here.