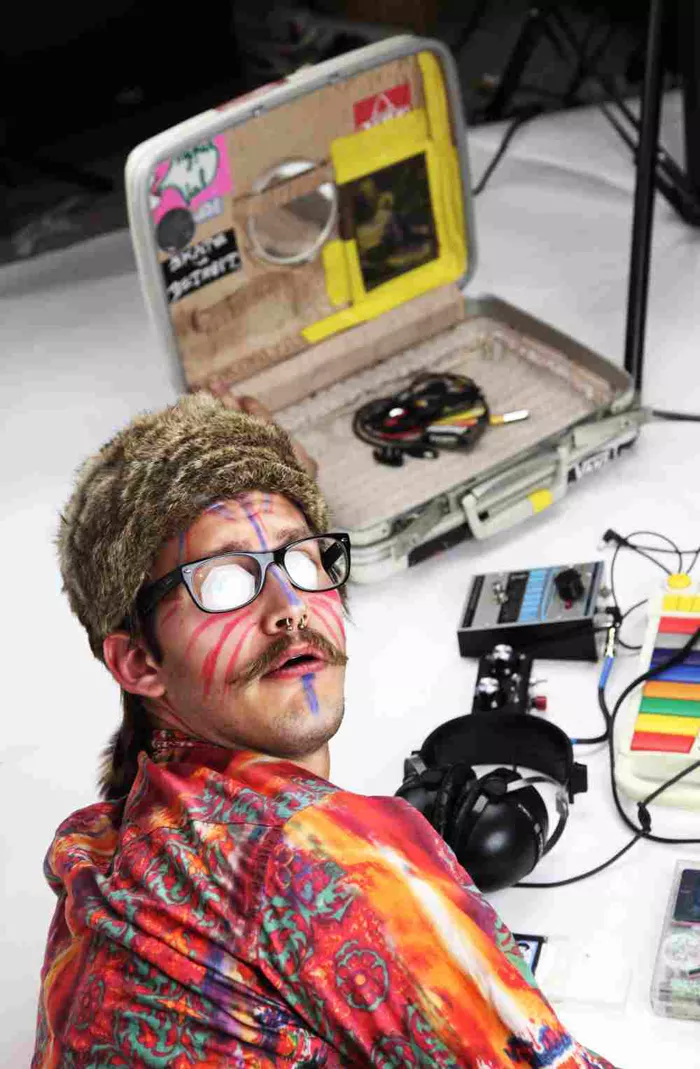 Justin Lee Smith believes there's a special liberating comfort in "weirding" out at a show. His goal, as Barbeque, is to create a fresh and enlivening sensory experience for his audience, where the beats are often danceable and there may be dazzling projections splashed over his tall, lanky frame. The musical elements (percussion, synth, samples and vocal melodies), are tweaked on the fly and crisscrossed between his two main instruments — handheld GP2X emulators affecting the crinkly computery sounds of what most call "Game Boy music" or "chiptune."
Smith, "a scrawny white dude in Ferndale" who grew up worshipping hip hop (J Dilla) and avant-garde ambient electronica (Aphex Twin), started making chiptune music as a senior in high school. Now, nearly 24, he's evolved past the Game Boy aesthetic into something more nuanced, refashioned into something noisier and, even, "punk," while still danceable and, assuredly, weird.
Metro Times: So tell us about the music you make and how and when you got started?
Smith: I grew up always liking art, particularly cartoons. Before I did music, I did art, and still do now. I love video games about as much as cartoons, and I listen to a lot of music. And once I found out you could write music on Game Boys, I started teaching myself how to synthesize all these sounds, arrange all these notes and samples. I started writing songs on Game Boy; this noisy, house-music-sounding stuff, in my senior year. I graduated in June 2009 and played my first show that August.
MT: You're born and raised in Ferndale — did you go to Ferndale High?
Smith: No, I went to a private school. But I had this great art teacher who did a lot of interesting art for a bunch of different local acts, CD art and poster art, and he got me into the local music scene in Detroit. We both had un-radio-like music tastes, and he'd let me play my iPod in art class.
MT: What was that first show like?
Smith: My friends came out and I was a nervous wreck. I didn't even look at the audience. But from that, I could get into it more. I liked having people's attention, be it purposefully or just in some external audible sensation. Whether they're watching me or not, they're still feeling something from what I've created. Music's an adventurous art form; you can really put someone in a different place, painting a picture with tones.
MT: Tell us about the chiptune scene and how you found your own style and approach?
Smith: I was writing all this chiptune music and I ended up playing a lot of punk and noise shows with my Game Boys, and it didn't make sense to me. Then I stepped outside of it and thought, well, it is sort of punk rock, this is noisy and abrasive enough at times, and people can get down with that. I got more into the chiptune scene. It's everywhere. I know people all over the world through this one weird hyper-specific medium that we use. I don't consider myself chiptune anymore, though.
MT: Your music now blends hip-hop, electronica, house, noise — it's a lot of emotional waves crashing together, but how does it feel for you performing?
Smith: It's really cool that I have the opportunity to even do this. I'm really happy with where I'm at, the people I've met. Usually I'm just sitting in my bedroom, cutting samples, recording weird things and sequencing all this weird shit, just weirding myself out. But to put me in a room, doing that in front of people, it's unbelievable. Seeing people dance to my things live is insane to me.
MT: The way you talk about the audience's emotional state makes you sound almost like a DJ. What distinguishes, or links, your setup and your music to turntablism?
Smith: I take that DJ mentality into how I perform. I write on these two LG2Xs and lately with more vocals, bringing in a Commodore 64, this '80s computer, to use it as a synthesizer. Utilizing the synth-chip inside it, it's glorious-sounding. I'm fairly anti-computer, other than this Commodore. I'm not a laptop musician. Anyone and their mother can pick up a laptop. I feel like there's more heart when you make it more difficult on yourself with your medium.
MT: Tell us about how you approach a live performance …
Smith: It's never the same thing. It's always how I'm feeling, how the audience is feeling. I can just ad-lib it as hard as I want, with really fucked-up animations synched to the music perfectly, aligning to everything, like this one huge, in-sync, weird feeling that you'll get from going to the show — you'll almost feel crazy.
MT: Like, hallucinogenic? Crazy how?
Smith: No, you'll feel better about yourself because there's someone a bit crazier than you. I'm pretty sure I'm crazy, at least to an extent, but I'm OK with saying that. So if somebody feels less crazy but it also makes them feel good about themselves seeing some wild shit, then maybe that's all right.
MT: So what are you doing up there on stage?
Smith: So I'll bounce between tracks, might play out one portion and jump back into another. I can basically DJ my own tunes, beat matching myself, looking at this digital display. I can listen ahead with headphones and if it feels right, mix it. I don't formulate a set list. I do it on the fly. I don't want my listener to ever get bored. If you come see my show, you don't want to hear the same song the same way. You want it to sound different, so you can grow with me, grow with the songs. It's going to constantly evolve.
MT: Overall, it sounds like a welcomingly weird experience.
Smith: If I weren't doing this, I might be a wreck of a person. It's a very positive thing. I try to leave some good impact on you. I'm just a regular cat like you. Let's hang out, have a beer, whatever. Let's just be people — together.
Barbeque plays the Metro Times Blowout at 10:15 p.m. on Friday, May 2, at the Northern Lights Lounge, 660 W. Baltimore St., Detroit; 313-873-1739; mtblowout.com.