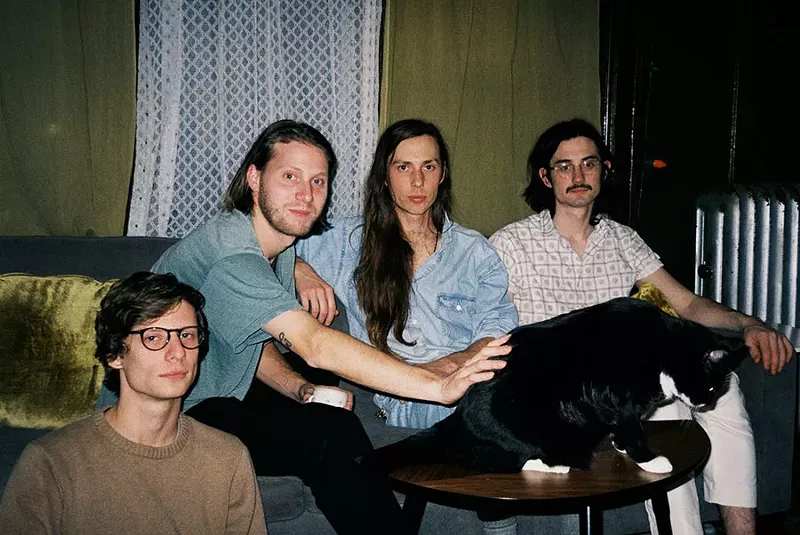 Chloe Sells
Bonny Doon... and a cat.
Public school teaching was a fine gig for Bobby Colombo until he met Bill Lennox. Once the two Detroit musicians began playing together and formed Bonny Doon, everything else was pushed to the side.
"I brought him over to the dark side," Lennox says.
Now, free of his teaching job, Colombo has devoted more time to the band, which just released its latest record, Longwave, on March 23 on Woodsist Records.
On standout track "Saved," Colombo sings with conviction about the savior narratives assigned to Detroit's rebirth: "Are you a believer/ Are you a believer or not?" It's the record's only political moment, but it points to a deeper message from Longwave — do you have enough faith in yourself to commit to what you love?
The band is clearly ready to take the plunge, recently announcing separate spring and summer tours with Band of Horses and Snail Mail. They'll play their earnest brand of warm and dreamy sundown country rock on stages all over the nation for two very different audiences: Snail Mail's younger, cheap-beer-drinking crowd and Band of Horses' older craft-beer-drinking crowd.
Over pizza and a pitcher, Bonny Doon — Colombo and Lennox (who both handle guitars and vocals), Joshua Brooks (bass), and Jake Kmiecik (drums) — took a few minutes to discuss its new record a few days after its release, the band's upcoming tours, and the newfound cosmic country vibes.
Metro Times: You have a new record out. What has been the reception to Longwave been so far?
Bill Lennox: Our friends really like it a lot — people we like and trust their judgment. That's really what's most important to me. I don't pay that much attention to the other stuff. My mom loves it.
MT: The record has received coverage from music publications like Paste, Pitchfork, Stereogum, Brooklyn Vegan, Noisey, and Aquarium Drunkard. Why do you think Longwave has grabbed their attention?
Bobby Colombo: Our first record got some good press. Woodsist is a really respected label. I don't know if its a sign of anything or if it's just the way things go.
MT: When you see those names cover your music it has to feel good, right?
Jake Kmiecik: Yeah, it feels great.
Josh Brooks: That's not what we're making records for though. We're not making records to get a press cycle.
Colombo: It's cool, but ultimately you can only put so much stock in those things. Those sites also cover a lot of bad music. When you wake up to a text from your friend that they sent in the middle of the night saying, "I'm listening to your record right now and it's really speaking to me," that means so much more.
MT: So if you're not making records for the bloggers, who are you making them for?
Colombo: We've got a shared vision for the art that we want to make and we've been lucky enough to be doing that for four years. The whole thing about Bonny Doon is that we're chasing this feeling we've had sometimes. We don't always attain it, but the transcendence that we feel like when we play together... we're always trying to recreate that. Sometimes we do, sometimes, we don't. But that's the best feeling we've ever felt.
MT: You're all from Detroit but the record has a country vibe. Where does that come from?
Brooks: A shared love of cosmic American music. When we started as a band, we were all playing in more aggressive, faster bands. Playing slower, folkier songs was new and exciting to me. It was an outlet for a lot of music I've always liked but never tried to create myself.
Colombo: We're hippies at heart. I don't know how much city life I have left in me.
MT: Much of the material from Longwave came from a weeklong session at a cabin in Mystic Lake in northern Michigan. From there you recorded at Key Club Recording Company in Benton Harbor. What was that like?
Brooks: There are great studios in Detroit. But a disadvantage for a band from Detroit is that you go home and you can't remove yourself as easily from your day to day and really focus.
Colombo: It's in a historic downtown building that they've converted. Our friends in Protomartyr had recorded a few records there, and Tyvek, a band some of us used to be in, had recorded there before we were in the band. We asked [Key Club engineer] Bill Skibbe about it and he seemed really on board.
MT: Your next show is Saturday, April 14 at Third Man Records with Anna Burch and Soft Location.
Colombo: That's gonna be a really special show. Anna Burch and [her] band are great. We're huge fans of Soft Location. We're playing as an eight-piece band.
MT: The Bonny Doon Orchestra?
Colombo: Not yet [laughs]. We invited the Traveling Light Band to play with us to make it more of a family band-style thing.
MT: Bonny Doon is touring in the coming months with Band of Horses and Snail Mail, separately. We were surprised to see you on with Band of Horses.
Lennox: So were we [laughs]. We're going to be playing outdoor amphitheatres in the middle of summer. It will be fun.
Colombo: The Snail Mail tour will be really cool too. Their first full-length is coming out on Matador right before that. Both those bands have really different audiences so it will be a privilege to play for a whole spectrum of people.
MT: You will fit in with the Band of Horses crowd — 40-year-old guys drinking craft beer.
Lennox: Those guys buy records.
Bonny Doon will play on Saturday, April 14 at Third Man Records; 441 W. Canfield St., Detroit; 313-209-5205; thirdmanrecords.com; Doors at 7 p.m., Tickets are $10 advance, $12 at the door.
Anthony Spak is an editorial intern with the Metro Times and a recent graduate of Oakland University's journalism program.