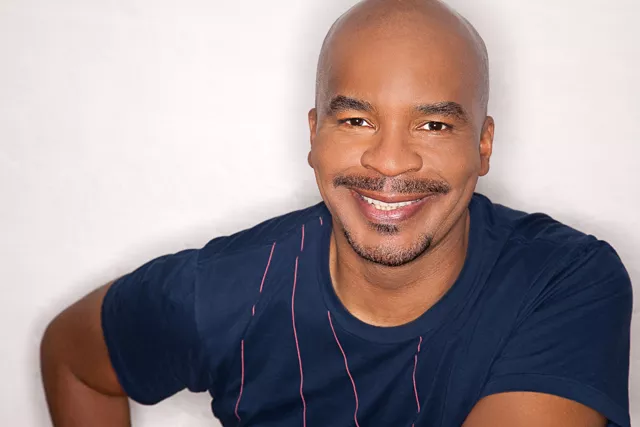 Detroit-born and -bred, a graduate of Cass Tech, comic David Alan Grier has brought Motown energy and 'tude to everything he's done in a long, varied showbiz career. He began as a serous, Tony-nominated stage actor, before exploding into the mainstream as a valuable member of the groundbreaking smash sketch show In Living Color. Since then, Grier has made a splash in films, on radio sitcoms, and, as he puts it, "about 800 TV shows," including such vehicles as NBC's DAG and Comedy Central's Chocolate News, delivering a reliable comedic presence wherever he pops up. All along, he has continued rocking the house as a standup comedian, including his Comedy Central special The Book of David: The Cult Figure's Manifesto. Now he's returning for a welcome homecoming of sorts, as part of the third annual Laugh Detroit Comedy Festival, alongside fellow headliner Bob Saget.
Metro Times: Welcome home. Hey, have you seen the new Cass Tech?
David Alan Grier: Everybody's asking me that. No, I never went to the new Cass Tech, so I don't want to go there, it has no meaning for me.
MT: Well they are going to tear the old one down.
Grier: They should! Who's gonna buy it? Why do people want to save it? I don't get it.
MT: Well, people always sit on these properties in Detroit like it's going to be worth megamillions.
Grier: Well, I don't know how old you are but ... if they can then do it they should buy it. If they want to keep it for historical preservation, I don't know. I think the city has bigger problems. Buy it or shut up.
MT: [laughs] True.
Grier: There's the train station, go over and get that too.
MT: The station is in like every damn photo of the city now. They want to build that stupid Robocop statue over there.
Grier: I heard about that. That was funny.
MT: Instead of Robocop, what Detroit icon would you like to see a statue of?
Grier: They should put up a statue of Eminem, his commercial is banging.
MT: Is it because he and Kid Rock like to wave the flag?
Grier: Wave the Detroit flag?
MT: Yeah, they get all the credit, but there's so much talent.
Grier: Yeah, but you're saying a statue. You could put up a statue of Leroy Jenkins but I don't know who he is. You need someone people know, like Rocky.
MT: How about a Soupy Sales statue?
Grier: OK, but again, kinda ... I'd like that. Poopdeck Paul is one. Morgus?
MT: Oh, my Dad loved Morgus.
Grier: I really loved Morgus, but it's just me and you and my brother. It's hard ... it's hard to pick someone that means something to everybody. I guess the city fathers are all like "what does this [intones] mean for Detroit"?
MT: Dave Bing, God bless him, is not the hippest guy ...
Grier: No. But he's trying to uplift the race.
MT: He did play with the tight booty shorts back in the day
Grier: [laughs] He did. Dave Bing was awesome, man. We used to go see the Pistons, when they had free basketball night.
MT: You did the Detroit 300 Birthday celebration.
Grier: I did I did. That was huge, man. I think Tim Allen came. I did all my old Boblo jokes.
MT: Stevie Wonder was on that, that was fun
Grier: It was awesome. Stevie Wonder played almost three hours if I recall. Every song was killer; I was talking about it for months.
MT: You started out as a dramatic actor right?
Grier: I did, I was dramatic actor trying to get gig on, and ultimately I auditioned for a comedy show because I wanted to buy a new Mustang.
MT: Sure.
Grier: So I got a pilot, moved to L.A, but then my friends said, "You buy a Mustang GT convertible you gonna get shot." So I never bought it.
MT: So you ended up with a Pacer?
Grier: No it was worse. I think bought a Jaguar. Something old and boring.
MT: When did you get into standup?
Grier: I've always been doing it, I've been doing it for 18 years. Do some gigs every year, more or less depending on how much I wanted to work.
MT: You're not one of these guys who has to write a new hour of material every six months?
Grier: No, I'm not that guy.
MT: What's with Leno doing the Comedy and Magic Club every Sunday night? What's he trying to prove?
Grier: He has an unhappy home life maybe? [laughs] I mean he's like 100; he makes $8 billion dollars a year! But I've heard that he really likes it; at the root of it he's always been a standup. I've read articles where he says, "I think about nothing when I'm on." So maybe it's relaxing?
MT: Do you write on stage?
Grier: It's fluid. At this point in my career, of course, it's more fluid than it was before. You know a theater is different than a club. I write in spurts, there's just stuff out there or happening in my life that I have to write down.
MT: You're kind of ageless. I don't think people know your age.
Grier: I'm very up-front about it, but it's gotten to the point where I'm performing and, like, girls I went to high school with are there, and I'm going "Who is this awful menopausal woman?" and she says " David it's me! We were on the school bus!" I'm like, no, please, quiet, you're fucking up everything.
MT: Showbiz is a crazy life isn't it?
Grier: It should be, when it's not it usually means you're not working. Trust me: Charlie Sheen, that's why the muthafucka is online, everywhere. He ain't got shit to do.
MT: That shows how scary the biz is. He was on the biggest show on TV and they fired his ass.
Grier: I think they're crazy. And I think ultimately he'll be back on there; I've never watched that show, I never would watch that show, but if he goes back on I would've dropped everything.
MT: Do you think it's an act? Like he's pulling a Tony Clifton?
Grier: Oh, hell no. If Tony Clifton was a crackhead. He's done it so well, it's like, "He's not high."
MT: You should do an episode of Detroit 187 before it's canceled.
Grier: You know, they offered me an episode of that, but it came in too late to change my schedule. I thought critics loved that? Everybody but Detroit.
MT: Actually people here watch it to see their cousin, or go, " Hey, look there's American Coney Island in the background."
Grier: I think it's a good show, also Hung still shoots in Detroit, but did they kill all the [film] incentives?
MT: They're hanging on by a thread.
Grier: Why would they be hanging on by a thread if it's bringing money into the city?
MT: Because we elected a Republican, he's a businessman. He's about business but he doesn't have his hand in the pocket of this business.
Grier: But you kill the incentive, the money stops and that's bad for business.
MT: Because it's the pervious governor's idea, so it has to go ...
Grier: Yeah, but that's what brought companies to town ...
MT: I'm with you. I'm just trying to tell you what they say.
Grier: Aggghhh! It's a lot of money; you guys should keep the law and make a lot of money. A lot of people are shooting in Detroit.
MT: Be careful about talking about "shootings" in Detroit
Grier: I'm talking about rolling-camera shooting. I mean, come on. It's much better than it used to be.
Sunday, March 27, at the Royal Oak Music Theatre, 318 W. Fourth St., Royal Oak; 248-399-2980. For more info, see laughdetroit.com.
Corey Hall is a culture critic for Metro Times. Send comments to letters@metrotimes.com.