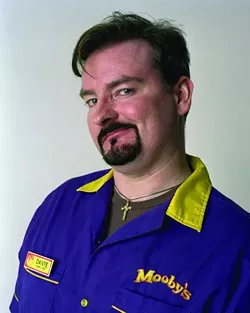 Brian O'Halloran will likely forever be associated with Dante Hicks, the character he deftly portrayed in Kevin Smith's movie Clerks and then again in Clerks II, but you won't catch him complaining. With a second sequel in pre-production, and the convention circuit continuing to embrace him, why would he?
This weekend, O'Halloran is the main attraction at the Detroit Fanfare Comic Con in Dearborn, where he'll be signing free autographs all weekend, thanks to sponsorship from the Wonderworld Comics store. We spoke to our favorite video clerk and asked him what's hot at the rental counter these days.
Metro Times: We doubt you've been stuck restocking videos … what's new since Clerks II?
Brian O'Halloran: I've been working on other projects. I directed a trailer for a film called Cry for Revenge, which is a grindhouse-type film that will hopefully be coming out by the end of this year.
I also worked on Comic Book Men, Kevin Smith's series on AMC that just started last week. I still work in the New York-New Jersey area with a lot of writers and directors. I'm keeping busy. Kevin is working on Clerks III and hopefully we'll get started with that in the spring of next year.
MT: Then Clerks III got a green light?
O'Halloran: That's a Kevin question. The script has been written and people enjoy it. It's just a matter of him figuring out which production company he wants to use.
MT: You'll forever be associated with Dante Hicks … curse or blessing?
O'Halloran: I think it's been a blessing. I'm very proud of the role that Dante has given me, in a sense. Kevin has written the character extremely well, as most — if not all — of his characters are. There's an immediate likability about Dante. To think that it might have damaged my career is kind of narrow-minded.
MT: You're no Fanfare virgin, so welcome back to Detroit … happy to return?
O'Halloran: Yes, actually. Those guys have really put together a really great show. I've done it two other times … Each time I've been there, the guests have been treated awesome; the fans are really great in Detroit, so I really enjoy myself there.
MT: Comic book fans (of which this reporter is one) can be obsessive. Want to share any "crossing the line" stories?
O'Halloran: Nobody's ever really crossed the line. Several years ago, Kevin had his own film festival, called Vulgarthon, in New Jersey. I remember one fan bringing a two-and-a-half foot dildo for me to sign.
I said, "I'm not touching it — I'll sign it but you've got to hold onto it." There are things like that that'll come along, but never anything too freaky. I'm pretty good at handling myself that way. mt
The Detroit Fanfare Comic Con takes place at the Adoba Hotel on Oct. 25-27; 600 Town Center Dr., Dearborn. For more info visit detroitfanfare.com.
Brett Callwood is a staff writer at Metro Times. Send comments to [email protected].