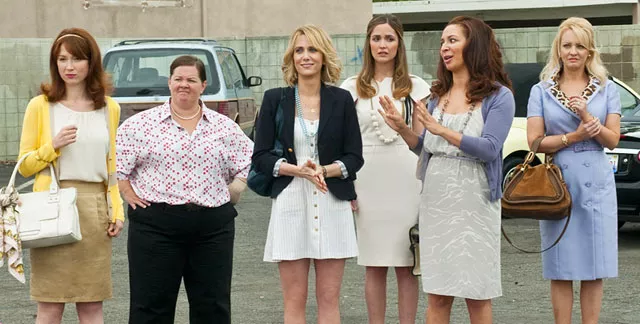 Bridesmaids: Fewer fart jokes.
Bridesmaids is a chick flick for chick-flick haters. It strives to prove that gals can be as nasty as dudes, and when it comes to raunchy yuks, they are, until those darned realistic human emotions get in the way. Written by star Kristen Wiig and Annie Mumolo, and directed by Freaks and Geeks creator Paul Feig, Bridesmaid is a noble attempt to add punch to the fluffy wedding movie genre, which is more prone to pillow fights and Motown sing-along montages than hardcore dick and fart jokes. Producer Judd Apatow's stamp is all over this; with earmarks of the filthy-heartwarming style he trademarked with Knocked Up and the 40-Year-Old Virgin. Notably the characters here feel more rounded, human and messy than the rom-com's usual dress-up paper dolls, which makes for a more interesting viewing experience but sometimes impedes the belly laughs.
Wiig's Annie is a certified loser, with broken relationships and the stink of a failed bakery haunting her every step. She's got a crappy car, miserable roommates and a degrading casual-sex relationship with a handsome, complete asshole — played to smarmy perfection by Jon Hamm. All of these failures are compounded by the upcoming marriage of her childhood pal Lillian (Maya Rudolph), a supposedly happy event that fills Annie with existential dread. Making matters worse is Lillian's flawless new friend, a vacuous, nightmare suburban princess, played to irritating perfection by Rose Byrne. The rest of the wedding party includes: inappropriate powerhouse Melissa McCarthy, improv specialist Wendi McLendon-Covey from Reno 911, and Elle Kemper, playing essentially the same wide-eyed ingénue that she does on The Office. These funny ladies too often get shoved aside in favor of Wiig's moping, and for her fumbling romance with a sweetly goofy state trooper (Irishman Chris O'Dowd) who keeps pulling her over for a busted tail light she never gets around to fixing. Wiig is surprisingly adept in these scenes, and excels at the passive-aggressive burn, only giving into her hammy, SNL instincts in the big set pieces. She and Rudolph have warm, genuine chemistry — and perhaps a bit too much backstory to digest. It's a big challenge to bounce between heart to hearts, and bits about explosive diarrhea in a bridal salon, and Bridesmaids is never entirely comfortable with the balance. These girls just want to have fun — just as soon as they stop worrying about it.