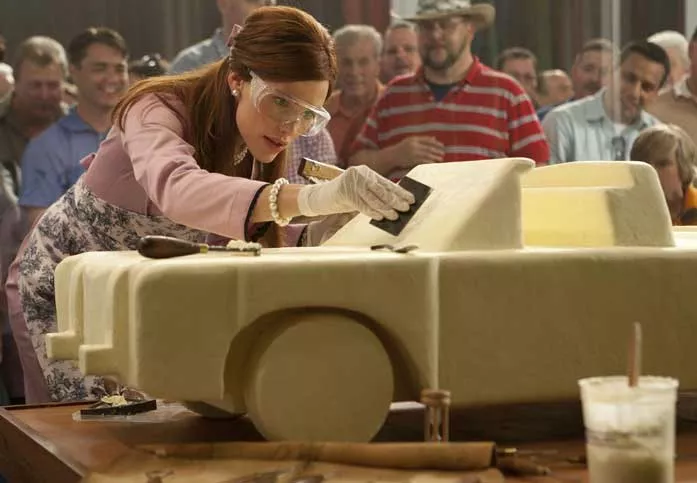 Butter| C
Why Harvey Weinstein kept this wannabe political satire on the shelf for so long is a mystery. Butter debuted at last year's Toronto International Film Festival to mixed reviews and is only now coming up for air. Unfortunately, for the film (but thankfully for the rest of us) we've pretty much entered the post-Sarah Palin, post-Michele Bachmann era. Oh, their inanities continue unabated, but the American public and, most importantly, the media have mostly moved on. Heck, Bachmann may actually lose her congressional seat in November (and, no doubt, get hired by FoxNews soon after).
It's not that first-time scribe Jason A. Micaleff's premise doesn't hold promise, it's that his execution is haphazard, often crude, and only occasionally witty. That Butter was clumsily directed by TV veteran Jim Field Smith (She's Out of My League) doesn't make it any better.
Iowa trophy wife Laura Pickler (Jennifer Garner) is a brittle, ruthless, Tea Party dilettante. Her husband Bob (Ty Burrell) is the "Elvis of Butter," a butter-carving hobbyist who has racked up 15 years of first-place trophies for his creamy yellow depictions of "The Last Supper" and Schindler's List. As the annual contest approaches, the judges ask Bob if he'll retire in order make way for new talent. He agrees but Laura sees red. The Picklers are entitled to their trophy. And so the would-be dairy queen picks up a spatula to compete in her husband's place. Her main rivals include the lap-dancing stripper (Olivia Wilde) Bob owes money to, and Destiny (Yara Shahidi) — a 10-year-old African-American girl who's a butter sculpting prodigy.
Sociopolitical satire is tough to pull off, requiring a firm comedic hand and an intellectual point to be made. Alexander Payne's Election probably stands at the top of the heap when it comes to recent efforts. Over the last 13 years, nothing has topped the movie's brilliant dissection of ambition and personal agenda in the political arena. Butter aspires to be similarly funny and relevant but ends up trading in broad caricatures, broader comedy and vague messaging to sell its red-state condescension. There are a few chuckles along the way (mainly sight gags involving butter), but the commentary is obvious and toothless. Where the movie finds modest success is in its formulaic yet energetic treatment of small-town competition.
Equally bad is the way Smith pitches his cast, relying on the juxtaposition of shrill ambition (Garner stomps and sneers in her power suit and pearls) and sentimental virtue (Shahidi is earnest and eloquent) to generate comic sparks. The approach fizzles. The leads don't register as human beings and so we're not invested in their rivalry. More tragically, Hugh Jackman, playing Garner's high school sweetheart, is wasted in a role that's grotesquely cartoonish.
The unexpected surprise is Wilde, who embraces her low rent, foul-mouthed trollop with gusto. Sexy, silly and shameless, she steals the show every time she's on screen. Whether Wilde is dressing in Little House on the Prairie garb and name-dropping Jesus in an attempt to thwart Garner's victory, or responding to her rival's motherly virtues by spitting, "I get pregnant, like, once a month!" — it's a wonderful departure from the hot-babe-in-distress roles she's played in Tron: Legacy and Cowboys & Aliens. A clever gag that places her on a mountain bike almost fooled me into thinking the filmmakers were wittier than their film suggests. But then the inevitable "blame the liberal media" joke rolls around to remind me that, no, Butter is as cheap and uninspired as the artificial topping on my popcorn.
Opening Friday, Oct. 5, at the Birmingham 8 (211 S. Old Woodward Ave., Birmingham; 248-723-6230) and the Michigan Theater (603 E. Liberty St., Ann Arbor; 734-668-8463).