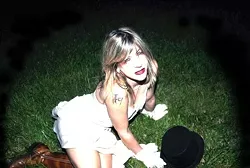 DON'T MAKE THE mistake of typecasting Carolyn Striho. At first glance she appears to be one of the many female singer-songwriters this city is blessed with. Dig a little deeper, however, and you'll discover that Striho, a former member of the punk band Cube and the experimental Detroit Energy Asylum, can both pack a punch and rock out with the best of them.
Of course, she can chill and slow things down too. The music that she now creates as a solo artist blends her own, storied history, with folk and jazz — resulting in something new and unique. Her live show is a blast, as 2013 Blowout festival-goers in Ferndale will discover this weekend …
Metro Times: Some revelers may be too young to know you — why should they catch your set?
Carolyn Striho: They'd get a real thrill out of it. The live show is really energetic; and it's an adventure because we don't do the same thing every night. That makes it fun. We write a set list out, but we might not even look at it. We'll just feel out the night. That's what I've done for a long time. That makes it really interesting for us, too, because it makes it an 'in the moment' performance.
MT: Eclectic might be too vague a word to describe your sound …
Striho: The punk and art rock still comes into play a lot. People will sometimes see us do one song and typecast us. But, I think that because of the indie thing, it has an alternative bent; but also a folk-thing with the violin. There's a gypsy sound at times. We incorporate piano and keyboards, and soul. We don't force it. If they like rock music that's a little bit different and can't be compared to anyone else, then they'll like it.
MT: Take us back over the last year and catch us up on the highlights.
Striho: The Mackinac Island Music Festival is a blast. It's always really different. We went up there with [artist] Mark Arminski, Audra Kubat and a bunch of other artists. It's a good mix of people. Arts Beats & Eats is always fun. We shot a new video for "Promised Land" at Russell Industrial that turned out really cool. The new CD's coming up shortly — and I think we're going to go back to Europe. I'm waiting to hear back about that.
MT: You're part of Blowout's history. Over the last 16 years, what were some the best moments?
Striho: It wasn't crazy long ago but we played in Hamtramck and had a really good show. We played the Blowout in 2007 and 2008, once with Shotgun Wedding. That was a blast. We sold a lot of CDs and made lots of new friends. In 2004, and I think 2005, I sang with the Orbitsuns at it (I'm pretty sure).
MT: You're playing in Ferndale's inaugural Blowout this weekend: sweet or what?
Striho: It seemed weird when I first heard about it because I'm so used to Hamtramck, but I think it's a great idea. It might confuse some people, but everyone that I talk to seems to understand it.
MT: Has your set plan come together yet?
Striho: I think I'm going to have a couple of guests come up and sing backup vocals. Other than that, we'll be doing a couple of new songs and try out some new keyboard sounds. We want to get people revved up and give some energy to that segment, because I know people move around a lot.
MT: True. Speaking of moving around … anyone you plan on checking out?
Striho: The Hounds Below — I like Jason [Stollsteimer]. He's a friend of ours and I haven't seen them lately. I know FlashClash; and I wouldn't mind seeing the Ragbirds because they're friends too. There are some of the newer bands I haven't seen in Hamtramck. Of the groups we're playing with, I've never seen My Pal Val. It's great to see friends and check out new bands.
MT: Not to rush it over, but what happens after the festival?
Striho: There will be two CD releases. We're almost done. Those are coming out, and we might shoot a video in the fall. We've got shows scheduled for after Blowout: We're playing at Callahan's with Rio Scafone & the Rockabilly Revival. It's the Rio-Striho show. That'll be a blast, in June. We're also going back up north and playing; and we have some dates in Chicago. I'm trying to put together a retrospective of stuff that I've done over the years.
Carolyn Striho goes on stage at 11:30 p.m., Friday, May 3, at Go Comedy! Improv Theater, 261 E. Nine Mile Rd., Ferndale.
Brett Callwood is a staff writer at Metro Times. Send comments to bcallwood@metrotimes.com.