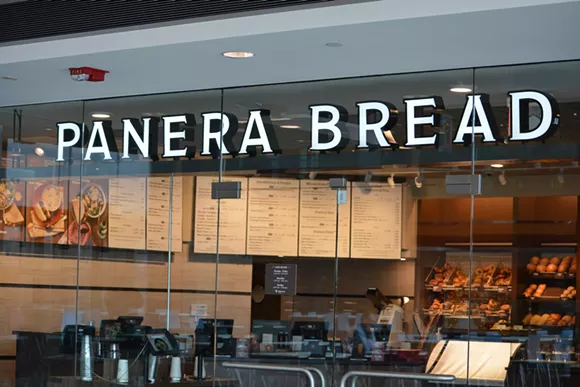 The Renaissance Center is to welcome its next national chain eatery this week with the addition of Detroit's first-ever Panera Bread this Thursday, April 7.
The 4,429 square foot space to open on Level A of the GM Wintergarden, will seat more than 70 diners and employ nearly 30 new workers.
Says a news announcement from GM's RenCen development manager Claudia Killeen on the opening: "We're thrilled that Panera has chosen the GMRENCEN as its first Detroit location. Whether you're looking for a dinner, lunch or a bagel in the morning, the new bakery-cafe will be a great dining destination for the thousands of people who work in and visit the GMRENCEN every day."
The St. Louis-based chain known for its fresh breads, soups, sandwiches and salads had until now only had locations scattered around the 'burbs. The entrance into the RenCen appears reflective of a growing, hungry workforce within the towering office complex, as illustrated by the February opening of
Granite City Brewery and Food.
Also in the new Detroit location will be the chain's Panera 2.0 (rolled out in 2014), which includes fast-lane kiosks, mobile payment, and rapid pick-up for to-go meals.
Hours at 6:30 a.m.-9 p.m. Monday-Friday, 7 a.m.-9 p.m. Saturday, and 8 a.m.-6 p.m. Sunday.