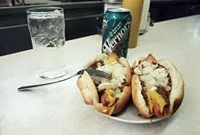 Bruce Giffin/Metro Times file photo.
Lafayette Coney Island.
Leaked emails continue to dog Democratic presidential nominee Hillary Clinton, but this time a Detroit institution is getting a hat tip after the latest Wikileaks dump on Monday.
Clinton spokesman Nick Merrill gave his stamp of approval to Lafayette Coney Island in an email to John Podesta, chairman of Clinton's presidential campaign, when the Democratic nominee was in town in March.
"On a personal note, I just had two
Coney Island
hot dogs at the famous Lafayette Coney Island next to the hotel. I highly recommend. Bring your defibrillator, or ask to borrow one from USSS (United States Secret Service),"
wrote in the email
.
Clinton
debated fellow Democratic presidential candidate Bernie Sanders in Flint on March 6
, and she, Bill, and Chelsea Clinton made multiple appearances in the days prior in Detroit, Royal Oak, Eastpointe, Southfield, and Flint.
We think it's cool to see a Detroit favorite shine in the emails — and the decision between Lafayette and American Coney Island is a whole other story in and of itself.