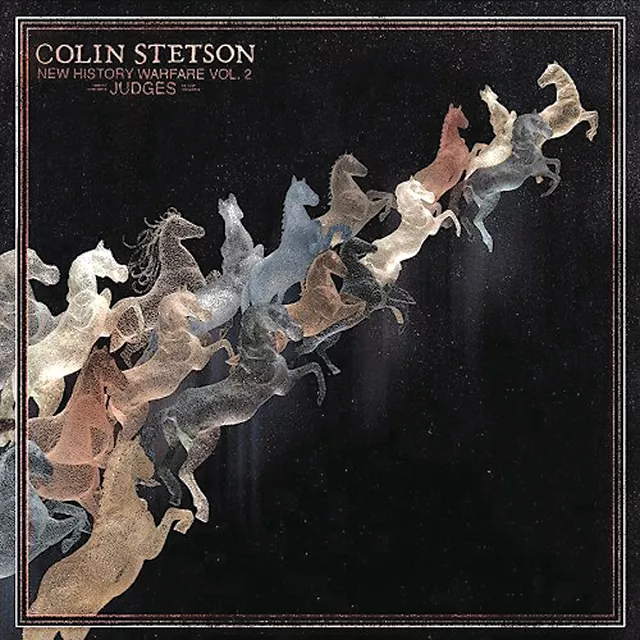 Colin Stetson - New History Warfare Vol. 2: Judges
Constellation
Maybe you think you know the language of the jazz solo saxophone that begins with Coleman Hawkins' unaccompanied 3-minute "Picasso" from 1948, leaps quantum-style with Anthony Braxton's double LP For Alto 20 years later, then explodes with the likes of Roscoe Mitchell, Steve Lacy, etc. Or the Euro-classical solo sax tradition that runs through composers Steve Reich and Philip Glass. But the ways in which Colin Stetson extends both traditions can be a revelation. Without sax loops or overdubs, but with 20-odd microphones (and a good deal of signal processing on his alto, tenor and bass saxes), Stetson sounds like a polyphonic orchestra: breath hissing around the mouthpiece and the slapping of keys can function as a rhythm section; the layers of drone, overtones and melody above sound humanly impossible. The 13 cuts are compositionally diverse, consistently stunning, alluding to Tuvan throat-singing, Glass-Reich minimalism, Ayler-Brotzmann screaming and ... even leave-you-humming songcraft.
Originally from Ann Arbor, and now based in Montreal, Stetson was heard hereabouts with the trio Transmission and with Bill Brovold's Larval, among other outfits. Since leaving in the late '90s his sax-for-hire gigs have included Tom Waits, TV On The Radio, Anthony Braxton, LCD Sound System, Bon Iver (with whom he's to tour this year) and Laurie Anderson. Anderson, in fact, appears on four cuts here, telling elusively idiosyncratic stories. Meanwhile Shara Worden of My Brightest Diamond adds her voice behind Anderson on "Fear of the unknown and the blazing sun" and also delivers a haunting rendition of a world-weary spiritual, "Lord, I Just Can't Keep from Crying Sometime"; she sounds battered and vulnerable, and Stetson's layered drones and breathing are as ominous as a gathering storm.