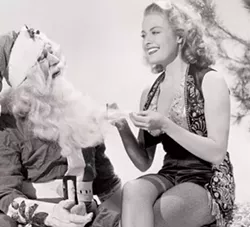 Every year there are local artists and vendors that get together at various locations in an effort to sell their wares, boost the local economy, and have fun. These events are way more fun than standing in line at a department store for several reasons (and some of them are booze).
Shop Detroit
First up is this annual event hosted by Detroit Synergy focusing on Detroit's mom-and-pop shops. Now in its ninth year, the event is geared for shoppers from the entire metro area who might not be familiar with all of Detroit's diverse retail offerings. Participating stores include everything from longtime institutions such as John K. King Books to newer spots such as Goods to museum shops including MOCAD and the Charles H. Wright Museum. Shop Detroit takes place from 10 a.m. to 4 p.m. on Saturday, Dec. 1; check-in at the D:Hive Welcome Center, 1253 Woodward Ave., Detroit; 313-962-4590 or register in advance at detroitsynergy.org.
Detroit Urban Art Fair
Next up is the granddaddy of the Motor City's handmade events, the Detroit Urban Craft Fair. Now in its seventh year, the DUCF packs together so many artsy and crafty types you just might need to go both days to see it all. Locally made ginger fizz soap, mojito-flavored lip gloss, Detroit-centric clothing, Marie Curie magnets, hand-drawn paper goods, repurposed vintage jewelry, purses, paintings, prints, candles, nightlights, hand puppets, shoes ... the list goes on and on. Basically, everything you never knew you wanted to buy for people who never knew they wanted it (but will love it). The DUCF takes place from 10 a.m. to 7 p.m. Saturday, Dec. 1 and 11 a.m. to 6 p.m. Sunday, Dec. 2 at the Masonic Temple, 500 Temple St., Detroit. $1 admission. For info, see detroiturbancraftfair.com.
DIYpsi
Pronounced dip-see, now in its third year, the show offers a diverse array of vendors slinging goodies sure to please everyone on your list. Even better, you can slam a beer or two while you peruse the various DIY offerings. Items this year include hand bound books and journals, glass jewelry, cocktail- and beer-inspired soaps, and hemp clothing. DIYpsi takes place 11 a.m. to 7 p.m. Saturday, Dec. 8 and noon to 6 p.m. Sunday, Dec. 9, at the Corner Brewery, 720 Norris St., Ypsilanti; 734-480-2739; info at diypsiartfair.weebly.com.
Rock N Rummage
Nightmare Before Christmas Bash
By now, a single theme is clear — if you want holiday shopping to be fun, make sure alcohol is involved. Rock and Rummage is perhaps Detroit's original boozy buying experience, a traveling flea market of rock memorabilia, vintage items and more, all hawked in various bars throughout metro Detroit. The holiday show brings together 17 Rock and Rummage vendors offering the usual rock 'n' roll fare, including records, DVDs, posters, retro collectibles, clothing, books, jewelry, handmade goods and all manner of hard-to-find, super-cool surprises. This year the event features several bands like Devil Elvis and Thunderbuck and it's one night only: 9 p.m. on Thursday, Dec. 20, at Woodruff's, 36 E. Cross St., Ypsilanti; $5 admission; for more info visit facebook.com/rockandrummage.
Detroit Artists Market
Art For The Holidays
Finally, the Detroit Artists Market transforms into a gift shop this time of year. The show runs the gamut of hand-made items from metal, glass, ceramic, photography, cards, books, etc. Basically, there's something for everyone all in one place! It runs through Dec. 23 for last minute shoppers. The market is open regular hours 11 a.m.-6 p.m. Tuesday through Saturday and in December they add Sunday hours noon-5 p.m.
Metro Times & Detroit Mercantile Merry Market 
More than 20 Detroit and Michigan vendors gather in the backroom of Detroity Mercantile Co. in Eastern Market to show their wares. For two days, yet. What kind of vendors? Art, design, vintage and antique offerings will be on hand. Wait, there's more: cider, nog, beer and other libations will be available. OK, what about food? Local food trucks will rendezvous to meet all nutritional needs. A portion of proceeds will go to charity. And if you've ever been to an MT Drinks by Design event, expect a similar vibe, plus cool stuff to buy for people not savvy enough to make it. Saturday (9 a.m.-7 p.m.) and Sunday (10-6), Dec. 15-16. Mercantile, 3434 Russell St., Detroit; 313-831-9000; tinyurl.com/ayqotkv.
Send comments to [email protected] Know of a holiday fair or similar gathering that we missed? Add to the online version of this story at metrotimes.com.