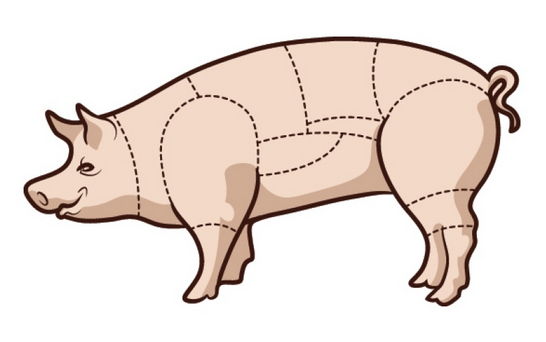 1: Classic Detroit, west side
Although metro Detroit's barbecues are having quite a decade, the city has had excellent barbecue for generations, thanks to century-long stream of immigrants from the South. The west side abounds with a constellation of old-fashioned Detroit barbecue joints, such as Vicki's and Uptown BBQ. Though you can expect a no-nonsense, mostly carryout environment, and maybe a few slices of Wonder Bread on the side, the meats they slide through the Plexiglas are on par or better than anything else on offer today.
2: Classic Detroit, east side
The east side of the city has a slew of 'cue slingers of its own, including Nunn's, Sweetwater Tavern and Park's Old-Style, where the specialty is a vinegar-based sauce that's a rarity in a town where most barbecue sauce is on the sweet side. And, yes, if you want the delicacy that is barbecued pig's feet, they've been serving pig foot at Joe Ann's for 60 years, and Aunt Bessie's probably about that long as well.
3: New Detroit
A million years ago in 2005, Slows Bar-B-Q took low-and-slow barbecue — along with that classic, quirky spelling common to Detroit 'cue houses — and added stylish sit-down dining and a killer beer menu, putting it all in a lovingly repurposed old building. The restaurant was an immediate smash, one that has been copied, adapted and innovated by dozens of other entrepreneurs all over the region, including RUB BBQ and Red Smoke downtown.
4: Lower Oakland County
The nightlife nexus centering on Royal Oak has its own barbecue contender to offer. It's Lockhart's BBQ, named after a town reputed to be the barbecue capital of Texas. It fits the updated barbecue profile handsomely, occupying a retrofitted space on the high-ceilinged first floor of an old bank building. The main courses, served authentically on paper in metal trays and with a white bread sopper, are all smoked ever so slowly over local white oak and hickory. The full bar, naturally, has a selection of Michigan beers, perfect with the 'cue.
5: Upper Oakland County
Located on Main Street in downtown Clarkston, the upscale Union Woodshop has a look that is the antithesis of barbecue joints found on the dirt roads hidden from rural highways in the Carolinas and in Texas. The joint's food, however, shares the flavors that can usually only be derived from low-and-slow wood-smoking, which creates the pink smoke ring that is a sign of authentic country 'cue. From tender brisket and pulled pork to ribs and chicken, there are no disappointments here.
6: Macomb County
Macomb County's mix of old blue-collar suburbs and seven-lane exurbia make for a quirky mix of 'cue. Roseville's Lazybones Smokehouse is one of the originals, boasting Black Angus beef, Grade-A fresh pork, and Amish country chickens, done broasted, pit-smoked or grill-ready for pick-up. It may not be the sauce-soaked, fall-off-the-bone sort that reigns over southeastern Michigan, but if you've a taste for dry-rubbed, mopped and slow-smoked ribs, this is the spot. A bit further afield is Bad Brad's BBQ in New Baltimore, where they start every day at 5 a.m., cooking beef brisket and pork shoulder in fruit wood and hickory smoke as long as 14 hours.
7: The Pointes and Shores
That upscale oasis just east of city limits has some revelatory barbecue, including Noble Pig Café, Brandon and Parinda Kahlich's (mainly carryout) joint that serves ribs, pulled pork, andouille and a Triple Q sandwich made of ham, pulled pork and bacon or sausage. There are also beef short ribs, Scottish salmon, crab cakes, tuna salad and turkey BLT sandwiches, and a brisket-and-sirloin burger. All meats are smoked over apple and hickory, the pulled pork for 16 hours, the ribs for eight. Saint Clair Shores also has the little place packed with flavor, Little Z's, where they serve excellent proteins in a café-like atmosphere. No alcohol, but call ahead and see if they'll let you bring a bottle.
8: Washtenaw County
The vegan-friendly Ann Arbor area doesn't stint on smoked meats. Treetown has Blue Tractor. The menu is full of down-home fixings, and inventive specials year-round keep switching it up. And the barbecue? It's mostly slow-cooked proteins that get a douse of rub or sauce during final grilling, and includes baby-back ribs, Carolina pulled pork and barbecued "beer can" chicken. Nearby Ypsilanti has Red Rock Barbecue, with sliders — traditional, brisket or pulled pork — St. Louis-style spare ribs, smoked half-chicken, pulled pork and thinly sliced brisket.
9: Points West
Drive out into the country and you'll find some classic barbecue stands. We have to check each summer to see if they're still operating, but, last time we checked, Ron's Roadside Barbecue on Pontiac Trail on the outskirts of Ann Arbor. Out in the Irish Hills, there's Randy's Road Side Bar-B-Que on U.S. 12 in Onsted, a trailer just before the Stage Coach Stop, that serves classic barbecue. On some Sunday afternoons, you might even find a bluegrass group playing there.