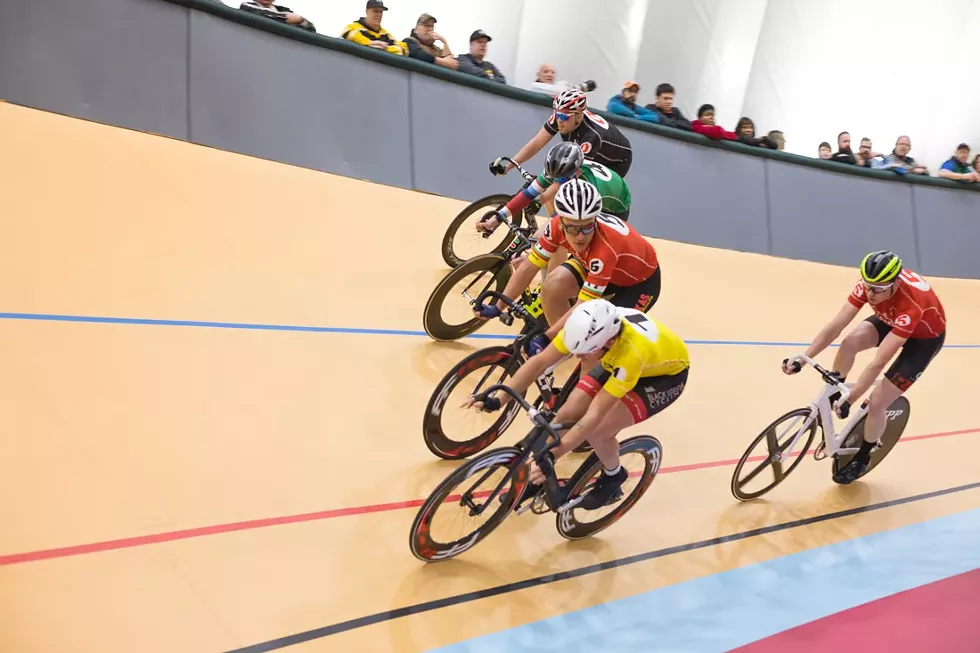 Jordan Buzzy
Lexus Velodrome.
Detroit has more than its share of unusual sports to offer. From quaint Old World sports like Belgian feather bowling at east side fixture Cadieux Cafe to modern innovations such as whirlyball — a combination of lacrosse and bumper cars — at Joe Dumars' Fieldhouse, you think of an offbeat pastime and chances are Detroiters will embrace it. Here are some over-the-top ways to test your skill and burn off a few calories.
By now, everybody is aware that the Hamtramck-Detroit border is the place for Fowling — that unusual sport in which you toss a pigskin at tenpins hoping to knock them all over. But much more awaits upstairs at the 6,500-square-foot Gamer's Gallery. That's where you'll find console electronic games, air hockey, karaoke, board games, and something special called "footpool." It's a game dreamed up by thirtysomething Hamtramck natives Aaron and Ashleigh Brock that bills itself as "The first human-size footpool experience." The husband-and-wife team has constructed several 12-by-8-foot platforms where you can essentially play nine-ball, only with foot kicks instead of cue sticks. You punt a white soccer ball as your cue ball, aiming to get your balls in the holes, with the black ball last, just like in billiards. To reserve a table for your group, see thegamersgallery.com.
Up in Ferndale, there's plenty of unusual competition to draw you to the Corner Tavern and Game Room. It's a quirky spot, with a full-service, fine-casual restaurant downstairs with a complete bar and an in-house donut machine. What's upstairs? Oh, plenty: pinball machines, dart boards, shuffleboard, bumper pool, traditional arcade games, and 12 lanes where you can enjoy the sport of ax-throwing. Aside from the 15-inch-long, 1.5-pound hatchet you hurl toward a wooden target, it's scored very similarly to darts. It's said the sport began to gain popularity in Canada, and now there are several in U.S. cities, from Philadelphia to Denver. It's a nationally regulated sport, one governed by the National Axe Throwing Federation. The Corner Tavern and Game Room is at 344 W. Nine Mile Rd., Ferndale.
Detroit is also home to some pretty cool rarities, such as the Lexus Velodrome. It's an indoor arena for cycling, with an oval track that features two steeply banked 180-degree curves, allowing cyclists to reach speeds of 50 miles per hour. These bicycle courses were popular in the late 19th century, and there are many of them in Europe. This 64,000-square-foot, $4 million facility is a project of the Detroit Fitness Foundation — you can see it for yourself at 601 Mack Ave., Detroit. Or see Detroit's other, abandoned version, the Dorais Velodrome. Built in 1969 for $50,000 with mostly volunteer labor by the Michigan Bicycling Federation. It's rough, but a wonderful piece of bicycling history. It's located at Dorais Park, at the corner of East Outer Drive and Mound Road.
Jon DeBoer
Detroit City FC.
Similarly, another European phenomenon had a sturdy foothold here in Detroit, and that's futbol. Building on the success of the Detroit City Futbol League, in which neighborhood-sponsored teams played for bragging rights, organizers created Detroit City FC, a minor league soccer club. The club owners are especially proud of being young Detroiters, not the billionaire corporate welfare artists who own Detroit's other sporting teams. And they put their money where their mouth is: The club's supporters helped raise funds for a careful and ongoing restoration of Hamtramck's Keyworth Stadium, a 1930s WPA project that had seen better days. And that ain't all, folks: This September, the club hopes to open Detroit City Fieldhouse, a 75,000 square-foot multi-sport indoor playing space for the Detroit sports community at 3401 E. Lafayette St., Detroit.
Perhaps you like an extreme sport, one that literally requires balls of steel? We're talking about, of course, the French sport of petanque, as played by the Detroit Petanque Club. A fancy-pants cousin of the Italian sport known as bocce, it's a variant of a game played since Roman times. But where bocce is more about rolling the ball down the course, petanque is more like horseshoes, tossing the balls with a palm-down motion so they land with a bit of backspin. If you think you've got what it takes, seek out these amateur weekday players around noon to 1 p.m. in Cadillac Square.
When it comes to steel-tip darts, Detroit has it over other cities by a mile. Metro Detroit is home to the Detroit Open Dart League. Founded in 1960, it's the oldest continuously running steel-tip dart league in the country. The league has two 12-week seasons of league play and tournaments for teams and individuals. They play at locations in Berkley, Royal Oak, and Eastpointe, but the atmosphere is best at Warren's Commonwealth Club, the oldest British club in the United States, which features a cozy pub and weekly fish fries. For more information about the league, email webmaster@dodl.org.