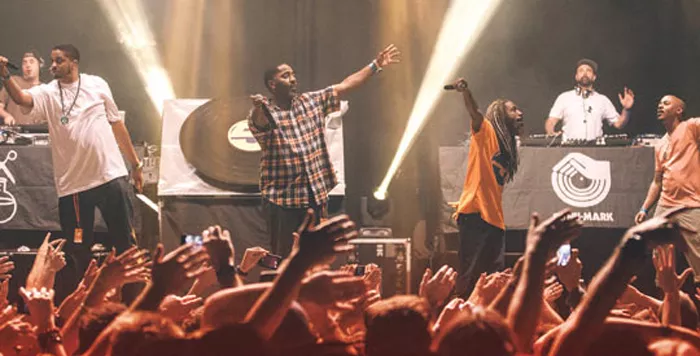 Jurassic 5
Royal Oak Music Theatre
For 21 years, since bursting out of a brimming L.A. hip-hop scene, Jurassic 5 has broken down all manner of barriers, both musical and cultural. These rappers are sharp and intelligent, and they've been around the block more times than a kid with a new bike. This will be killer.
June 26, $7:30 p.m., $29.50-$35.
Crystal Method
Elektricity
The Crystal Method has constantly shifted direction since the early 1990s, soaking up trip-hop, big beat, break beat, and alternative dance. If a sound can be made with electronic toys and a couple of decks, these guys can do it. They've had a ton of songs on video game and movie soundtracks, so even if you don't know them, you probably do.
July 3, 9:30 p.m., $10.
Street Heat
Chene Park
To call Street Heat a who's who of contemporary hip-hop would be a stretch, but it is fair to say that a killer lineup has been assembled to bring some much-needed attitude to the Chene Park proceedings. Bone Thugs N Harmony, Mobb Deep, E-40 and Too $hort will all battle it out in the sun.
July 5, 6 p.m., $44.25-$114.80
Mo Pop
Freedom Hill
As you enter the Mo Pop Festival, you could be forgiven for thinking that you've wandered into the pages of the latest issue of Alternative Press or perhaps fallen into Pitchfork. Such is the very hip nature of the performing bands. City and Color, Cold War Kids, Young the Giant, and Tokyo Police Club are highlights, though we're betting our own Flint Eastwood will blow them all off stage.
July 12, noon, $49.50-$125
Aretha Franklin
DTE Energy Music Theatre
What can we say? Aretha is our girl, and she's the Queen of Soul. If you've seen her before, you really can't hear "Respect" live too many times. If you haven't, what are you waiting for?
July 12, 6 p.m., $15-$65.
Vans Warped Tour
The Palace of Auburn Hills
Oh, shit! It's time to throw on your skater wear, get an emergency piercing, get over to the Palace, and dance — or skank — like a maniac. There are too many bands to list performing on this killer punk bill, but highlights include Yellowcard, Less Than Jake, Finch, Emilie Autumn, Enter Shikari, and Bowling for Soup.
July 18, 11 a.m., $49.40.
Buddy Guy
Meadow Brook
Buddy Guy was playing the blues when most of us weren't even a thought in our parents' heads. Hell, he was playing it when most of our parents were barely a sparkle in grandma's eyes. He's one of the coolest men alive, and certainly one of the best guitarists. They just don't make 'em like this anymore. Eric Johnson opens.
Aug. 6, 6:30 p.m., $15-$75.
Wiz Khalifa
DTE Energy Music Theatre
A handful of the hottest new rap artists will perform alongside Khalifa on the "Under the Influence of Music" show, which DTE is calling "hip-hop's most electrifying summer tour." Jeezy, Tyga, Ty Dolla $ign, Rich Homie Quan, Sage the Gemini, Mack Wilds, IAMSU!, and DJ Drama will all be there, as should you.
Aug. 10, 5 p.m., $27.50-$102.75.
Katy Perry
The Palace of Auburn Hills
Perry is a media darling, and she deserves the attention. Yes, she's all California sunshine, white-tooth grins and celebrity marriages, and she probably has a team of songwriters working for her. But you always get the sense that she has a hand in her art, or at least a couple of fingers. And those tunes are undeniably infectious. Kacey Musgraves opens.
Aug. 11, 5:30 p.m., $29.50-128.50.
Tony Bennett
Freedom Hill
Honestly, Bennett was always smoother than Sinatra. The guy's voice is still like silk, and his version of "Fly Me to the Moon" is arguably the definitive one. Plus, get this, guys — if you want to truly impress a date during the Detroit Opera House's offseason, take her to see Tony Bennett. That just screams sophistication. That's our tip — the rest is up to you.
Aug. 15, 7:30 p.m., $20-$125.
Mad Decent Block Party
Meadow Brook
DJs and rappers collide at the Mad Decent Block Party, with the likes of Riff-Raff and Flosstradamus looking to get Meadow Brook bouncing. Headliner Dillon Francis is a pioneer of moombahton, which is a fusion of house and reggaeton.
Aug. 16, 3 p.m., $35-$75.
Drake vs. Lil' Wayne
DTE Energy Music Theatre
It's a gutter war between Canadian rapper Drake and Lil' Wayne, the man often regarded as the "best rapper alive" (usually by his mom). No-holds-barred in Detroit, these two are going to go toe-to-toe until somebody loses a voice, or a tooth.
Aug. 16, 7 p.m., $35-$125.50.
Eminem & Rihanna
Comerica Park
Eminem is bringing his Monster Tour with Rihanna to his hometown, and the home of the Tigers. There's just no slowing our boy down, both in terms of his career path and the delivery of his lyrics. Rihanna makes an already-attractive bill much more exciting, and we can probably expect to hear "Love the Way You Lie" at the show.
Aug. 22, 7:30 p.m., $49.50.