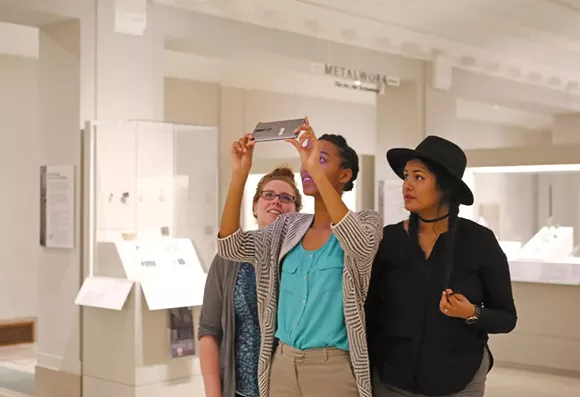 Photo courtesy of the DIA
A trip to the art museum can be a great excuse to put the phone away for a few hours, a break from the omnipresent screens that have come to dominate life in the 21st century.
But now, the Detroit Institute of Arts has given us another reason to stare a screen — though it's admittedly a pretty good one. This week the museum will debut Lumin, an "augmented reality" project developed through a partnership with Google and a company called GuidiGo. The project is not only the first of its kind at the DIA, but for any art museum the world over.
Upon request, visitors are given a Lenovo Phab2 Pro Android smartphone. The device is outfitted with Google's Tango platform, which means it can perceive its surroundings — overlaying animations, games, and sounds over the museum's existing exhibitions.
Many people got their first dose of augmented reality with Pokémon Go, last year's mobile application sensation. But unlike Pokémon Go, Lumin is no mere diversion. According to A. Andrea Montiel de Shuman, a digital experience designer at the DIA, the goal was not to distract from the museum-going experience but rather to enhance it. "We don't take technology just for the sake of taking technology," she says. "There is no point of bringing in a technology if there's no benefit."
A map of select Lumin-enabled stations can be pulled up in the app. Tap on the desired station, and Lumin will guide you by overlaying a trail of blue dots in front of you on the screen.
The first stop features a Babylonian terracotta dragon, where the app invites the user to play a simple game to match the fantastic beast's various body parts to its real-world inspiration: a lion, bird, scorpion, and snake. Upon completion, Lumin then instructs you to turn around.
Through the screen, you are then transported to ancient Babylon, looking up at a life-size 3-D rendering of Ishtar Gate, the dragon's original home. While looking through the screen and walking, you can pass through the virtual gate, providing a way to imagine the art in its original context.
The next stop features an Assyrian limestone sculptural relief. In 2017, the relief is gray and faded, but clicking on the figures using Lumin splashes them with bold colors and patterns, emulating the manner in which they were originally painted thousands of years ago.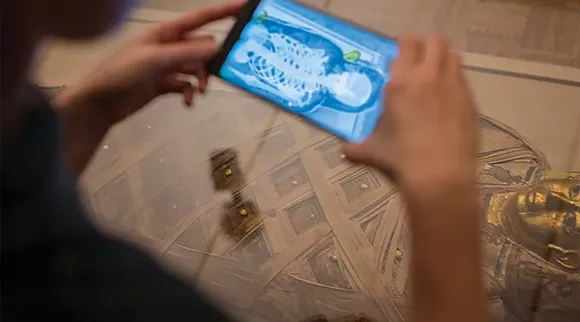 Photo courtesy of the DIA
Lumin shows the skeleton inside of an Egyptian sarcophagus.
At its best, Lumin serves as a virtual magnifying glass, allowing the user to see, for example, the intricate designs engraved in a collection of small Mesopotamian seals. Unlike the real seals, mounted on a wall behind a glass case, the user can rotate 360 degrees around the enlarged 3-D version. For an Egyptian sarcophagus, Lumin serves as a virtual X-ray, offering a glimpse of the skeletal mummy stored inside. (Yes, someone is still in there.)
As with all new technology, there is a learning curve. I had a tendency to think of the animations as videos to be passively watched; Montiel de Shuman encouraged me to move around while they were playing to view them from different angles. In that way, the technology positions the user as both the audience and director, a rather unfamiliar set of duties.
Another note: Transitioning from the virtual world to the real world so seamlessly can be a thoroughly disorienting experience. At one point I briefly panicked because I thought I was about to bump into a large jar, momentarily forgetting it was merely a virtual representation. And though Lumin's blue dots are careful to steer you around art on the floor, make sure not to get so enveloped in its virtual reality that you stop paying attention to your real-world surroundings.
While Lumin initially features only seven stops, the museum says more will be added after the museum gathers user feedback. In that way, the project should be considered a permanent, albeit constantly evolving, virtual exhibition. Once you get the hang of it, Lumin has the power to add a whole new dimension to the DIA's collection.
Lumin debuts Wednesday, Jan. 25 during regular museum hours; 5200 Woodward Ave., Detroit; 313-833-7900; dia.org; free for Wayne, Oakland, and Macomb County residents and members, $12.50 otherwise.