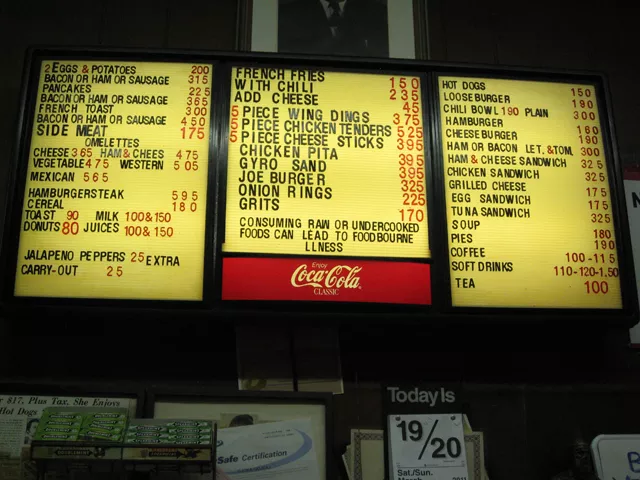 Duly's: Where the bill of fare includes wisecracks.
On weekend nights, at a hallowed little coney island restaurant on Vernor Highway called Duly's, you'll likely find a real Detroit character holding forth up front. He calls himself "Mayo," and as the bar crowd wanders in for post-beer coneys, Mayo treats the front counter as his personal vaudeville stage, wisecracking with the customers up front by the cash register. A sharp-eyed host, he runs the room well, chattering in French, English and Spanish. Along with your onion rings, you could get his philosophy about life, with a host of Mayo-isms along the way. Deadpan and funny, most of his utterances are unpublishable here — in a good way.
Mayo says he got his name after living in the neighborhood for more than 20 years, and being attacked dozens of times on the street. As Mayo will tell you, he often knocked his attackers out cold, and police would come to the scene of the crime only to find would-be assailants sprawled unconscious in the street.
"The sergeant said I was all over them like mayonnaise," he says, "and that's when everybody started calling me Mayo."
Asked how long he's worked there, he says just a brief few years, but he says he's always trying to quit.
"Oh, I've quit this job several times," he says, his deadpan manner leaving you guessing. "I quit five weeks ago, in fact."
Why is he still there?
"They always call me and find a way to bring me back."
And what's his philosophy? He pretty much says he doesn't give a hoot.
Except the word isn't "hoot."
In fact, the only thing he seems to feel strongly about is his "no photographs" policy, which we reluctantly honored.
In short, Mayo is a character. Part maitre d', part comedian, part bouncer, part diplomat. He keeps his remarks brief and funny, the better to watch the diners and bid everybody hello and goodbye. Although he seems cavalier and uninterested, he's very observant. In fact, he surprised us, accurately remembering a member of our party from more than a year ago.
And it helps to know faces at Duly's. Mayo keeps things orderly along a stretch of Vernor Highway that can get rough. He decides who is allowed in, and it's a privilege. Sort of like a private little club, with Mayo telling you, "Be careful" when you leave. And if Mayo really likes you, he'll give you a sucker.