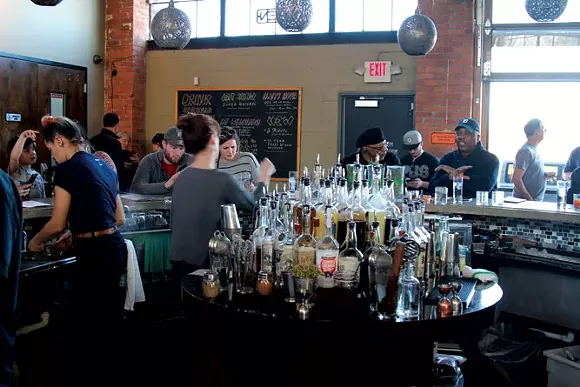 Sarah Rahal
Two James Spirits.
Two James Spirits
2445 Michigan Ave., Detroit; 313-964-4800
Founders: David Landrum and Peter Bailey
Year: 2013
Story: With the help of a grant from the Old Tiger Stadium Conservancy, two entrepreneurs cranked up their small-batch stills in a hulking old Corktown building, gaining the first distillery license in Detroit since Prohibition.
Tasting room: In an open, airy space, the walls decorated with art, sits a circular bar. Above it all, high windows frame the beaux-arts facade of Michigan Central Station in all its glory.
Notable products: Two James distills a wide range of spirits — whiskey, bourbon, gin, vodka, absinthe, mezcal — but perhaps most interesting is the 98.8-proof Catcher's Rye Whiskey, made with Michigan rye and Great Lakes water.
Valentine Vodka
161 Vester Ave., Ferndale; 248-629-9951
Founder: Rifino Valentine
Year: 2009
Story: After working on Wall Street for 13 years, Michigan native Rifino Valentine returned to the Detroit area to open a microdistillery that eschewed the practices of mass production, using sustainable resources, locally sourced where possible.
Tasting room: Valentine Vodka's Vester Street tasting room has transformed a former mattress factory into a hip, moody hangout just off the main drag.
Notable products: The distillery's signature vodka won the title for World's Best Vodka at the World Vodka Awards in London, and it even follows bleeding-edge spirits trends, producing a cask-aged gin with herbal accents: Liberator Old Tom.
Detroit City Distillery
2462 Riopelle St., Detroit; 313-338-3760
Founders: Distilling enthusiasts from Clinton County
Year: 2013
Story: A bunch of friends from the Lansing area fell in love with Eastern Market and found a way to trade on the city's gritty history with a line of spirits.
Tasting room: A former meat-packing facility was taken down to the studs and completely redone in the dim style of a speakeasy, featuring what must be one of the longest bars in Detroit.
Notable products: Detroit City produces whiskey, rye, vodka, and bourbon, but more interesting still are some of the distillery's small batch gin releases, such as Peacemaker and Elvethea.
Rusted Crow Spirits
6056 N. Telegraph Rd., Dearborn Heights; 313-551-4164
Founder: Joe Schebel
Year: 2015
Story: A designer graduated from the College for Creative Studies took a deep dive into distilling.
Tasting room: Schebel's background as a designer is no joke: The space he has created in Dearborn Heights is impressive, with brick, wood, a gazillion accent lights, and a few out-there hot rods.
Notable products: Rusted Crow makes vodka, rum, moonshine, vodka, and gin, but the artwork on each bottle is stunning, making each bottle perfect for an eye-popping gift.