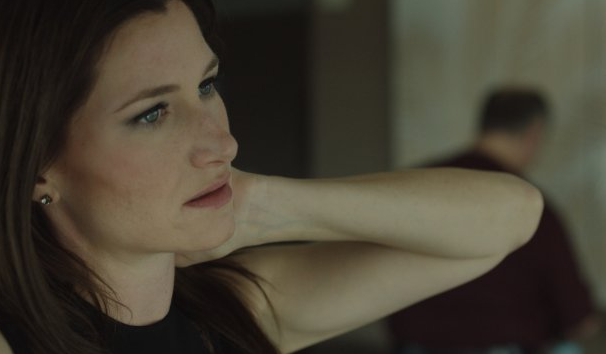 Starz On-Demand; 95 minutes

The "grass is always greener" theme is not one that is new to movie-makers, and neither is the subject of bored housewives, yet director Jill Soloway manages to breathe new and intriguing life into them both, thanks to a great script and a solid cast.
The magnificent Kathryn Hahn (you may remember her peeing standing up in Step Brothers) plays Rachel, an L.A. housewife who is bored out of her skin. Her husband, Jeff (Josh Radnor), speaks to her about sex in code to avoid the awkwardness of the fact that they haven't engaged in the activity for months. Her shrink, Dr. Lenore (a fantastic Jane Lynch), spends more time discussing her own failing lesbian relationship than the issues facing her client. She's forced to join in with banal social activities, thanks to some insane pressure, courtesy of fellow mom Jennie (Michaela Watkins). Her life is one cereal-packet moment after another, and Rachel is losing her spirit fast.
Then she decides to go with Jeff and another couple to a strip club for a night of drinking and silliness. Jeff spices things up by buying a lap dance for his wife from a young dancer named McKenna (Juno Temple), and the chaos really kicks off from there. Rachel likes the dance a little more than she's initially prepared to let on, so she revisits the club during the day and sort of stalks McKenna until she eventually finds her drinking a coffee outside the bar. Feigning a chance meeting, Rachel manages to develop a friendship with McKenna. When the dancer's car is towed away, and all of her belongings with it, Rachel decides that it would be a good idea to invite the stripper to stay with her, Jeff, and their child.
Now, all human beings capable of feeling something know that strippers are people too. As it turns out, McKenna is a hooker and, yes, they're people too, too. But I think most people can get on board with the idea that inviting a stripper back home to stay indefinitely with your family is a really fucking bad idea. Like, really fucking bad.
But that's what Rachel does, and then she looks all weirded out when McKenna fucks people for money or, on the opposite end of the social graces scale, does genuinely nice things for her son. Hahn spends much of the movie looking like a dude who woke up next to a girl he can't remember sleeping with and has no idea what to do next.
Naturally, the shit hits the fan in ways that you can probably guess, and then Rachel realizes that her privileged existence isn't so awful after all. McKenna goes back to the same life she was living when the movie started, but the movie seems to imply that she's quite happy doing that. Hmmmm.
Soloway is perhaps best known for her production work on Six Feet Under, and that somber-yet-comedic tone is present and correct here. The movie sucks the viewer in, and we totally feel for all the characters. Most of us will be able to relate to them too. But again, please, don't take those strippers home.