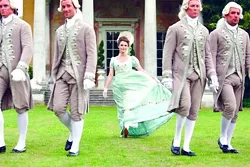 Austenland | C-
Jane Austen, that enduring literary idol of bookish and lovelorn ladies everywhere, has an ever-expanding cult that threatens to penetrate all walks of life if we don't remain eternally vigilant. She's a curriculum staple; there are seemingly endless adaptations of her blousy page-turners keeping actresses Keira Knightly, she of the high cheek bones, in luxury.
Austen remains evergreen because her witty prose contained poison pills of class war, anti-materialism and proto-feminism, buried under fluttery and chaste romantic fantasies. Unfortunately, precious little of that substance makes it into Austenland, a toothless lampoon in search of a target — and desperately short on honestly gained laughs.
Keri Russell, a bit of a cult object herself since her days on Felicity, stars as Jane Hayes, a hapless romantic single gal so devoted to the fantasy world of her namesake that the closest thing she has to a steady boyfriend is her BBC cutout of Colin Firth as Mr. Darcy.
The dream of meeting her own perfect leading man is so intense she hastily dumps her savings account into a vacation package to "Austenland," an English theme park that caters to the willingly duped.
Like Westworld without the robots, this interactive resort allows guests to role-play in a simulated realm of Georgian chivalry, complete with suitors tailored to excite the clients' passions and delusions.
Jane enters into this with her modern cynicism intact, but eventually she weakens due to the dual onslaught of actor dreamboats cannily pitted against each other to win her affections.
One of them is played by the charmingly scruffy Kiwi mock rocker Brett Mackenzie of Flight of the Choncords, and the other is a fifth-rate Hugh Grant knock off, played by the unmemorable JJ Field.
In a cheeky bit of casting, genre vet Jane Seymour plays the resort's bitchy head mistress, while Jennifer Coolidge flops around desperately trying to make you remember her funnier work in better movies.
Despite a fairly promising scenario, Austenland fails to generate much in the way of steam or chortles. The movie is flatter than a tightly corseted debutante, mostly because first-time director Jerusha Hess has misread the material.
Instead of a heroine that defies social norms, we get one that behaves like a tired fugitive from the generations of lousy rom-coms that aped Austen's fluttery story beats, without her quietly rebellious punch.
Austeland is in theaters now and is rated PG-13 with a running time of 97 minutes.