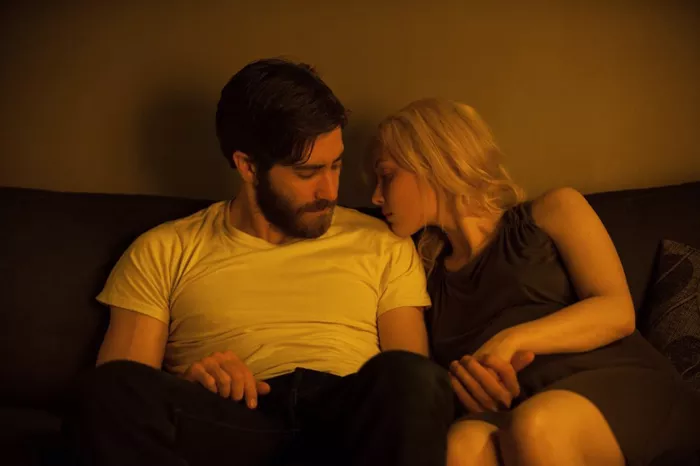 Courtesy photo.
"Which Gyllenhaal am I?"
Enemy | C-
When spinning a yarn about mistaken identity, it helps if the characters have identities to begin with. In the terminally self-conscious psychological thriller Enemy, Jake Gyllenhaal plays two identical-looking characters who live parallel and equally uninteresting lives. Adam (Gyllenhaal) is a tweedy history professor in Toronto, who is slowly unraveling from boredom, and gradually detaching from his gorgeous blonde girlfriend (Mélanie Laurent). Adam's doppelganger, Anthony (also Gyllenhaal), is a two-bit movie actor, prone to slipping out on his gorgeous blonde and pregnant wife (Sarah Gadon) and hanging out in a grungy underground sex club where naked women in high heels squash tarantulas. Both men, (if they really are separate entities) become obsessed with the notion of having a duplicate, and eventually they begin to intermingle their lives in ways that are disturbing and ultimately destructive.
Anthony is the slightly more assertive of the two, as suggested by his omnipresent leather jacket, though at times it does become difficult to distinguish between them, a choice which is both intentional and irritating. Their women aren't exact matches, but also closely resemble each other and, by no fault of the quality actresses, each is disappointingly reduced to being merely receptacles for the men's insecurities, anxieties and lusty desires.
Director Denis Villeneuve previously teamed with Gyllenhaal on the more effective and conventional (yet mildly frustrating) thriller Prisoners, but here the duo has fully surrendered to pretension.
Visually, the film's color scheme is beige-on-beige, with shots of dingy apartment interiors only broken up by sweeping skyline pans that serve as an indictment of Toronto's drab, concrete-driven architectural brutalism. Villeneuve clearly wants to evoke the creepy existential longing of David Lynch, David Cronenberg, Hitchcock's Vertigo and Alain Resnais' immortal head-scratcher Last Year at Marienbad, but all he can manage are dream sequences involving giant, sexually symbolic spiders, and a last shot so pointedly obtuse that it produces giggles of disbelief.
Does every film require a satisfying resolution? No, but something resembling depth would be nice.
Enemy is rated R, has a run time of 90 minutes and is in select theaters on Friday.