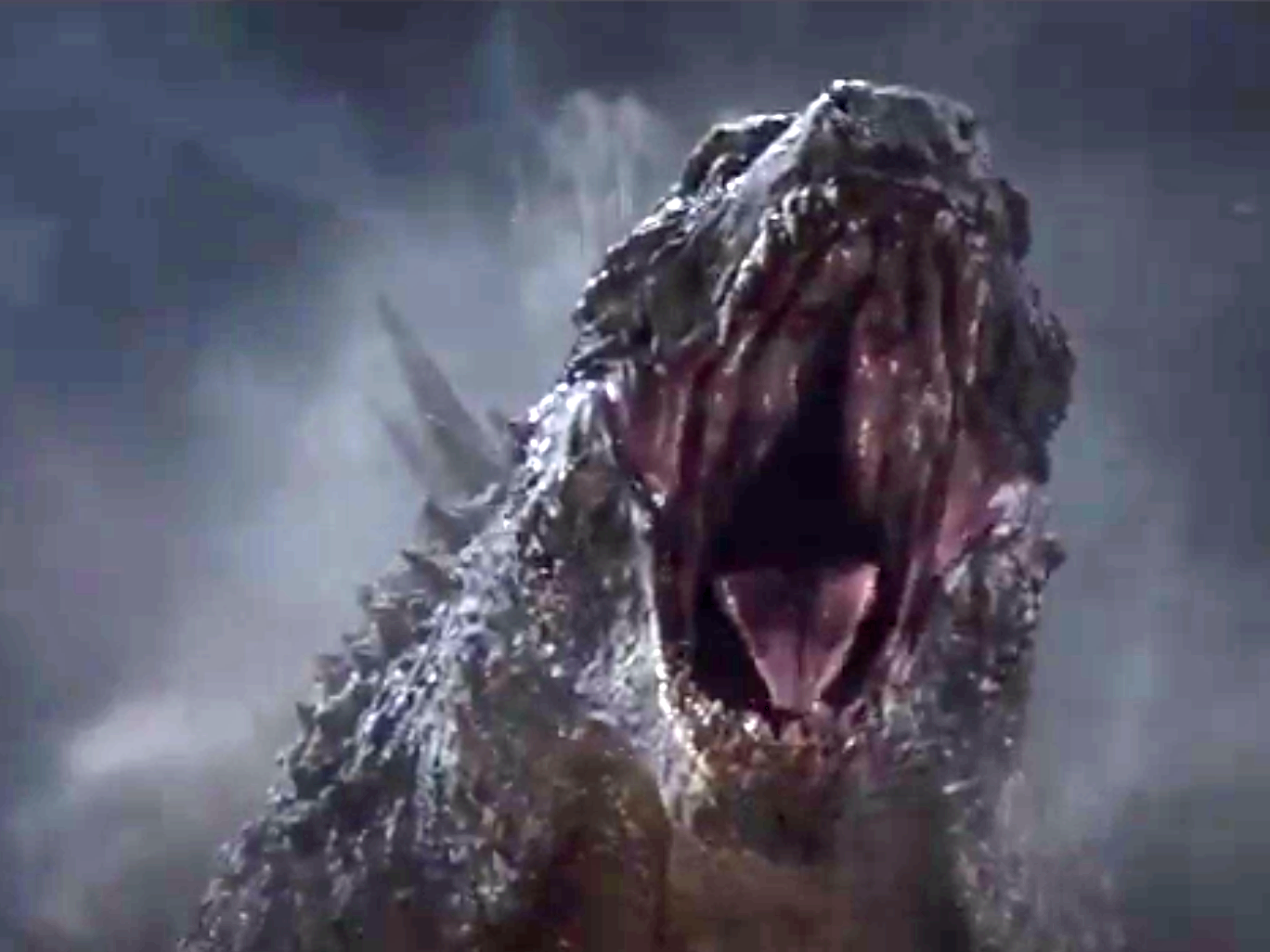 Godzilla | B
Once again proving that competent storytelling isn't top priority for summer action blockbusters, director Gareth Edwards' Godzilla is dramatically uneven, with a clunky narrative spine and characters that are maddeningly opaque. But as a series of big-budget action sequences, this monster-sized reboot is visually exhilarating, gorgeously composed, and, sometimes, too clever for its own good.
Things start promisingly enough with a snazzy '50s-era credit sequence that shows the American military dropping atomic weapons in the Pacific — not for testing purposes, but rather to destroy the barely seen behemoth Godzilla. Jump to 1999 Japan, where we meet nuclear-plant expert Joe Brody (Bryan Cranston) and his engineer wife (Juliette Binoche). Something is amiss at work, and strange seismic tremors threaten to destroy the power plant. Within moments, the walls come crumbling down and Joe loses his wife in the devastation (hardly a spoiler, since her fate is shown in the trailer).
Jump to the present day, when we meet Ford Brody (Aaron Taylor-Johnson from the Kick-Ass movies), Joe's adult son, who is a military bomb-disposal expert. When Pops is arrested for trespassing in the now-quarantined neighborhood where he lived and worked, Ford leaves his wife (a wasted Elizabeth Olsen) and son to fly to Japan to retrieve Joe. Once there, he's roped into sneaking onto the forbidden nuclear site, where he witnesses the birth of a gargantuan insectoid creature — a monster that feasts on radiation.
It's a good 50 minutes before we even get a decent glimpse of Godzilla. Edwards and his screenwriter, Max Borenstein, struggle to emulate the peekaboo suspense Steven Spielberg brought to Jaws (note the name Brody), by teasing us with fleeting glances, letting the 350-foot lizard lurk just out of sight of the instigating action. From Hawaii to Las Vegas to, eventually, San Francisco, we're mostly treated to a pair of jumbo-sized bugs terrorizing the populace. There are some impressively staged moments — a stunning tsunami crashing through Honolulu and a wickedly suspenseful airport showdown as seen from a terminal monorail — but in each instance, Edwards keeps a tight lid on Godzilla's full reveal. On the one hand, it adds to the film's initial atmosphere of danger and mystery. On the other, it undercuts the urgency of its plot.
Between these instances of giant monster keep-away, Edwards puts the focus on American military types tossing around jargon, running to and fro, and providing lots of serious-minded exposition. It's a noble attempt to bring plausibility to the situation. But come on, this is Godzilla, not Cosmos. After 60 years (the original came out in 1954), the audience pretty much knows what to expect.
Cast-wise, Cranston brings his A-game but disappears after the first act. His presence and passion are sorely missed, as David Strathairn (as a Navy admiral), Ken Watanabe, and Sally Hawkins (as scientists) step up as adult stand-ins. That is, until Godzilla's second half pushes them aside in order to focus on impressively staged brawls and the now requisite destruction porn. Featherweight Taylor-Johnson connects the narrative dots while participating in a few notable downscale action sequences — namely a lethal encounter on a train trestle and a stunning nighttime raid with military paratroopers — but mostly serves as a ground-level point of view, giving Edwards the opportunity to choreograph his battles in epic widescreen shots.
It's a savvy choice, letting us experience the breathtaking destruction through the eyes of human witnesses while emphasizing humanity's complete powerlessness in the face of such titanic power. To wit, the monsters are none-too-subtle metaphors for nature's wrath against mankind and its cavalier use of nuclear power.
As the movie rounds the bases into Act Three, the visual spectacle kicks into overdrive and Edwards' exuberant compositions enthrall. Delivering the kind of glorious Godzilla mayhem fanboys have been craving, the destruction is meticulously framed and inventively staged. And yet, Edwards' poetic wide-angle approach has the unintended consequence of removing us from the action and dulling its visceral kick. It's the same mistake Peter Jackson made in his remake of King Kong. The audience is continually impressed but rarely moved.
Equal parts ingenious, muddled, exciting, and predictable, Godzilla ultimately seems at war with itself, wanting to deliver thematic substance and artistic wit, but beholden to big-budget expectations.
Godzilla is in wide release, is rated PG-13, and has a running time of 123 minutes.