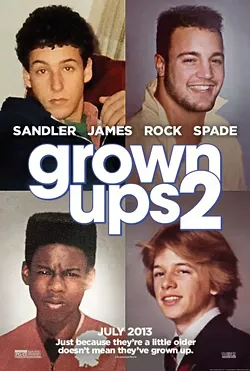 Grown Ups 2 | D-
These days, Adam Sandler is a one-man stimulus package; providing regular busy-work for a small army of otherwise unemployable flunkies, along with a handful of his more successful show biz pals — who apparently have an annual need for a six-week paid vacation. How else to explain this witless, clueless and utterly pointless sequel to a comedy that pulled in boatloads of cash, but was beloved by absolutely no one?
The boys are back to sleepwalk through the motions one more time as Sandler is reunited with Grown Ups co-stars Kevin James, Chris Rock and David Spade; apparently poor Rob Schnieder didn't merit an invite to the party this time around. (This is probably best for all involved.)
The first installment involved the former members of a youth basketball team coming together for the funeral of their coach. This tepid follow-up boldly dispenses with any pretense of narrative, and just throws gags at the screen, vainly hoping that some of them don't slide off.
Indeed, the movie is almost avant-garde in its refusal to have a coherent central plot; instead it randomly stitches up a string of subplots and repeated sight gags, under the rough premise of "summer."
Sandler's character, Lenny, is a successful screenwriter, but he's ditched Malibu to return to his small-town New England roots, apparently so that he has more free time to play slap-and-tickle with his gaggle of oversized man-boy pals.
Oh, sure, these hometown slobs are a bunch of blue-collar stiffs with no ambition, prospects or interest in growth, but at least they are real, honest beer-guzzling dudes, not like those L.A phonies. With sentiments like these, you can almost hear Sandler apologizing for the huge deficit between his success and his artistic abilities, and there is another knowing wink when someone brings up the absurdity of a goon like Lenny having a hot wife like Salma Hayek. All other self-awareness is brushed aside in favor of a nonstop stream of put-downs, pratfalls, fart gags, homophobic paranoia and celebrity cameos.
Highlights include a soft serve ice cream poop gag, NBA legend Shaquille O'Neal peeing in a swimming pool, and a large stag urinating in Sandler's face. These are the highlights, folks. There are also call-backs to incidents from the previous film, but that would require you to recall anything that happened in the forgettable Grown Ups, and there is only so much you can ask of a viewer.
In addition to the usual suspects, a large number of past and present SNL cast members breeze by, including the likes of Andy Samberg, Bobby Moynihan, Tim Meadows, Colin Quinn and Ellen Cleghorne, who has apparently been trapped under something heavy since the mid-'90s.
All of them embarrass themselves in some fashion, but make no mistake, the bulk of the blame for this tedious, listless and generally loathsome falls on the lazy, desperately mediocre Sandler. The rest of the blame falls on the audiences that subsidize his continued creative nosedive.
Grown Ups 2 is in theaters now and is rated PG-13 with a running time of 101 minutes.